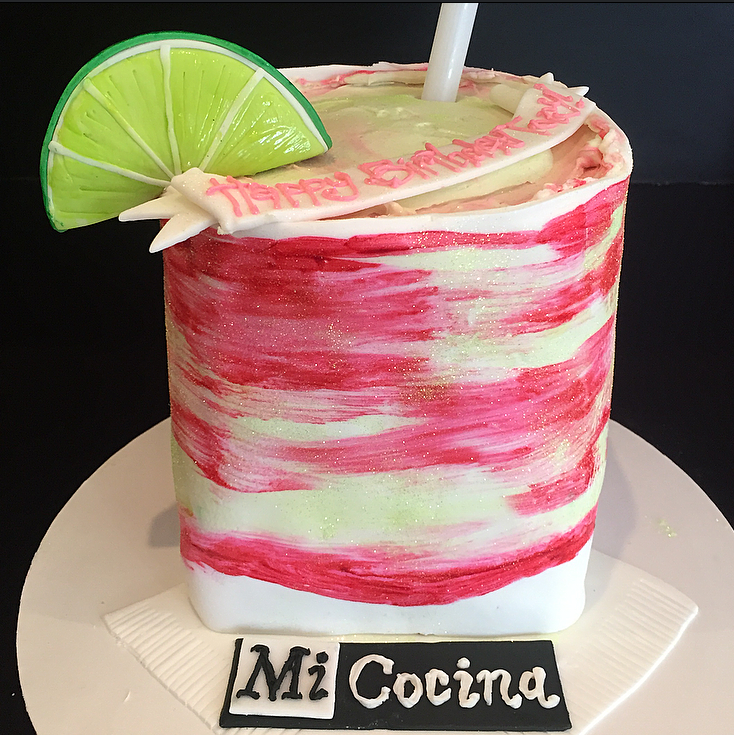 Get to Know Samantha Cade and Her Fun, Brilliant Custom Cakes
Yes, that is a Mambo Taxi cake.
I recently discovered Cades Cakes when a friend of mine stumbled upon her Mi Cocina Mambo Taxi cake. For lack of a better word, I totally freaked. Who was this magical baker who could rival the Ace of Cakes? I was delighted to learn that Samantha Cade was a Dallas-based baker with a knack for making everything from your favorite foods to Grumpy Cat a colorful, three-dimensional, and edible reality. Cade has just returned to her hometown after an impressive stint working at Momofuku Milk Bar in New York City (yes, she does know how to make their B-Day Truffles), so in honor of National Cake Decorating Day (it's real and it's today) I set out to learn a little more about the young, custom cake maker.
Here, Cade was kind enough to share a few tips for aspiring cake decorators, the strangest cakes she's ever made, and what she bake for the ever-adorable Prince George of Cambridge.
C: What first inspired you to get into baking?
S: I just have always had the biggest sweet tooth. For example, doughnuts are my favorite food (Mustangs of course) and I would say 70% of my diet is dessert. When I was looking for a job in high school, it seemed natural to go the bakery route.
C: What are your favorite tools or ingredients to use when decorating a cake?  
S: Favorite tool is definitely edible glitter. I would say I have over 20 different colors. I put it on EVERYTHING. Every cake looks better with glitter. I also have a rainbow sprinkle weakness, my Funfetti cake is completely covered with a custom sprinkle mixture I made and it is one of my most popular cakes.
C: Of all the incredibly fun cakes you've created, is there one that sticks out as your favorite?
S: My favorite cakes are definitely the food shaped cakes. I have done everything from a croissant to a jar of peanut butter to a Qdoba Burrito. But my two favorites are one that looks like a stack of pancakes and one I made just last week that looks like a Burger House Burger.
C: To add to that, what's the strangest cake you've ever been asked to make?
S: Strangest cake… Some people really try to fit a lot of inside jokes on one cake. Now I always recommend just picking one theme. One time someone asked me to make a cougar wearing glee pajamas drinking a Sonic drink. That was definitely out there. Someone also ordered a cake to look like a gross foot with yellow nails and warts. That was just disgusting.
C: What is the most important thing you learned working at Momofuku Milk Bar in New York?
S: I would say one of the most important things I learned at Momofuku is that melted butter, brown sugar, and salt really do make everything better. I will always love Milk Bar, I am currently trying to get them to mail me a care package of sweets.
C: If a celebrity asked you to make them a custom cake of your choosing, who would you want it to be, and what would you create for them? 
S: A lot of my clients right now are college students, but I really do love making cakes for kids. Seeing their faces light up when they first see the cake is priceless. Making Prince George a Buckingham Palace cake would be pretty awesome.
C: Any plans to open up a shop in Dallas?
S: Yes! Right now I am currently just taking custom orders online and renting commercial kitchens but I hope to open a storefront by next fall. That has been my plan for the last few years. Best way to follow me is on Instagram (@CadesCakes), I post a cake picture daily.
C: How will you be celebrating National Cake Decorating Day? (October 15… it's a thing!)  
S: I have over 20 cakes for this weekend so I will most definitely be decorating. Some of the cakes I have are a cotton candy cake, Drunk Barbie cake, 85th Birthday Cake, Baby Gender Reveal, Bob the Minion cake, Horse racing cake and a Camouflage cake. So it should be an interesting weekend and a busy National Cake Decorating day for me.