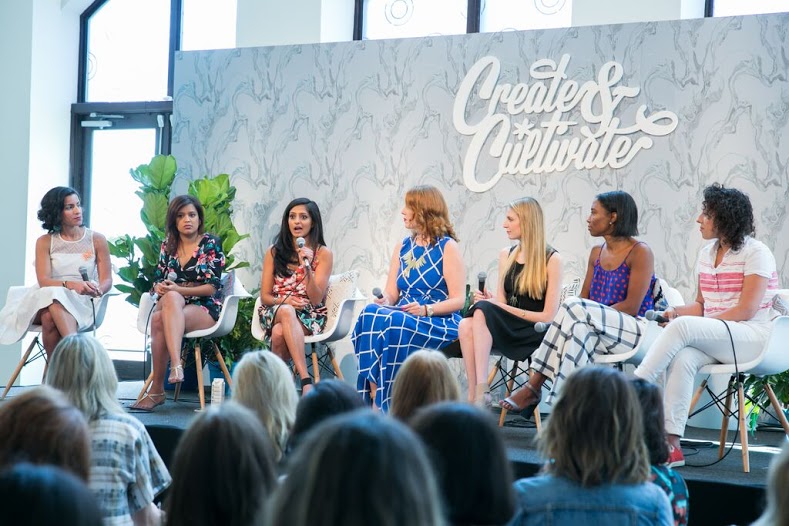 5 Reasons to Mark Your Calendar for Create + Cultivate Dallas
The down low on the highly curated conference.
Anyone with access to the Internet knows that it's a good time to be a creative female entrepreneur. I discover at least one new talented maker, blogger, or photographer every week on Instagram who inspires me to find my inner girl boss. So with that being said, how psyched would I be to sit down with some of these talented creatives and pick their brilliant brains? The answer, my friends, is pretty darn psyched.
Luckily for me and other like-minded Dallasites, Create + Cultivate is making its way to Dallas this year. On Saturday, January 30, 2016, the highly curated conference offers attendees an impactful day of workshops, mentor power hours, and panels with the brands they love, as well as cocktails and snacks, pop-up shops, a braid bar, photo booths, glam touch ups, gift bags and more.
Basically, Create + Cultivate is a massive, killer conference where Dallas businesswomen can mix and mingle with fellow creatives and gather tips and tricks from some serious big name talent. In fact, it seems so massive and rad that I turned to founder Jaclyn Johnson, who graciously shared her top five reasons to snatch up tickets (on sale now!) to the January event.
Big name talent is headed down South:With the likes of Hillary Kerr and Katherine Powers (founders of WhoWhatWear/Clique Media), Happily Grey, Cupcakes and Cashmere, Marianna Hewitt, Tina Craig, Gal Meets Glam, The Coveteur and more— their roster has upwards of 500 million fans combined!
Network it: Mix and mingle with some of the best female entrepreneurs in the business all while hearing panels from boss ladies such as the founder of Suja Juices, the co-founders of SoulCycle (which is *opening shop in Dallas soon!), the creator of Hello Giggles and so much more!
Bang for your buck: The VIP ticket holders get open bar all day long plus a swag bag filled with goodies that add up to more than $400 dollars.
Content galore: This conference is well known for its Instagrammable moments and rad photo taking areas! Stock up on content for the month by snapping photos of this gorgeous conference and venue.
Exclusive deals on site: The Create & Cultivate team curates exclusive pop-up shops on site for incredible shopping and deals just for Create + Cultivate attendees.
*This was news to me! I reached out to Soul Cycle who said they are looking to open studios in Texas and are getting close to publicizing details. I'll be sure to share more when they circle back!