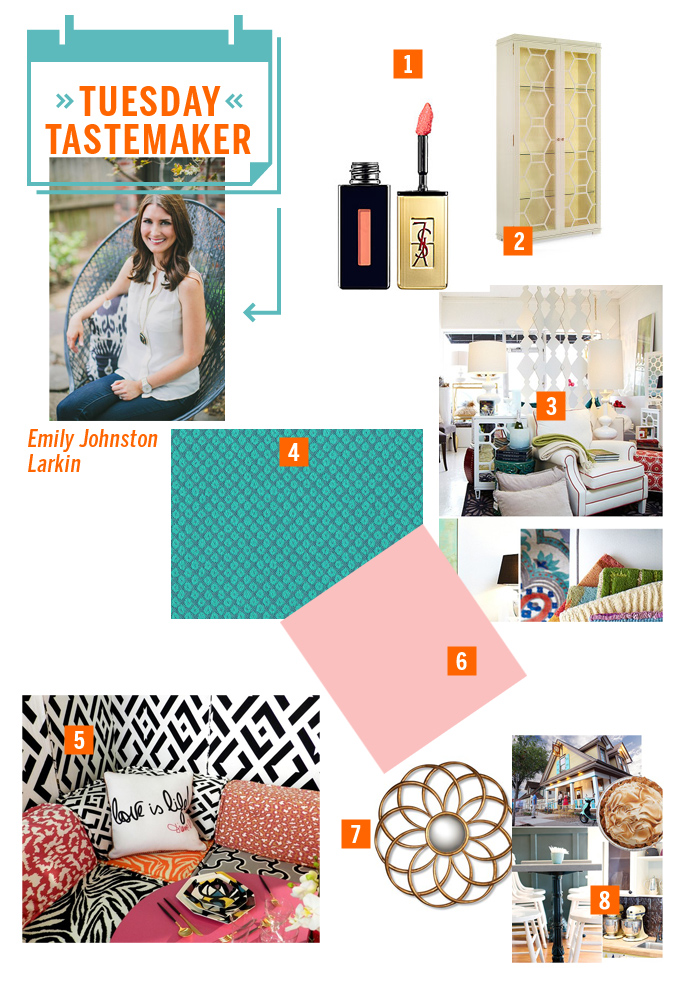 Designer Emily Johnston Larkin's Favorite Things
The top picks from today's tastemaker.
Today's tastemaker Emily Johnston not only has, well, good taste, but she's a busy gal about town who runs her own successful interior design company as well as the design-inspiration blog Material Girls. She's also contributed to this blog before in our popular Love It and Leave It series. And that's not all: She was recently named to our Best Designers list in the current issue of D Home. I asked Emily to carve out some time in her very hectic schedule to tell me what she's loving right now, what inspires her, and where she likes to shop. Here is her list:
1. Yves Saint Laurent's Rouge Pur Couture Vernis à Lèvres Glossy Stain: I am always on the lookout for a long lasting lipstick.  When I found YSL's Glossy Stain, it was love at first sight. It's a combination of a lip gloss and lip stain that will last for hours and hours.
2. Aerin Lauder: She is definitely the "it" gal this year. The granddaughter of Estee Lauder has curated collections in just about everything: Furniture, lighting, fragrance, shoes- you name it!
3. Hess: Whenever I need a gift for someone, Hess in Lakewood shopping center is my first stop. I love their colorful glassware, agate coasters, and seasonal candles.
4. Perennials fabrics: Not only do I love these outdoor fabrics, but I also adore the fun and quirky advertisements surrounding them that show how these high performance textiles can handle just about anything. They are also great to use indoor for pieces that need some extra durability.
5. Diane von Furstenburg for Kravet Collections: We couldn't be more excited about Diane's collection that will be debuting at the Kravet showroom this summer. Her geometric fabrics are sure to be show-stoppers with their bright colors and casual, boho vibe.
6. Farrow and Ball Paint: There is something about this paint that is unlike any other. The colors that they offer are unmatchable and the ingredients in their paint are of the finest!
7. Alinea mirrors: I am officially obsessed with these exquisite hand carved mirrors. We recently used them on a few projects and the detail and finishes on them are really top notch.
8. Emporium Pies: Their handmade pies are amazing and the whole concept is just beyond adorable from their quaint little Victorian bungalow to their cute to-go packaging made out of a wooden box.
9. Trinity Groves: I recently grabbed dinner on the patio at Resto with my husband and loved the laid back atmosphere, the amazing food and the fact that you can bring your dog.
10. Scout Design Studio: It's my go-to shop when sourcing vintage items for clients. You never know what you will find here (think brass birds and tusk consoles)
11. Bar Belmont: It has the best view of the Dallas skyline at night. When you visit, make sure you try a cocktail, listen to some great live music, and, of course, a sneak peek at its retro boutique hotel.
12. Round Top Antique Fair (Blue Hills): I just got back from Round Top and wow, am I inspired! Blue Hills is one of my favorite shows there and I met some really amazing artisans and antique dealers who were showing some great product this year. This show is a must for anyone who loves antiques. (It's our favorite, too, Emily!)