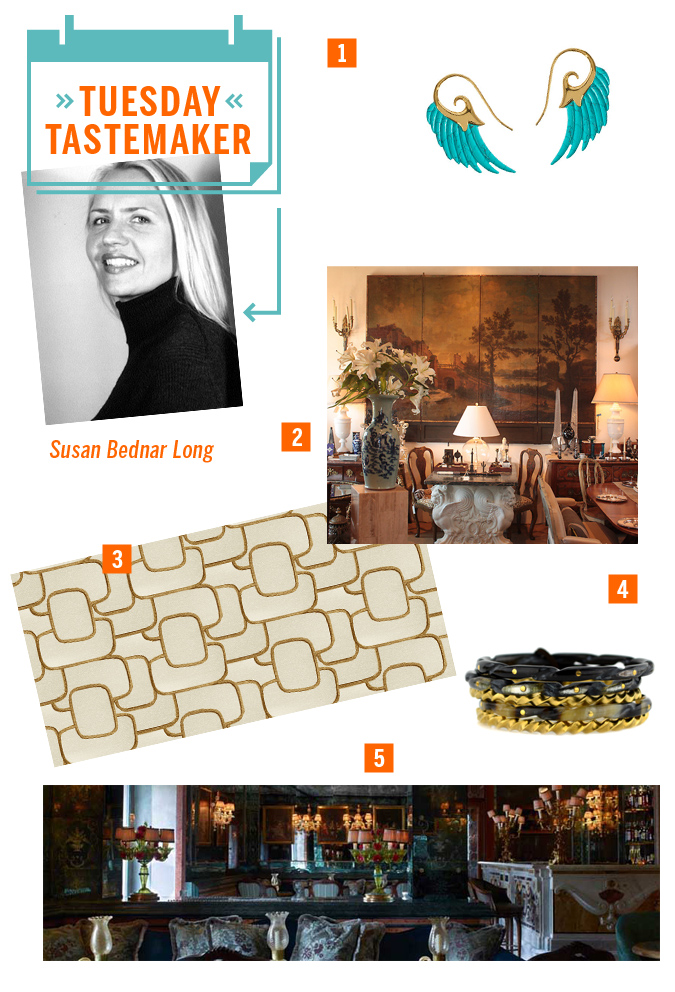 Tuesday Tastemaker: Interior Designer Susan Bednar Long
The East Coast transplant tells us her favorite Dallas inspirations.
D Home recently celebrated the announcement of the 2014 Best Designers by doing what we do best: Throwing an awesome party. We gathered at the Goss Michael Foundation in the Design District to mix and mingle with members of the local design community. Among the group of honorees is Susan Bednar Long. New to Dallas, the interior designer has quickly made a name for herself with her firm S.B. Long Interiors, Inc. (Her other office is in Connecticut.) Susan trained at Ralph Lauren and founded her own firm in New York City ten years ago. She's known for creating a "modern traditional" look with an air of sophistication. Read on to find out what's inspiring her now. (We've already added a few items from her list to our own wish list.)
1. Noor 18k Gold and Turquoise Wing Earrings at Forty Five Ten:  Anything turquoise is my motto, and these are gorgeous and definitely on my gift list.
2. Strolling through Nick Brock Antiques:  I love his mix of modern and traditional antiques – I want them all!
3. Elitis' Parade wallpaper VP841 01 in cream/gold: I am a patron of their wallpapers and this pattern is super chic. I'm using it on a current project.
4. Ashley Pittman's jewelry case at Stanley Korshak:  This is my candy store – I love her pieces and would like own them all.
5. Décor at the Bar Longhi at the Gritti Palace, Venice:  Can't get enough of the elegant old world interiors and the pastel Murano glass lighting.
6. R+D Kitchen:  I love the food and the energy – it's my go to spot for lunch.
7. Ice coffee from Ascension Coffee on Oak Lawn:  A good iced coffee…or 2, or 3 gets me through my design resourcing day!
8. J. Mendel's Paneled-Stripe Bateau Dress:  I always have stripes on my mind. I love the energy of this dress – it's the perfect festive dress for the soiree I'm hosting in Venice, Italy this May.
9. White Peonies at Grange Hall:  The mix of this pretty bloom with the bizarre oddities of the shop are always inspiring.
10. Allison V. Smith's photography series on Maine at Barry Whistler Gallery: A recent transplant to Dallas, Alison's work is beautiful a comforting remembrance of the North East.
11. My Ralph Lauren cable knit circle cardigan: Perfect for day or night, this is one of the best article of clothing I own.