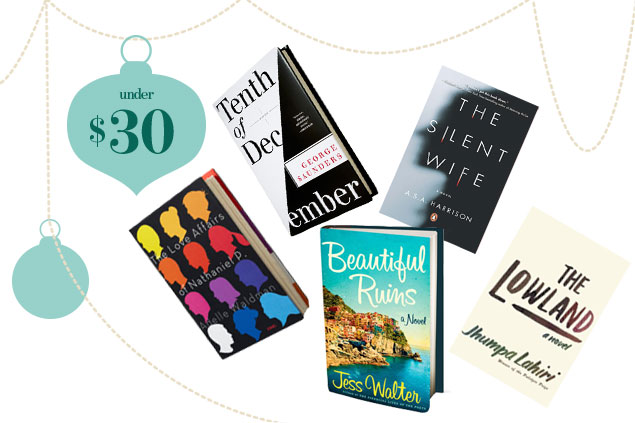 Holiday Gift Guide: Books, Books, Books!
'Tis the season to make your friends smarter!
Many of you know about my dreadful taste in television, so you might be surprised that I love to read. But I do! I love to read! And I love to give people books as gifts. Some will scoff and say that books—not unlike perfume—are too personal for gift-giving. I disagree, and here's why: I was kicked out of my book club, so when I give people books, it is implied that they must read and discuss them with me. I force people to book club with me. Books are also wonderful gifts for your super pretty friends. It makes them feel smart, and they can sell them at Half Price Books for pocket money or use them to jazz up their bookcases. All kidding aside, I really do love books—real books with book jackets and pages that you flip—and there's nothing better than sharing a story that moved you or made you laugh or upset you or all of it. So with that in mind, I'm urging you to give your loved ones books, too. I've selected a few that will get you started, and I will tell you why I liked them.
The Lowland. This book is about a lot—brotherhood, revolution, expatriation, marriage, fatherhood—and it was nominated for the National Book Award. I could go into a lot of detail here, but all you need to know is this: Jhumpa Lahiri writes beautiful words. Really. I just can't stress this enough. You should probably buy Unaccustomed Earth and Interpreter of Maladies, too.
Tenth of December. I read "The Semplica-Girl Diaries" in The New Yorker, and I couldn't stop thinking about it. Somehow, George Saunders manages to make that happen with every single one of the stories in this collection. Don't trust someone who watches Real Housewives of Beverly Hills? I hear you. But this one was nominated for a National Book Award, too. Buy it.
Beautiful Ruins. After reading this book, you will want to travel to Italy, watch Cleopatra, and sit in on a pitch meeting. I know that sounds really weird. But this is a big (fictional) story that involves an Italian hotel owner, the making of Cleopatra, an illegitimate son of actor Richard Burton, present-day Hollywood, addiction, and redemption. You'll fall in love with all the characters, and Jess Walter wraps everything up so beautifully. I sobbed.
The Love Affairs of Nathaniel P. Man, this book. I have told everyone I know to read this book, and now I'm telling you to buy this book. Nathaniel is a guy who considers himself one of the good ones—sensitive, smart, caring. He went to Harvard. He lives in Brooklyn. He has a book deal. He thinks nasty things about his girlfriend Hannah's arms. In short, he makes me insane. Hannah's attempts to be fun, cool, super laid-back, and easy going also kill me. We've all been in relationships like this, and please, read this book! Call me after you read Hannah's horrifying e-mail to Nathaniel, and we can compare the similar, desperate missives we have sent to soon-to-be exes.
The Silent Wife. I read this book in an afternoon—it's short and sweet. Actually, it's not sweet at all. (And it's not like Gone Girl at all. I mean, a man and a lady are mean to one another, but I don't understand why every book about bad relationships has become "the next Gone Girl.") Jodi and Todd have been together for years. Todd cheats on Jodi all the time. Jodi pretends it's not a big deal. Todd accidentally knocks up his best friend's daughter. (He's a real peach.) Jodi decides that he needs to die. The story is told from both of their maddening perspectives. You will want to kill both of them—but in a good way!