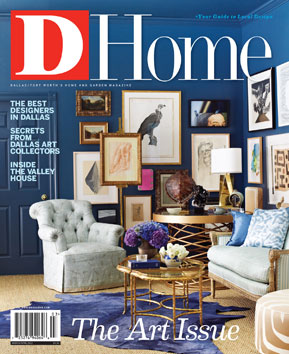 Our friend and contributing editor Lucia Simek helped make selections for our March/April cover. Here's what she has to say about the process: When D Home art director Jamie Laubhan-Oliver asked me to select some contemporary artwork from local galleries to help fill the walls for the cover of this month's Art Issue, I was thrilled. Right away, I knew some of the work and artists I wanted to feature, such as Jesse Morgan Barnett and Bret Slater, two young talents, both represented by Marty Walker Gallery. They show incredible promise in their intelligent and beautiful work. Some other artists that I chose were a bit off my radar, like Joan Winter from Conduit Gallery, whose geometric, architectural sculptures and prints were a bit of a discovery. One of the artists I selected, Laura Doughtie, is not represented by a gallery, but I remembered seeing an intricate and breathtaking ink drawing of hers in a show at 500X last winter. I tracked her down, discovered she is now part of the artist co-op at 500X, and chose her quiet work for the beautiful "room."
Jump for more about some of the artists featured.

Jesse Morgan Barnett, Meeting Distance Where On Purpose Knows No Thing, 2009, Archival Ultrachrome inkjet print, 18 by 12 inches. Courtesy of Marty Walker Gallery.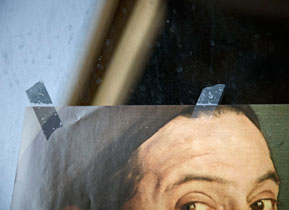 I've long admired Barnett's multifarious work. Trained as a photographer, he also makes raw and earthy sculptural work in the spirit of Carl Andre and Gordon Matta-Clark. This photograph of an image of a painting taped to a window is part of a photographic series of wistful pictures called A Wandering Anniversary, which chronicle the aftermath of some event or moment. Barnett's work is deeply poetic and driven by an anchored urge to unpack a particular theme – the residues of interaction and exchange. For full evidence, be sure to check out his current (brilliant) show, Tour, at Marty Walker Gallery. It runs through March 17 and features a series of photographs of highway-side tire burns—evidence of violent collisions that feels like Asian script or ethereal watercolor stokes. Through Barnett's lens, even the most traumatic moments carry a kind of peace.
Laura Doughtie, Untitled, 2011, ink on paper, 24 by 32 inches. Courtesy of the artist.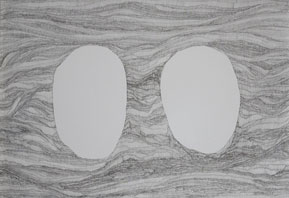 Doughtie's drawings of quasi organic masses and voids are intricate and enveloping and testify to the artist's masochistic patience and acceptance of happy accidents. Sometimes feeling like details of rippled fabric and others like topographical maps or weather patterns, Doughtie's drawings are incredibly satisfying in their mark-making clarity. And, again, you're in luck if you'd like to see more of this work in-person. Doughtie has a show at 500X through the end of the month. Go snag one of her gorgeous drawings right now.
Terrell James, FS 488, 2011, oil on paper, 16 by 12 inches. Courtesy of Barry Whistler Gallery.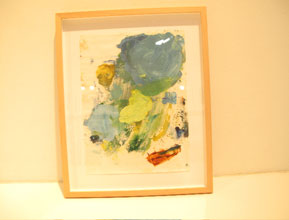 When I saw Terrell James' show last fall at Barry Whistler Gallery, it was her wall of field studies—small, loose abstractions— that stuck with me. Whistler had installed them in a long row, like a staggered little mountain range. (That Barry Whistler is a master at beautiful show installation.) When I saw Jamie Laubhan-Oliver's plan for the indigo walls, I knew that James' work would be a beautiful fit.
Otis Jones, Ochre with Border and Silver Tabs, 2009, mixed media on linen, 16 by 16 by 3 1/2 inches. Courtesy of Holly Johnson Gallery.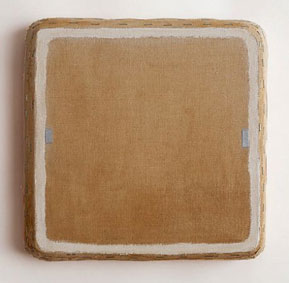 Longtime Dallas artist Otis Jones' work is a minimal feast, all quiet monochromes and subtleties, though it's peppered with little violences—hundreds of staples injected willy-nilly into the sides of the thick canvases. The work, especially the piece I chose, has the feeling of a well-worn book or shoe—a thing that's traveled with someone on a journey, absorbing experience along the way. Though incredibly quiet, Jones' canvases are, like the body itself, replete with beauty and pain.
James Drake, Pascal (older), 2005, charcoal on paper with tape, 24 by 14 1/2 inches. Courtesy of Holly Johnson Gallery.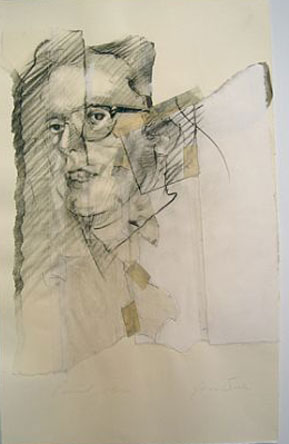 I really enjoy the patched-together nature of this portrait of Pascal by artist James Drake. It has a hurried quality that makes it really visceral, but it's also very academic, which makes it timeless. I thought it would pair beautifully with Jesse Morgan Barnett's photograph, lending a scratchy balance to the polished surface of Barnett's picture. I think the two are wonderful foils for each other on the gallery wall.
Bret Slater, One Big Room Full of Bad Bitches, 2012, acrylic on canvas, 10 x 7 1/4 x 1 3/4 inches. Courtesy Marty Walker Gallery.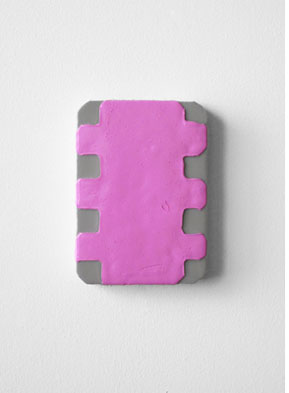 It's fair to say that recent SMU MFA grad and NY native Bret Slater, is an art world "it" kid, and not just locally either. He was recently named one of the top "100 artists to watch" by Modern Painter Magazine. Local art collecting maven Deedie Rose just bought a few of his paintings, and collectors Patrick and Lindsey Collins, featured in this D Home Art Issue, also own a couple of Slater's near-edible looking works. Slater's chunky little pink punk-rocker of a painting featured here, which sings out raucously from the wall, is, like all Slater's work: a witty riff on minimalism, color-field painting, and pop culture. He's got a much-anticipated show coming up at Marty Walker Gallery this May and will be exhibiting with Elaine Levy Projects at Art Brussels this spring as well, both of which I anticipate will sell out quickly, so get your hooks in this work while you can. Slater's career is rising fast.
Joan Winter, Unfolding II, 2011, photo polymer gravure with chin colle, ed. 5, 24 1/4 by 20 1/2 inches. Courtesy of Conduit Gallery.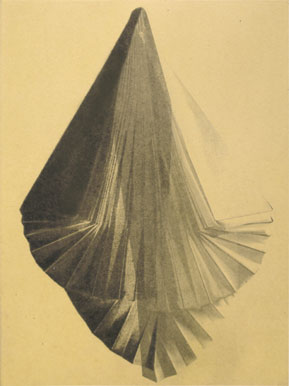 I love the print we've featured here by Joan Winter. It's so graphic, yet has a geometric gentleness that points to soft edges of her sculptural work. The print reminds me of Man Ray's Revolving Door series, and has the same sort of gradient motion. I think Jamie's placement of it in the room, near the ornate landscapes she selected, is wonderful. Realistic mountains hang next to Winters' abstraction of one.
Douglas Leon Cartmel, Surf Cloud 2, 2011, oil on titanium in graphite laquer floater frame, 7 1/4 x 9 1/2 inches. Courtesy Marty Walker Gallery.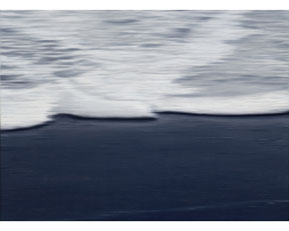 I am a sucker for a landscape painting, and this hushy little seascape by Douglas Leon Cartmel is so perfect. Cartmel's ability to capture light in the monochrome of black and white is remarkable. They seem to cast off either warmth or cold. For as small as this work is, it has incredible visual power.
Get the AtHome Newsletter
Enjoy Dallas' best trends, hot properties, and tips from local designers to help you nest in style delivered weekly.