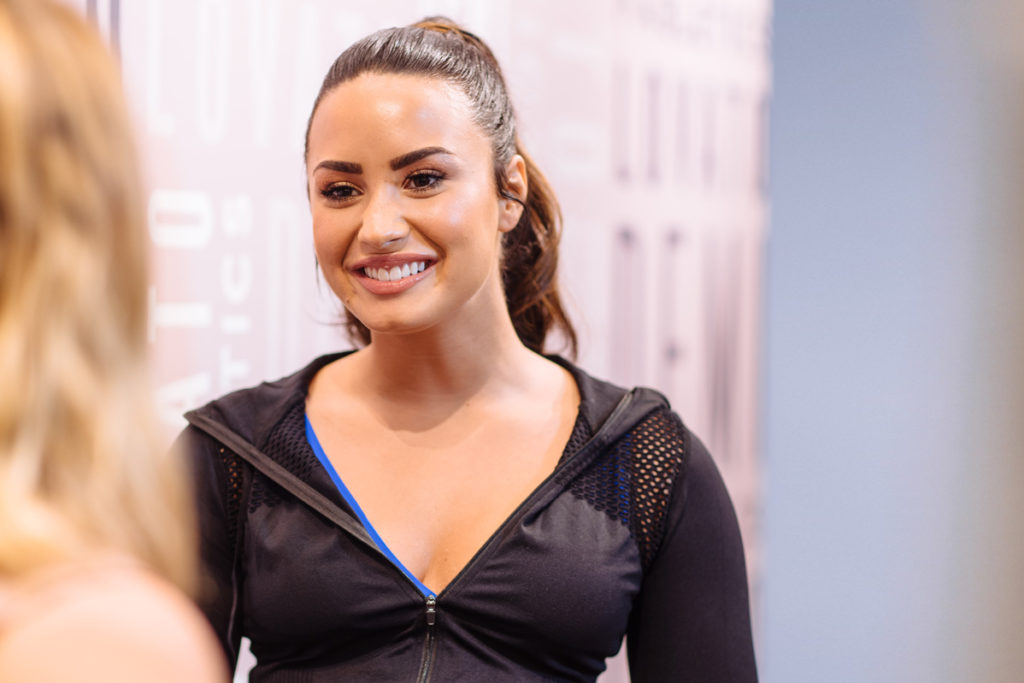 That One Time D Magazine Sent Me to Interview Demi Lovato
I got to interview my childhood idol and I literally couldn't even.
I remember the first time I saw Demi Lovato in concert. She was opening up for the Jonas Brothers' Burnin' Up Tour at the then Superpages.com Center (now Starplex Pavillion, thankfully). The Disney Channel had just premiered an original movie called Camp Rock, where Demi had finally landed a starring role after years as a neighborhood kid named Angela on Barney & Friends. She recorded hopeful singles where her killer vocals shined, and was slightly edgier than Disney contemporaries such as Selena Gomez and Miley Cyrus (oh how times have changed). I loved her.
During that summer concert in 2008, Demi stood on stage reflecting on her first memory of the Superpages.com Center: singing in a radio station's amateur concert in the parking lot of the Kelly Clarkson concert. For her, performing on the same stage as a woman she'd looked up to her whole adolescent life was the moment she'd been waiting for. Demi might actually make it big.
When Caitlin, our online lifestyle editor, offered to let me take her place interviewing Demi at an upcoming event at Fabletics in Legacy West, I unsuccessfully tried to play it cool and keep it together. But I was going to meet Demi, my girl since I was a 16-year-old pop-punk fanatic, and it was going to be my day to thrive.
Fabletics is an athleisure brand co-founded by Kate Hudson that has an enticing flexible membership model. The company recently partnered with Lovato, whose capsule collection supports the United Nations Foundation's Girl Up campaign. Though it began as an online-only company in 2013, Fabletics has since opened 22 brick and mortar locations across the US, including their first Texas store in Plano's Legacy West development this summer. Demi was returning to her hometown to promote her collection, and it was clearly a pretty smart move — there were droves of tweens and semi-bored parents waiting in line when I arrived, some of which had been waiting since 4am.
Kidd Kraddick's Jenna Owens and I were taken inside for our press time with Demi, who appeared moments later in a royal blue and black Fabletics outfit to take a few photos around the store. I took three deep breaths, a Snapchat for proof that this was actually happening to me, and prepared myself to interview my favorite pop star of all time.
How I chose a couple professional questions to ask my idol was beyond me. I really just wanted to compare our favorite Demi albums, burst into the chorus of "This Is Me" from
Camp Rock
, or just ask her if she wanted to go get lunch. But I held it together and acted like an actual, professional editor.
First up, I asked what piece from her Fabletics collection every Dallas woman should have in their workout wardrobe. (A pretty professional question!)
"The one with the elastic bands around the waist, just because it's so cute. It's sexy. It's flirty. It's fun! You'll feel awesome in the gym wearing it," Demi said.
Next, I asked about a spot she just can't miss when she comes home to Dallas. (Again, professional as hell.)
"Normally I like to visit my childhood home because I still have that," Demi said. "I like to visit my family whenever I'm in town and go to Southlake Town Square, where I grew up going. And I also love going to Mi Cocina."
I'm going to henceforth compare this day using a (sort of) simile since I am now a professional D Magazine editor: The feelings Demi had performing on the same stage as her childhood idol Kelly Clarkson are like the feelings I had interviewing my idol Demi Lovato. It went how I'd always imagined it would. There was some casual conversation, some natural laughter, and confirmation that anybody can feel like they're best friends with their pop star crush for even 15 minutes. My only regret is that I didn't invite her for Mi Cocina queso afterwards – but at least I know where I might be able to find her the next time she's home.