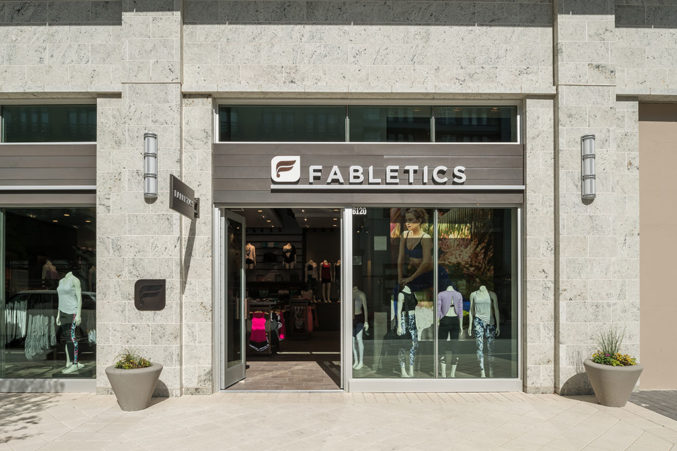 Fitness (Brand) First Takes: Fabletics' First Texas Store
How do Kate Hudson's affordable leggings hold up in person?
When Fabletics first launched in 2013 as an affordable online athleisure line by Kate Hudson, I had a lot of questions. Namely, would the stylish crop tops and form-fitting leggings transform me into the (unjustly) adorable and fit actress? (Spoiler: they did not.) But also, would I be sacrificing quality in exchange for their competitive prices?
The then online-only retailer offered a monthly membership program, which included an entire outfit for only $25 for new VIP members. This, coupled with the promise of saving up to 50 percent on items each month, was a tempting offer. But despite my millennial status, I was skeptical about e-commerce, and after Fabletics quickly gained notoriety for their confusing membership charges, I opted out.
Fast-forward three and a half years, and Hudson's athletic-wear empire has expanded to include brick-and-mortar shopping. In addition to the company's website, Fabletics currently has 22 physical locations in the U.S., including the newly opened space (the company's first in Texas) in Plano's Legacy West development. So without having to worry about the trials and tribulations that come with e-commerce, like taking a gamble on clothing sizes and being bombarded with membership pleas, Fabletics once again piqued my interest.
My workouts vary, but as of late they consist of cardio and (moderately) intense leg days, so I hold athletic leggings to a pretty high standard that I, quite frankly, wasn't expecting Fabletics to meet. But, like any pseudo-adult, I also sport athleisure at least three non-gym-related times a week. So who was I to turn my back on an affordable set of fashionable workout clothes? With this in mind, I made my way to Fabletics.
What I Loved: Despite the low prices and my initial weariness, nothing in the store felt poorly-made. In fact, a jersey top from the Demi Lovato collection was quite possibly the softest fabric I've ever touched. This level of quality held true for nearly every top I tried on. When it came to leggings, I didn't find anything that matched the fluidity of other luxe activewear brands, but with a little digging, I found a number of mesh-paneled capris that felt workout-ready. The shop's energy, from the killer playlist (The Smiths and Shakira? Yes, please!) to the friendly staff, was fantastic. I felt like I tried on everything in the store, yet the staff was nothing but kind and helpful.
What I Didn't Love: Prior to asking a staff member for help in finding the right clothes for someone who enjoys a good sweat session, I ran into a couple of problems. Despite the brand's pride in using high-quality opaque material, I found a handful of leggings that I couldn't wear outside of the dressing room out of sheer embarrassment. Some of the leggings that did pass the squat test, however, were stiff and didn't breathe as well as I would have liked for a pair of workout pants.
Bottom Line: Being able to feel and try on the clothing made all the difference. While not every item was fit for gym activities, most of the activewear was cute, comfortable, affordable (prices are significantly less than lululemon or a boutique such as Bandier) and flattering enough to lounge in while catching up on The Bachelorette, or to strolling through the ever-growing Legacy West.  
Bonus/Beware:  If you visit the shop during a cheat meal day, you won't be disappointed. Shake Shack, Sprinkles, and Earls Kitchen + Bar are steps away from Fabletics's space.
You can shop Fabletics online or at the store's Plano location.