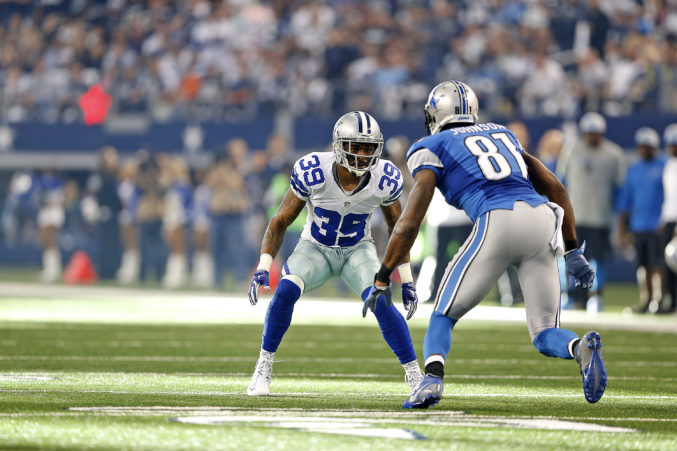 What Dallas Cowboy Brandon Carr Eats for Breakfast
From turkey burgers to Lil Boosie, the cornerback shares his favorite cheat meal and what's on his workout playlist.
By Susannah Hutcheson
Published in Health & Fitness
December 20, 2016
10:00 am
Photography by James D. Smith
Between starting for the Dallas Cowboys and managing the Carr Cares Foundation, Brandon Carr is a busy guy. We caught up with him to see how he stays fit, where he gets his "fire," and all about his love for a big breakfast.
What's Your Favorite Healthy Way to Start the Day?
I get up and drink a cup of water to get my day going. If I'm in training mode, I will get a shot of ginger, lemon, cayenne, and honey—it's better than coffee. I like to do some oatmeal with some type of fruit, maybe some type of meat (like sausage), and toast or pancakes.
What does your workout look like on a normal day?
During the Offseason: I head into the office to workout and take a good 30 minutes to warm up. I do different movements and a lot of stretching and then start into my pre-workout. I pick up weights and things. This season, I tried to drop the weight down and work on technique, and within that, I have been trying to improve my range of motion and improve my explosion. I also mix it up with heel work, getting some speed work, and some stairs.
During the Season: I lift three times a week with moderate weight. I want to get some gains going but not too heavy. I also emphasize lower-body lefts and everything that has to do with my skill set—using single-leg squats, isometric lifts, core and abs, and strengthening my fingers and hands.
What's your all-time favorite cheat meal?
If it was a good week, late in the week, I like to have a nice, juicy turkey burger. If I'm really trying to cheat, I'll go with a beef patty, but I try to stick to chicken and turkey. Ooh, and some French fries. Some sweet potato fries.
Who's on your workout playlist?
My starter would be "The Jungle" by the Ambassadors & Jay-Z, then some Lil Boosie, a little G-Eazy, and some Drake.
What's your go-to workout secret or tip?
For a lot of novice lifters and beginners, it's not about the weight you put on. It's about focusing on the muscle group you want to try to activate. Don't negate technique. I see a lot of guys trying to put a lot of weight on. Isolate your muscle groups, and be aware of your body, your range of motion.
Where does your biggest motivation come from?
I've had a beautiful journey, a beautiful struggle from fourth grade until now as a 30-year-old man. I've had the journey of playing this game. I didn't go to my dream school and went Division II, which was a chip on my shoulder. I've had a lot of naysayers, which has been [another] chip on my shoulder. As I continue to play at a high level, I use that noise and bottle up some good fire.