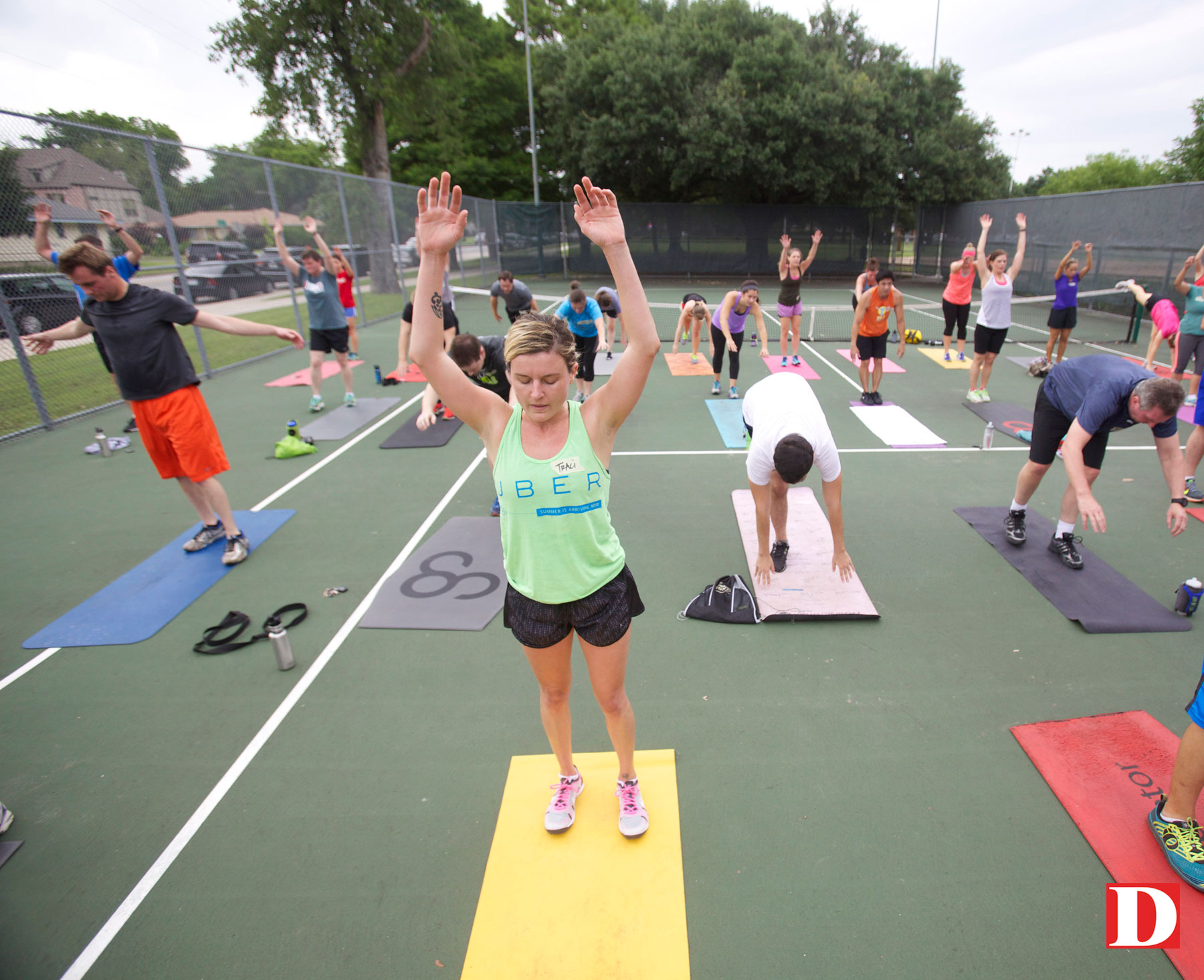 How to Maximize Your Outdoor Summer Workouts
Survive the Dallas heat with these 10 expert-approved tips.
By Katelyn Lunders
Published in Health & Fitness
July 27, 2016
8:30 am
Chris McGathey
We're here to answer the question you have every time you're driving near the Katy Trail in the cool comfort of your air-conditioned car and catch a glimpse of runners. No, not, "are they crazy?" But, rather, the immediate question that follows: "How are they doing it?"
We've only recently hit triple digits, and you're already sick of staring at the wall your elliptical faces. But there's a way to safely exercise outdoors this summer. Mark Hudspeth, a Camp Gladiator instructor and DFW regional manager, and Jay Johnson , of Jay's Boot Camp, offered a few suggestions for exercising outside.
Whether you're new to working out in the heat or you've been doing it for years, stay safe in the sun with these 10 tips.
DRESS FOR SUCCESS
A loose, moisture-wicking tank top is the way to go–especially in the summer, Hudspeth says. Moisture-wicking material pulls sweat from the body, allowing it to evaporate easier. It's also important to remember to protect your skin, Johnson says. Wear a hat and apply sunscreen to cover areas of your body that are exposed to the sun.
SEEK OUT SHADE
Just because the sun is out doesn't mean you have to be out in it. Most summer Camp Gladiator classes pick shaded locations, Hudspeth says. Run, bike, and train in areas where there are several trees. You'll stay cool and get a nice view. Dallas has several parks that are the perfect setting for outdoor workouts. (Check out White Rock Lake Trail and Reverchon Park.)
IT'S ALL ABOUT TIMING
Dallas is considerably cooler when the sun isn't out. Schedule your workout for early in the morning before the sun rises or at night once it's set.
HYDRATE
The consensus among fitness experts is that hydration is key, and the best way to stay hydrated is to drink water on a consistent basis. Hudspeth recommends drinking half of your body weight in ounces of water during the summer. "Your body has to be completely hydrated to be able to withstand this kind of heat for longer than a 20- or 30-minute time period," he says.
REPLACE LOST ELECTROLYTES 
If you plan to workout for longer than an hour outside, there's a good chance you'll also need to drink something with electrolytes in it. "Whenever you're sweating, you're sweating out a lot of sodium and salt, and you need to replenish that," Hudspeth says. "That's what keeps the dehydration from setting in."
START SLOW
Slowly work yourself into the workout regimen you're trying to achieve outside in the heat. Start with a shorter run or workout. Limit yourself to 15 or 20 minutes, and then work your way up to an hour, Hudspeth suggests. With the added difficulty of the heat, make sure to pace yourself so you are able to last through your entire workout.
TRAIN WITH A BUDDY
Johnson says exercising with a friend is a great way to prevent heat-related illness. When working with the Dallas Cowboys Cheerleaders, Johnson says that everyone is monitoring one another for signs of heat exhaustion. With this system, there hasn't been a single heat-related illness in his 14 years of working with the cheerleaders.
LISTEN TO YOUR BODY
If you start to feel lightheaded, dizzy, nauseated or weak, grab some water and get out of the heat before your symptoms worsen. Once you've cooled down and stopped seeing stars, you can get up and start moving again, Hudspeth says.
HAVE A COOL-OFF PLAN
Jumping in a pool is a fun and fabulous way to immediately cool down your body, but if there isn't one in close proximity there are other ways to cool off. Taking an ice towel to the top of your head, your forehead, the back of your neck, and your underarms will help your body cool down immediately, Hudspeth says.
REMEMBER: YOU ARE NOT THE EXCEPTION
Regardless of how in shape you are, don't believe you are an exception to heat related injuries. "Navy seals go down; everybody goes down," Johnson says. "The sun is unforgiving the climate can be unforgiving."
Katelyn Lunders is a D Magazine intern.