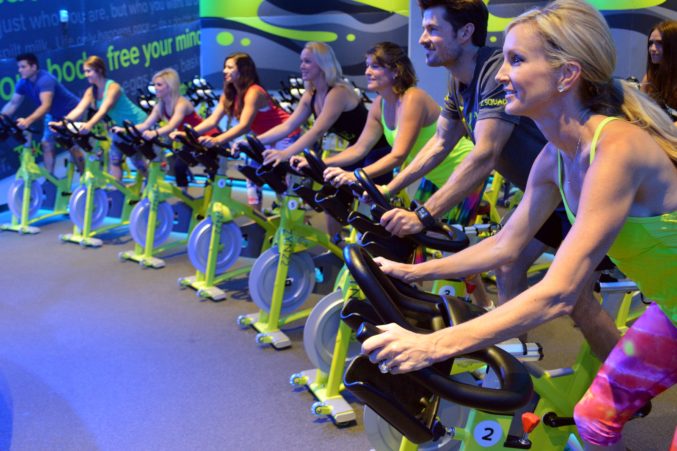 Class Review: ZYN22 Spin Studio
The Texas-based studio offers a swankiness that's comparable to its competition—with a few addictive elements all its own.
In my never-ending quest to find the next best thing after SoulCycle (I drank that Kool-Aid right up), I took a trip to the Shops at Park Lane to try ZYN22. Aside from a towering succulent wall behind the front desk, I was initially struck with the size of studio. I actually had to ask for a tour so I wouldn't wander aimlessly. A helpful employee handed me a pair of spin shoes and a free Smart Water (a first-time perk!) and showed me to the lofty locker room. From there, we filed into the "ZynDome." It was there you could officially color me impressed. The rounded room, emblazoned with neon green and purple, was large. But there was still a normal number of bikes, offering everyone a little extra elbow room and a clear view of the instructor, Cristin, who — as the woman on the bike next to me put it — "gets right down to business." And right down to business she got!
The Class and Instructor: The 45-minute class pit the musical stylings of Drake against Nicki Minaj. Do I wish it could have been Kanye versus T. Swift? You bet. But this personal opinion mattered little once the music started blasting and the fantastic Cristin led a 45-minute dance party. We did all the usual moves: a little "choreography" that any experienced spinner can pick up on, and some hand weights toward the end of class. Cristin pushed us hard in the best way, leaving me with that addicting high you get after a really good workout class.
Didn't Like: The plastic handlebars. I struggled to hold onto them with my increasingly sweaty palms throughout class, but luckily, my favorite thing makes up for it. You guys, why don't more places have eucalyptus towels? Nothing makes a girl giddier than discovering her towel has been infused with that Australian oil. Not the musical stylings of Drake; not a good after-workout high; not even the macarons you could pick up atSavor Pâtisserie next door after class; not a thing! We even swung the towels around in unison, lasso style, at the end of class. It was magic!
Bottom Line: Though I've yet to try them all, I'd be bold enough to rank ZYN22 as one of the top spin studios in Dallas right now. It embraces all the swank-titude of SoulCycle but has a few tricks up its sleeve that help the studio stand on its own. More importantly, it provides just as good of a workout (in my admittedly amateur opinion) and is more affordably priced ($22 a class versus $30). In the fantastic words of Cristin at the end of our time together: "Get ZYNto it!"