Some good news for a Friday that went from gloomy to sunny within the span of an hour or so: Adamson High School sophomore Abraham Moreno has won. His quest to make the streets around his Oak Cliff school safer for pedestrians has resulted in new speed cushions on a street adjacent to the campus.
Earlier this month, we introduced you to Moreno and his plight. In 2022, a city contractor striped a one-way road near the school incorrectly, making 9th Street appear to drivers as if it were open for two-way traffic. The school then lost its crosswalks after they were painted over in an attempt to correct the initial screwup.
Moreno lives close to the campus. He watched Adamson staff direct traffic to keep students safe in the absence of those markings. He grew increasingly frustrated with the pace of the conversation around fixing those issues. He says he nearly got hit by a car crossing the street near his school. So he went to work.
"The problems have always been there, from when the school was built, at least to my knowledge," he told us earlier this month. "It was built in a way that never took into consideration any future planning for traffic or anything. I actually live right beside the school, so I walk home and back. I almost got run over, and that was a big issue."
Since our story ran, the city has been working to coordinate a faster response to the immediate issue. Installation of the striping and new signage began on March 20. Friday morning, the city emailed Chad West, Moreno's city councilman, to tell him that speed cushions have also been installed on 9th Street, which will further slow traffic in front of the school.
That development had Moreno pretty excited Friday morning. "Everyone in my school is so happy that the streets are finally safer," he said. "A bit more work could still be used, but this is still great!"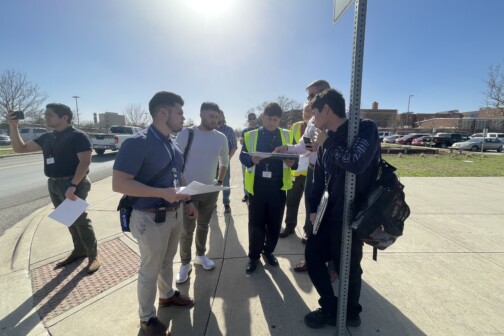 But that's not the only pedestrian-friendly improvement Adamson will see this year. Next month, the city will install a barrier-free ramp, which will make the crosswalks accessible to wheelchair users. A rectangular rapid flashing beacon, which alerts drivers to pedestrians, will be installed by June. That's according to a timeline the city provided Dallas ISD Trustee Ben Mackey.
Moreno, who plans to pursue an architecture degree at the University of Texas and become a city planner, isn't done advocating for pedestrians in his neck of Oak Cliff. He's lobbying for raised crosswalks near the school that would function also as speed cushions. (West said that he was "100 percent with the school on this" but it would take more time.) Moreno would also like to see more protected crosswalks and bike lanes, like he's seen in other parts of town, installed in his part of Oak Cliff. He'd also like to DART to take another look at ridership needs, because there aren't enough buses.
"We're a lower-income area, and a lot of people do walk," he said a couple of weeks ago. "You have Jefferson Boulevard, you have Zang Boulevard near here, and there is a streetcar there, but the priority should be for multimodal use transportation like bikes, scooters, and streetcars. But no, instead, we have only, like, a painted bike lane you can barely see."
Moreno still has unmet expectations for his city when it comes to his community. But today, he and his classmates can appreciate the prettiest speed cushions you'll ever see, thanks to his dogged advocacy.
Get the D Brief Newsletter
Dallas' most important news stories of the week, delivered to your inbox each Sunday.
Author
Bethany Erickson is the senior digital editor for D Magazine. She's written about real estate, education policy, the stock market, and crime throughout her career, and sometimes all at the same time. She hates lima beans and 5 a.m. and takes SAT practice tests for fun.