Abraham Moreno didn't need to almost get hit by a car to motivate him to advocate for safer streets near Adamson High. But it certainly didn't hurt the sophomore's argument.
Last year, a city contractor mistakenly striped a one-way road near the Oak Cliff school that made 9th Street appear to drivers as if it was open for two-way traffic. The city returned to correct the error—but also painted over the crosswalks that students use multiple times each day.
Moreno and Adamson administrators are still trying to get the city to pay more attention to those specific issues. A Dallas ISD spokesperson said that Adamson teachers have directed traffic during arrival and dismissal, and the district has been working with the city to correct the matter.
But Moreno said the problem for pedestrians and bikers near Adamson, located two blocks east of Beckley on 9th Street, actually started much earlier. 
"The problems have always been there, from when the school was built, at least to my knowledge," he said. "It was built in a way that never took into consideration any future planning for traffic or anything. I actually live right beside the school, so I walk home and back. I almost got run over, and that was a big issue."
He stewed over the problem and then talked to one of his teachers, Claire Collop, about trying to attract the city's attention. He reached out to the urban design nonprofit Better Block in November.
"When he reached out, we got so excited," said Krista Nightengale, Better Block's executive director. "To have someone so young who lives in the neighborhood and says, 'Listen, this is what's going on, and I know it's not right, and I know it needs to be fixed. Where do I go?' That is the exact person you want to work with."
Better Block redesigns public spaces to make them safer for pedestrians. Nightengale said that, beyond noticing the problem, Moreno gathered the data to make his case and offered solutions.
Better Block helped him get in touch with Chad West, his city councilman. West, in turn, facilitated a meeting last week with school officials, Moreno, and city staff to examine the immediate issue and the larger design problems that Moreno says impact students at Adamson and other residents in his pocket of Oak Cliff.
West said that a lot of Adamson and Moreno's asks are "basic and make sense." The councilman expressed frustration at how long it's taken to fix the most pressing issues, laying the blame at both the city staff and their counterparts with Dallas ISD. "I think there was a lack of communication on both sides," he said. "Then it's a lack of urgency from everyone except the student and the school, and it has frustrated me as well."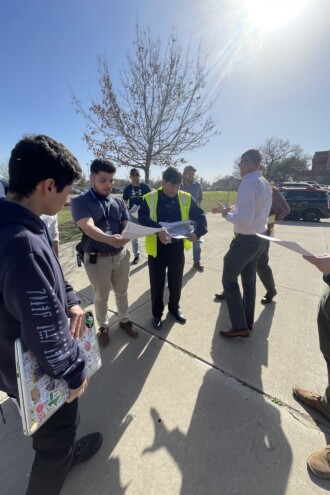 At last week's meeting, West said he walked away with the impression that the new street painting and the additional signage could be addressed quickly. "I got the impression that it would be within the month," he said.
Moreno has larger ambitions. He said he'd like to see raised crosswalks that also function as speed bumps around the school. That's something West said would take more time, because it would also require ramps that are compliant with the Americans with Disabilities Act. "I know the school was requesting it, and they were getting a little bit of pushback from staff on that, but I am 100 percent with the school on this," he said. "Why would you not put in an elevated crosswalk?"
West said that those types of projects usually occur during the summer months, when it's less disruptive to school traffic.
Moreno said he's seen protected crosswalks and bike lanes in other parts of Dallas. He'd like to see similar infrastructure closer to his home, including lighting that would make it safer for students and his neighbors. He'd also like DART to take another look at ridership needs in his neighborhood, because there aren't enough buses, and "Route No. 9 always gets packed at 4:30."
"We're a lower income area, and a lot of people do walk," he said. "You have Jefferson Boulevard, you have Zang Boulevard near here, and there is a streetcar there, but the priority should be for multimodal use transportation like bikes, scooters, and streetcars. But no, instead we have only, like, a painted bike lane you can barely see."
He also feels that North Oak Cliff, particularly the Bishop Arts District, gets more attention than his side of the neighborhood. "Walk past Zang, and everything is nice over there by the Bishop Arts District, but then come here and there are houses falling apart," he said. "It feels that we're being treated like second-class citizens because this neighborhood is mostly Black and Latino."
West said he came away from his meeting with Moreno impressed at the teen's advocacy.
"He definitely has some ideas, and he wants to be part of the solution—not just a complainer," he said. "I appreciate that, too. He is exactly the kind of future leader we need, and I'm glad that he's taking this and running with it. It's inspiring and I'm excited."
His teachers are also proud of Moreno's advocacy work and his drive. They think that if anyone can bring about a change for the pedestrian safety around his school, it's him.
"In this case, having Abraham there when Chad West came was a whole other perspective," said Oscar Rodriguez, an Adamson administrative team member. "As a student whose firsthand experience is almost getting hit by a car, it's a raw experience. He comes to school every day, and so him putting his foot in and just jumping in where he can is very impressive."
Collop showed off some of Moreno's handiwork: a sheet of paper where he sketched out the setup for a possible block party for the school's Monarch Butterfly Club. "He made a plan to talk to the principal, talk to the school district, talk to Better Block, talk to the businesses that might be involved, and then he made this map of where things would go," she said. "He's very driven, and we're so proud of him."
Moreno says his interest in urban planning will hopefully lead him to the University of Texas, where he plans to major in architecture. 
"I heard it's very good, so I would like to do that," he said. "And then after I graduate, I would like to become an urban planner for the city of Dallas, and help my neighborhood."
Get the D Brief Newsletter
Dallas' most important news stories of the week, delivered to your inbox each Sunday.
Author
Bethany Erickson is the senior digital editor for D Magazine. She's written about real estate, education policy, the stock market, and crime throughout her career, and sometimes all at the same time. She hates lima beans and 5 a.m. and takes SAT practice tests for fun.