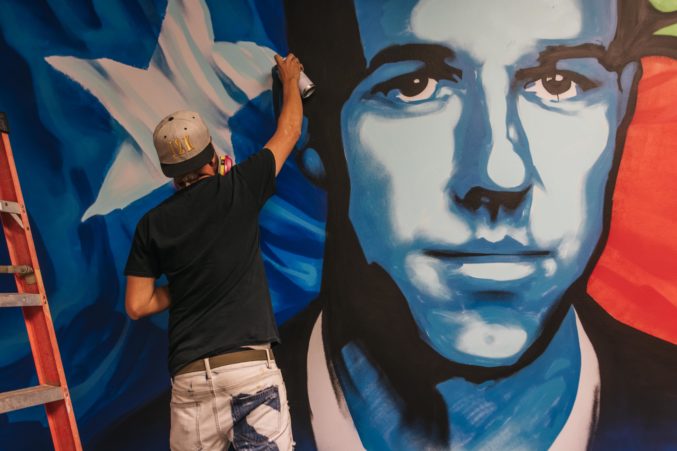 With Fort Worth Backing Beto, All of Texas' Cities Are Now Blue
Driven by the high-profile race for Senate, Fort Worth looks more purple than it ever has. But is the shift permanent?
I'm not sure if I entirely buy this takeaway from Tuesday's election, but here it is: City Lab reports that with Fort Worth's backing of Robert "Beto" O'Rourke in the U.S. Senate race all of Texas' cities now vote blue.
Fort Worth was the last city in Texas that consistently backed Republican candidates. But this year, as early voting numbers and overall turnout shattered previous midterm records, Beto won Tarrant county, which hasn't had a Democrat congressman or woman in decades. The turnout also gave Fort Worth a Democrat on the state Senate (Beverly Powell), and a surprise Democrat in the Tarrant County Commissioners Court (Devan Allen).
Here's how City Lab's Kriston Capps analyzes it:
The GOP share of the vote in Texas cities has eroded. That's a dog-bites-man story from the perspective of any coastal elite. But only a few years ago, voters in the biggest Texas cities were evenly split everywhere but Austin. Since 2014, Democrats have opened up a turnout lead over Republicans in Dallas and Houston, and to a lesser extent, San Antonio. Now, liberals have closed the gap in Tarrant County. In terms of turnout, Republicans lost ground in all those cities. But Republican voter turnout also declined in the smallest counties, too.
Capps goes on to point out that perhaps the most interesting takeaway from the boost in turnout is the way it affected Texas-wide races that Democrats lost—although not by much. Ted Cruz held his Senate seat by 3 points. Dan Patrick, Ken Paxton, and Sid Miller all won by less than 5 points. The only old school Republican poll-whipping was dealt out by Governor Greg Abbott, who defeated former Dallas County Sheriff Lupe Valdez by 13 points. In light of the narrower statewide races, Capps sees the landslide as an indication of "widespread defections among Republican voters or disaffection from independents."
Which is probably true. And that is why I don't necessarily see Tuesday's results as indicative of a slow, inevitable sliding of Texas and Tarrant County voters towards the left. Valdez and Beto represent the two sides of the Democratic Party's profile and strategy in Texas. Valdez is a candidate whose campaign attempted to play to state's changing demographics in hopes that a growing Hispanic population as well as a broadening progressive urban base could carry along a politician who checked a lot of demographic boxes but who was, let's be honest, a pretty weak candidate.
Beto is something entirely different. He is a magnanimous social media star who attempted to run a post-party, post-ideological campaign driven by the force of sheer personality and a hell of a lot of hard work. That strategy motivated voters, ignited an unprecedented amount of excitement, and tapped into previously unengaged voter base. Those are the voters who helped push the Democrats' gains in Texas on Tuesday.
If the midterms offer a lesson to Texas Democrats, it is that a demographic tide is not enough to make in roads in the Lone Star State, but working really, really hard with an exceptional candidate may. Fort Worth may look blue right now, but this election cannot be seen as a bellwether on Texas' allegiance to the two main political parties. Rather, it was a referendum on Beto O'Rourke as well as a litmus test of Texas' anger or ambivalence with Donald Trump. And in their very own ways, both Trump and Beto are a once-in-a-generation political forces.
In other words, we're still dealing with a limited sample size. If Texas Democrats field candidates like Lupe Valdez in the next election cycle, which, given the general incompetency of the various branches of the Democratic Party in Texas wouldn't be surprising, I could easily imagine Republicans flipping seats in places like Tarrant County back to red.
And so, after this one election, can we really make the claim that Tarrant County is now blue? I'm not convinced. And based on some of the recent staff changes and editorial decisions at the Star-Telegram, I think there are plenty of people who still believe the "Gateway to the West" is still the urban gateway to conservative Texas. It may take a few more Betos to change that.