If your social media timelines are anything like my Twitter feed, then over the weekend you saw lots of pics of people cutting the Nike swoosh off of their socks and burning their Nike shoes, etc., etc. It's all in response to that new Colin Kaepernick Nike ad. Mark Davis got in on the act. The conservative talk show host shared this pic with his 29,800 Twitter followers:
#JustDoIt pic.twitter.com/laiJJbZ9vQ

— Mark Davis (@MarkDavis) September 4, 2018

I have a few thoughts on Davis' kicks.
1. Overall, I'd like to comment on the style of these sneakers. I know that "dad shoes" are trend. That doesn't make them good. Juuling is also a trend. It is also bad. So Davis' first mistake was buying this pair of sneakers.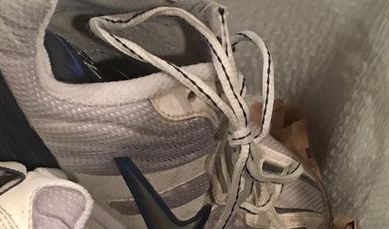 2. As you can see in the above detail, Davis does not untie his sneakers before he takes them off. This drives me absolutely crazy. I tell my kids all the time, "Your sneakers will last longer if you untie them before you take them off. They aren't designed to be slip-ons, for God's sake. If you keep doing that, I'm going to make you pay for your shoes."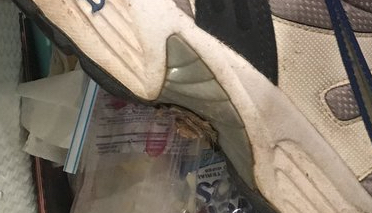 3. That right there is dry mud. This detail, along with the overall shabby condition of the sneakers, suggests to me that these were not Davis' favorite pair of sneakers. These were the sneakers that sat by the back garage door, the ones he threw on to putz around in the garden. You know how easy it is to throw away garage sneakers? If Davis really wants to make a statement, he should go to Dick's today and buy a pair of Nike's Kobe A.D. NXT 360s, which "resurrect the Mamba's on-court mentality and killer instinct." He should buy them in a size 10. Then he should drive to 750 N. Saint Paul St. and throw those shoes out his window. Just throw them into the street. That'll show em.
Get the D Brief Newsletter
Dallas' most important news stories of the week, delivered to your inbox each Sunday.