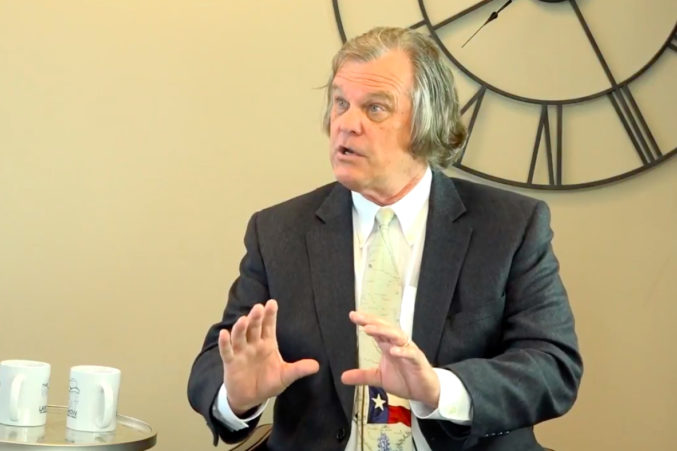 Why Was Dwaine Caraway Trying to Protect the Robert E. Lee Statue?
SMDH
A co-working FrontBurnervian who lives in the 75219 ZIP code brought in a postcard that she received in the mail at home. It's an invitation to donate to a group called Return Lee to Lee Park. The name troubles me. Because Lee Park is now called Oak Lawn Park. So, really, the group should call itself Return Lee to Oak Lawn Park. Or maybe Rename Oak Lawn Park and Then Return Lee to It. Anyway, neither the postcard nor the website identifies who is behind the effort, but judging from this lawsuit and this video, it's a guy named Warren Johnson (pictured above). If you are tempted to dismiss this whole thing as the pursuit of a loon and assume nothing will come of it — don't. The Robert E. Lee statue has been safely squirreled away, and there's talk of spending nearly $250k to remove the statue's plinth and store it "archivally," making it possible to restore the whole thing.
You know which member of the City Council was most vocal in protecting the statue and the Confederate monument near City Hall? Dwaine Caraway. Does it seem strange to you that a black guy from District 4 would do anything to protect a Confederate monument and a statue of Robert E. Lee? Of course not. Because that guy was crooked. Jim Schutze has written about all this, here before Caraway was busted by the feds and then here afterward. So I have two questions for the statue people: 1) which one of you paid Dwaine Caraway? And 2) do you get a refund now that he's going to prison?
UPDATE (8/20/18) Through an attorney, Warren Johnson sends along the following statement: "I am aware of the article published in D Magazine on August 14, 2018, which implies a connection between Return Lee to Lee Park and Dwaine Caraway. There has never been, nor is there currently, any connection between myself or Return Lee to Lee Park and Dwaine Caraway. Soon after the removal of the Robert E. Lee and Young Soldier sculpture, I submitted my concerns to each Dallas City Council member by email. Neither Caraway nor anyone from his office responded. As explained at www.ReturnLeetoLeePark.org, we are a nonprofit organization seeking the return of the sculpture to its home through the exercise of our Constitutional right to petition our representatives and assemble peacefully."