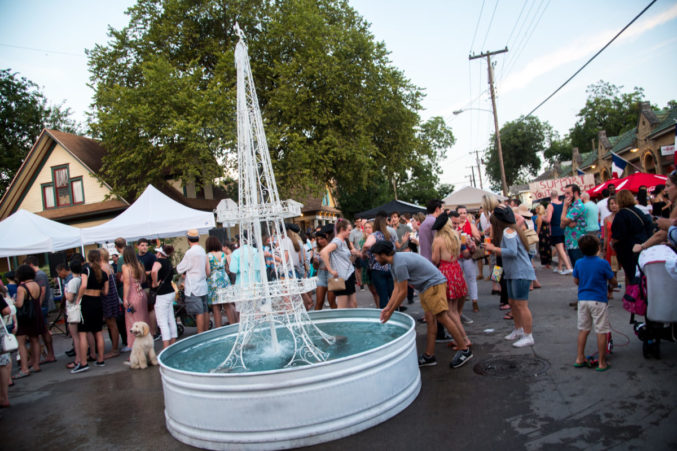 Things To Do in Dallas This Weekend: July 12-15
Let's talk things and how to do them.
The French revolutionary Jean-Paul Marat once said that "man has the right to deal with his oppressors by devouring their palpitating hearts." But you can devour something a little more savory at Bastille on Bishop, Oak Cliff's celebration of French food, wine, and culture.
It's Bastille Day on Saturday, a day before France plays in the World Cup final, and the Bishop Arts District is celebrating. Plus: other things.
Thursday (7/12)
Elluments, a weekly hip-hop series at Independent Bar and Kitchen in Deep Ellum, focuses on the various elements of hip-hop, which are traditionally defined as graffiti, b-boying, rapping, and DJ'ing. Tonight is specifically dedicated to the b-boys and b-girls, so expect the dancefloor to be a battleground.
Hairspray, the '60s-loving musical with the big 'dos and big jams (looking at you, "You Can't Stop the Beat"), wraps up with performances through the weekend at the Winspear.
Friday (7/13)
The Adolphus just recently began opening up its scenic seventh floor pool on Friday nights, for what it calls Sundown on Seven. We sent the intrepid Bret Redman to take photos a couple weeks ago, and it looked like a pretty good time.
Deafheaven, one of those unicorn-esque black metal bands with crossover appeal beyond the long-haired black-T hail-Satan crowd, plays at Gas Monkey Live. The great Drab Majesty, more glam electronica than black metal, opens.
Don't get a tattoo, despite the Friday the 13th deals. Especially not a tattoo of the No. 13. I mean, do, if you want to, but do it after some serious sober contemplation on the day of your choosing.
Saturday (7/14)
Liberté, égalité, fraternité, champagné. Celebrate the past triumph of 18th century French revolutionaries over an out-of-touch monarchy, the French national soccer team's impending triumph over the Croats, and the ongoing triumph of sparkling wine from the Champagne region of France over other beverages that could be considered for celebratory toasts at Bastille on Bishop, Oak Cliff's Francophile extravaganza. Food and wine will cost you, but it's free to mill about the Bishop Arts District and look at all the striped shirts, berets, and performing mimes.
If you live in The Colony, or have otherwise been looking for an excuse to visit the suburban Lava Cantina venue, this performance by Nelly ("Hot In Herre") is just what you've been looking for.
Sunday (7/15)
Speaking of suburban venues, let's see what's happening at the Toyota Music Factory in Irving. It'll be a good one with the Violent Femmes, still best known for their debut album and the infectious "Blister in the Sun" but also to be commended for decades of wonderful and twangy alternative. Echo and the Bunnymen are also on the bill.
Watch the World Cup final at one of these places.