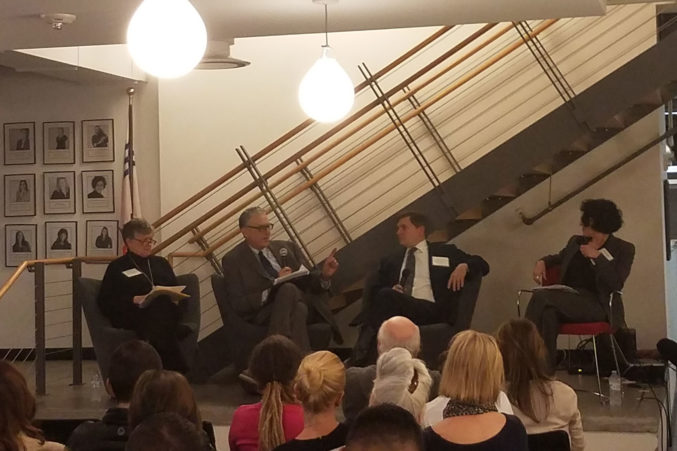 Is There Any Criminal Justice for the Poor in Dallas County?
At D Magazine's offices on Wednesday, a panel discussed bail reform and the district attorney's race.
Dallas County has a criminal justice problem. That's a simplistic way of saying that Dallas County—and, more specifically, the Dallas County jail and its court system—has a set of problems: with treating mental illness and funding social programs, with screening defendants in criminal cases for their risks to both fleeing prior to trial and to public safety, with economic and racial disparities at the jail, with the very mechanics of processing the people who are arrested here every day.
There's room for disagreement over how to address those problems, but the panelists at D Magazine's Wednesday night "Happy Hour With An Agenda"—ACLU of Texas director Terri Burke, former Dallas County criminal justice director Ron Stretcher, prosecutor-turned-defense attorney Toby Shook, and moderator Pamela Metzger, director of SMU's Deason Family Criminal Justice Reform Center—could largely agree on the premise. If you're poor and arrested in Dallas County, justice is the last thing you'll get.
The subject of Wednesday night's panel, part of a series hosted every few months at our offices in downtown Dallas, was especially timely. Dallas County is being sued by six people arrested in January, represented by the ACLU of Texas and other civil rights groups, over allegations that the county's bail system discriminates against the poor. It argues that presumptively innocent men and women are locked up for days and weeks and sometimes months because they can't afford to pay a cash bond.
This takes an enormous toll on the well-being of those inmates, whose lives can fall apart in the time it takes for them to even be appointed a public defender via Dallas' badly outdated paper method. Beyond the human cost, it takes a bite from the wallet of the Dallas taxpayer. The county spends about $230,000 a day jailing people who have not been convicted of any crime. About 70 percent of the people behind bars at Lew Sterrett at any given time are presumed innocent. On any given day, the jail has around 5,000 people in it.
It's a timely subject for another reason, too. Dallas will soon go to the polls in a district attorney's race that's received national attention from criminal justice reformers emboldened by success in places like Philadelphia, whose progressive new DA just dropped all marijuana charges and sued 10 big pharmaceutical companies for their role in the nation's opioid epidemic.
"The DA is probably the most important person you vote for every four years in your local races," Burke said at Wednesday's panel.
Burke, who said the lawsuit against Dallas County and similar litigation against Harris County was intended to hurry the glacial pace of already occurring reform, made it clear that responsibility doesn't lie with the DA alone. In Dallas, judges setting bail follow a predetermined bail schedule, which accounts only for the severity of a charge and a defendant's past criminal history, not that defendant's ability to post bond or their likelihood to dodge a court date.
"The judges here put together a bail schedule, they can undo a bail schedule," Burke said.
Stretcher, director of the county's criminal justice system before he took his current job at the Meadows Mental Health Policy Institute, said the county has made some progress with pretrial diversion programs and other measures aimed at keeping people out of jail. But procedural changes will only go so far, and even the most well-intentioned speciality courts are failing, in the grand scheme of things.
"We've squeezed about all the process we're going to get," he said. "We need fundamental changes."
Stretcher advocated for a pretrial risk assessment program, a method of quickly determining whether someone who is arrested can be released with the expectation that they will show up for a later court date—no cash required, no job lost waiting to meet your public defender, none of the mental trauma of an extended jail stay.
There is ample evidence of risk-assessment tools working in places that have already adopted bail reform. A federal study found that in Kentucky, which completely bans commercial bail bonds and has a pretrial release rate of 74 percent, "93 percent of individuals released remained arrest-free while awaiting trial and 92 percent of those released pending trial appeared in court when required."
Shook, a former prosecutor, also called for a more efficient screening process, starting with better-trained lawyers in the district attorney's office, which sets the tone for criminal justice.
"You have a lot of prosecutors who will accept everything," he said. "It's real easy to do that. You have to educate and train your prosecutors to have discretion and realize you don't have to take (every case)."
Even with what Burke called the "jolt" of a lawsuit, any significant bail reform in Dallas County seems likely to move at an agonizingly slow speed. And that's not accounting for the opposition reform will face from the commercial bail bond industry and the elected Dallas County officials who are either sympathetic to that industry or concerned with appearing "tough on crime."
Our panelists did have some advice for anyone outraged by the economic and racial imbalances in the county's criminal justice system. It boiled down to this: get involved. Burke said she would like to see the same brand of "marching in the streets" activism for police reform applied to criminal justice reform. Shook suggested starting smaller, by participating in the system—go to jury duty, first off. Stretcher said people should speak up, as loudly as possible.
"I think nearly all of us have been touched by the justice system somewhere," Stretcher said. "Think about what went right, what went wrong, and start screaming like hell to anyone who will listen."
Tomorrow, we'll upload the full audio from Wednesday night's panel as a podcast. There's a lot of good stuff we didn't get to here, so please take a listen.