Did you know that flip-flops account for 19 percent of all footwear sold in the United States? Did you know that number balloons to 26 percent when you zoom in to Texas? Did you know that these terms are so broad that they're virtually un-Googleable? The data points came from Lila Stewart, one of the founders of rapidly growing Deep Ellum-slash-Exposition Park flip-flop company known as Hari Mari.
You've seen their flops on the feet of Zac Efron and Andy Roddick. They've been featured in the pages of ESPN the Magazine, Wired, Fast Company, Men's Health, and — the finest of them all — D Magazine. In the physical world, you can find them in 850 Nordstrom stores nationwide, in every state but Wyoming, for reasons that Lila will share with you on the podcast below. And all this started by getting their product on the shelves of Dallas-based St. Bernard Sports.
Lila's not too big-time for EarBurner, somehow. So she joined Tim, who was wearing a pair of Hari Maris despite the plunge into 30-degree weather outside, and Zac, who doesn't hate flip-flops so much as he hates the male tendency to forget to manage foot hygiene, for a spirited conversation that went well beyond monetizing feet. Show notes after the jump.
1. Hari Mari! Here's their website, and here's a 2016 D piece, written by Tim, that argues for men to wear flip-flops.
2. The flu has claimed 31 lives in North Texas, 26 of which have been in Dallas County. It's bad everywhere though; the Centers for Disease Control says this year has far outpaced last in terms of flu cases. And, yes, this year's flu vaccine is "less effective" than it normally is. That doesn't give you an excuse to skip it, no matter what Tim and Zac and Lila say.
3. Look out, Tiff's Treats. Two businesses are leaning into the not-cooked-cookie movement more than you are, and are coming for all of us.
4. Preston Road or the Harold C. Simmons Memorial Highway: Who wore it better?
5. This is a giant flip-flop: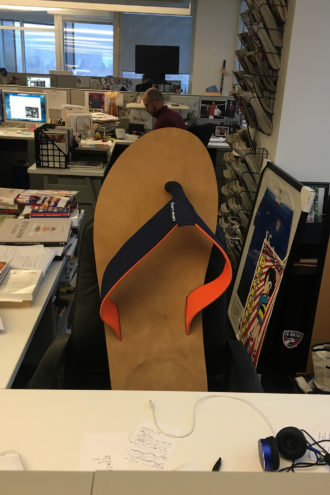 6. Here is a terrific DJ Screw song, which features Lil Flip freestyling over a screwed version of Missy Elliott's "Hot Boyz." This one is for Tim, who really blew Zac's Flip Or Flop game.

Get the D CEO Newsletter
Stay up to speed on DFW's fast-moving business community with weekly news reports, interviews, and insights.