WFAA Reporter Brett Shipp Running for Congress
The biggest TV news reporter in Dallas will run as a Democrat against Pete Sessions.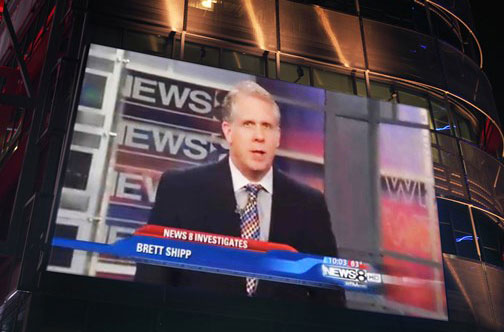 Channel 8's Brett Shipp, the most well-known TV news reporter in Dallas, is quitting WFAA to run as a Democrat for U.S. Rep. Pete Sessions' North Dallas congressional seat, the station announced today.
He's the latest candidate to join the growing Democratic field vying for the 32nd Congressional District, which many Democrats see as vulnerable in 2018. Former Hillary Clinton adviser Ed Meier, lawyer Colin Allred, and former Obama appointee Lillian Salerno are among the Democrats already in the race to try and unseat Sessions, a Republican. Despite his late entrance, Shipp's name recognition far outstrips that of his fellow primary opponents, which should make him an instant contender.
Shipp, whose last day at the station is today, worked at WFAA for 22 years, racking up broadcasting awards and becoming a household face and name to countless North Texas viewers while he led big investigations into Dallas police scandals, DISD leadership, and dozens of other subjects. He's a three-time Peabody Award Winner, which included a bombshell series in 2002 that proved that Dallas police officers were planting fake drugs on Mexican immigrants. He is, by many accounts, a nice guy.
He is also, according to critics that include D Magazine city columnist Eric Celeste, a bully who in recent years has let his admirable reporting chops take a backseat to biased, context-free investigations.
Shipp, a Dallas native whose father was also a prominent reporter for Channel 8, will officially announce his campaign at a news conference Thursday, according to WFAA.