At this afternoon's meeting of the Dallas City Council's Mobility Solutions, Infrastructure & Sustainability committee, researchers from the University of Texas at Arlington's Institute of Urban Studies will brief the members on a new and groundbreaking study that, for the first time, comprehensively reveals the failures of Dallas Area Rapid Transit to provide adequate public transit to its member cities. The analysis exposes a failure that is contributing greatly to lingering issues of poverty, inequality, and a lack of upward mobility in the region.
You can read the report briefing here, but here are some key statistics that reveal how DART really functions:
Transportation is unaffordable to 97.44 percent of the population of Dallas.
More than 65 percent of residents who are dependent on transit have access to less than 4 percent of regional jobs.
More than 73 percent of Section 8 Multifamily Affordable Housing properties in Dallas are unaffordable when transportation costs are factored in.
About a third of Dallas residents and transit-dependent residents do not have walking access to a transit station.
On average, just 18 to 22 percent of the population has access to high frequency service during morning and afternoon peak hours; but during off peak hours, that number drops to just 9 percent of the population. In the late evening, half the population must wait 30 minutes or more for transit or has no transit at all.
Even though DART boasts the nation's longest light rail network, DART Ranks 23 out of 29 for large- and medium-sized transit agencies in the U.S. in terms of bus passenger miles per capita
Since 2000, poverty in the city of Dallas has increased 22 percent, while the city's total population has only increased by 9.7 percent.
The major takeaway is this: DART fails at its core function as a public transit agency; that is, getting people who live in its service areas to and from their homes and work. When looking at which residents in that service area are most likely to rely on transit—those who can't afford other transit options—DART is even worse at providing access to jobs. In one fell swoop, the report illustrates how Dallas' income inequality and lack of upward mobility are directly related to the failures of its public transit agency.
Drilling down into the details, the report reveals that DART fails to provide reliable service, accessible service, or service that can bring workers to their places of employment. The reasons are multifaceted. For one, sheer physical distance is an obstacle for transit use for as much as a third of the Dallas population.
Routes that reliably connect people where they really live to where jobs exist is another pressing problem. The data also shows that DART's system is designed for 9 to 5 commuters. There are vast drop offs in levels of service after peak morning and evening rush hours. Which is ridiculous, if you think about it for 30 seconds. Workers who don't have typical 9-to-5 schedules are more likely to rely on public transit. But when it comes to DART, they are out of luck. As far as people who might use DART for non-commuting reasons, such as evening and weekend entertainment? Forget it.
But that's only part of the story. Even in peak hours, which is the focus of DART's service, only 18 to 22 percent of the population has access to the kind of frequency of service that is reliable. Unsurprisingly, the study reveals a correlation between density and areas with a mix of housing and job locations and transit affordability.
It also reveals that the situation isn't that much better for drivers located in transit-dependent locations. On average, Dallas residents can reach only 34 percent of jobs by driving. The disparity is illustrated in a map in the study that shows how low-wage job growth is increasing in the far, northern fringe of the region outside the edge of DART's service area, while the low income population is concentrated south of Interstate 30.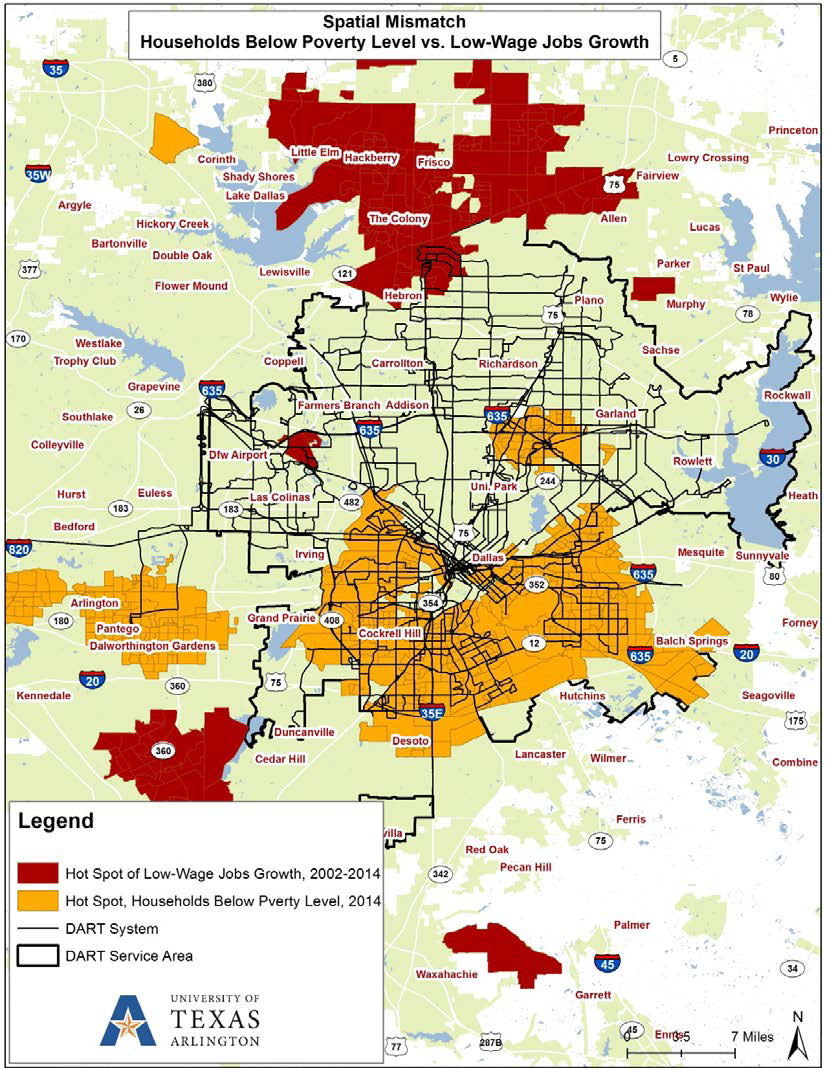 What this translates into is a kind of time poverty: Those who can't afford reliable transit or can't afford to live in areas of the region closest to jobs must also pay for the time it takes to get to their place of employment.
All of it reflects the end result of a city policy over the past few decades to support a brand of regional growth that has seen employment centers migrate northward. But by linking DART's development to that regional growth—investing in a sprawling light rail network as opposed to a functioning transit system—DART has only exacerbated the disconnect. As a result, the report reveals that lack of access to transit is one of the great equality issues facing this city and directly relates to perpetuating cycles of poverty.
Transit Frequency (as % of Population in Each Category) for Four Different Time Frames of a Typical Weekday by Council District in Dallas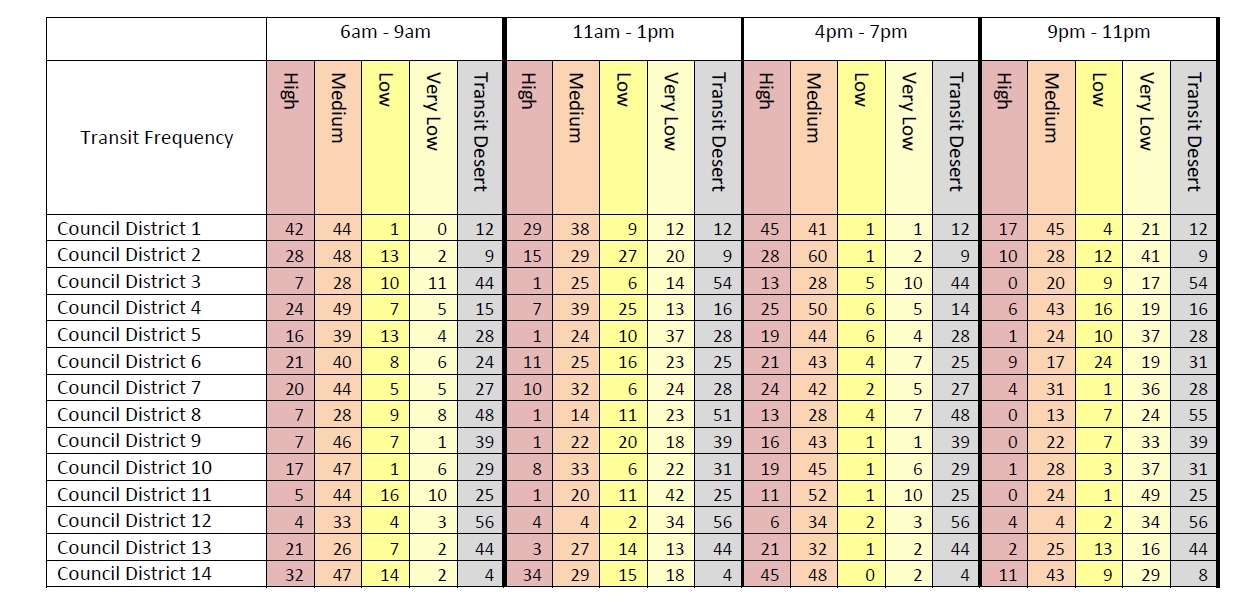 Dallas prides itself on relative affordability, but when taking transit costs into account, Dallas isn't a very affordable city at all. The study shows that, as you venture further south in the city, there is a greater percentage of household income spent on transportation.
Not that riding DART is particularly expensive. Affordability is the one area that DART does fairly well. Putting aside for a moment the proposed fare hikes DART will decide on over the next few months, the agency compares well to agencies in other cities when it comes to cost. But that's not to say that there aren't areas to improve.
For example, DART doesn't currently offer an option for low income residents to quality for its reduced fare rate (probably because low income Dallas residents comprise a lion's share of DART's customer base). But the results show that affordability is not a barrier for ridership, meaning DART should keep things as they are and search elsewhere for areas to improve. However, since DART tends to do everything that is the wrong thing to do, this is the one area DART is messing with the machinery, planning to raise fares in the coming months.
Ultimately, what this study reveals is that DART's historical attitude toward its mission as an agency is completely flawed. For the past 30 years, DART has been a construction agency, focused on building out the nation's largest light rail network, while failing to act as a transit agency and provide reliable public transit for its member cites. It's time for DART to learn how to be a transit agency. This report is the wake-up call that should push public officials, and the DART board in particular, to shift the focus of the agency from construction to mobility.
Let's put it this way: There is no success of Grow South until transit is dealt with seriously. There is no national competitiveness until Dallas fixes its transit mobility and upward mobility issues. Dallas' pressing problems with poverty and income inequality cannot be dealt with until transit is addressed.
That means completely changing the metrics and priorities by which DART measures its success. Because it is painfully clear that the way DART has evaluated its success in the past does not correspond to the reality of how people use public transit. Instead, it has only resulted in a squandering of 30 years of public investment and billions of dollars of tax revenue.
What's next?
First, this study should be expanded to the full network. If we are to take DART and the Regional Transportation Council seriously as public entities that are interested in providing reliable public transit in the region, they should follow the city of Dallas' lead and have UTA's Institute for Urban Studies look even more broadly at access to transit and employment for the entirety of DART's coverage area, in each of its 13 member cities. Too often issues at DART reduce into city vs. suburb squabbles. But what UTA's study reveals is a way of looking at the DART system that can show how DART is failing all its member cities. New priorities and policies must be set.
Kudos to Dallas for finally taking a leadership role on transit and taking a step in the direction toward steering DART on the right track. Now it is time for our elected public officials and the representatives on the DART board to hold the public transit agency's staff's feet to the fire.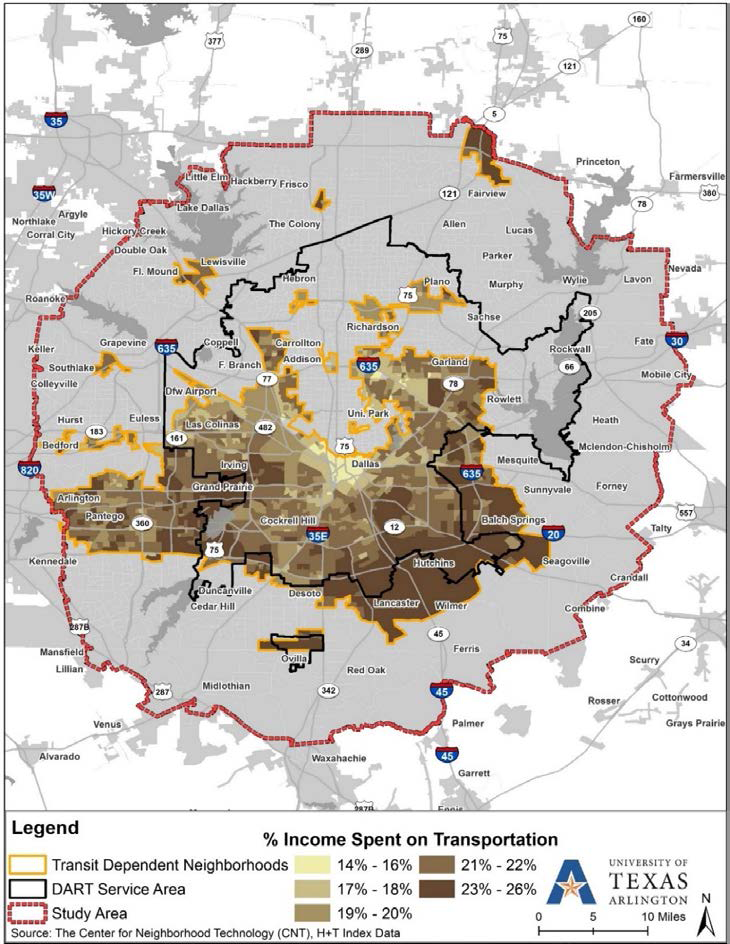 Get the D Brief Newsletter
Dallas' most important news stories of the week, delivered to your inbox each Sunday.