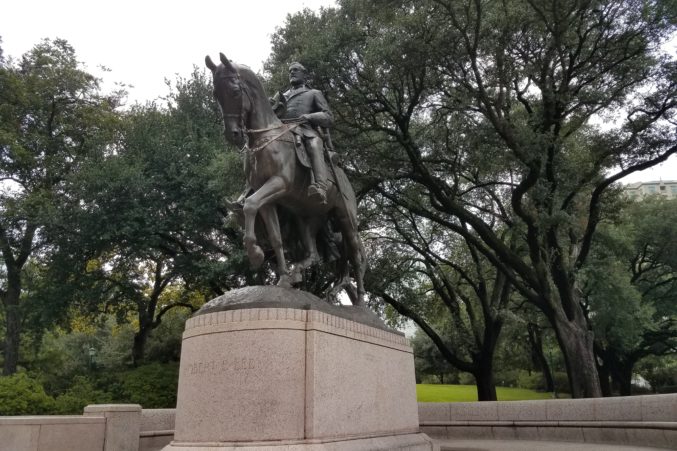 Judge Orders Halt to Removal of Robert E. Lee Statue in Oak Lawn
A hearing has been set for Thursday, but the Confederate monument will stand for now.
A federal judge granted a temporary restraining order stopping the removal of the Robert E. Lee statue in Oak Lawn on Wednesday afternoon, hours after the Dallas City Council approved a resolution calling for it to immediately be taken down.
The temporary restraining order was filed by Kirk Lyons, described by the Southern Poverty Law Center as a "white supremacist lawyer," on behalf of Hiram Patterson and the Texas division of the Sons of Confederate Veterans, who contend in the motion that the removal of the statue is a violation of their rights of free speech and due process. Lyons, who denies being a white supremacist and called himself a "Christian attorney of Southern ancestry" in an interview with the New York Times, filed a similar lawsuit against the University of Texas after it removed Confederate statues on its campus.
From the motion in Dallas: "The Monument communicates minority political speech that the City has agreed to has been (sic) promoting for over a century." Here's more of note from the lawsuit, filed this morning against the mayor and City Council:
Defendants' removal of the Monument without procedural due process will abridge the political speech of the monument. Defendants are state actors who are ordaining the political meaning of political symbols in a public forum. This government determination of political symbols in a public forum without a showing of any compelling interest in making the determination and without due process is a continuing irreparable harm…
Shortly after the City Council's vote Wednesday morning, a crane moved in and crews began work around the statue at Lee Park. Workers at the scene said that city records did not indicate how deeply anchored the bronze statue was into its mount, which may explain why it was still standing around 4:30 p.m., when crews received news of the restraining order and were forced to stop working. So the statue will continue to stand for now.
U.S. District Judge Sidney A. Fitzwater, of the Northern District of Texas, granted the restraining order and set a hearing for Thursday at 1:30 p.m. Fitzwater's last newsworthy ruling came in April 2016, when he sided with the city in banning a sex expo from the convention center.
Here's the motion for the restraining order, and here's Fitzwater's order granting it.