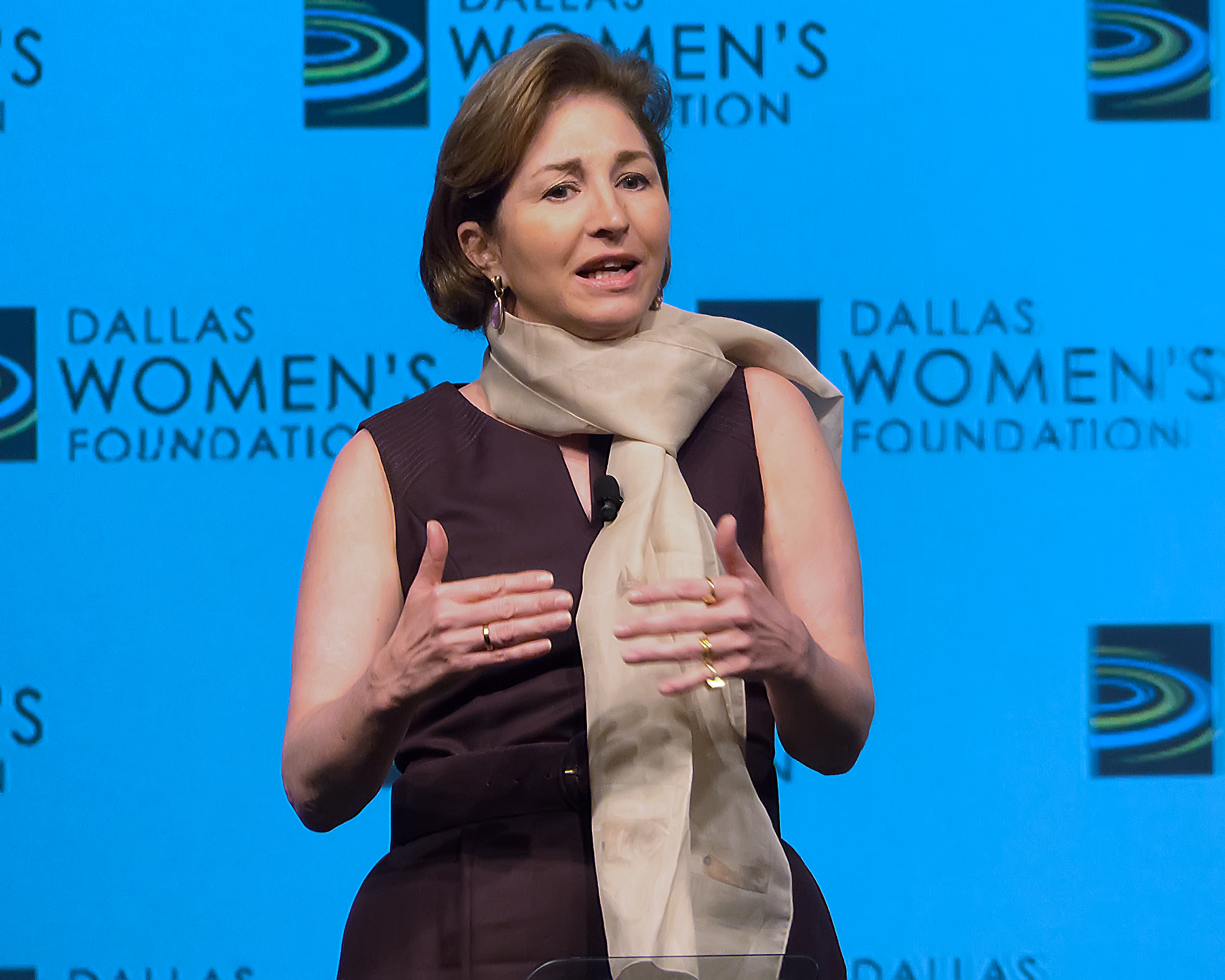 Author: Glass Ceiling Won't Shatter Until Men are Caregivers, Too
Anne-Marie Slaughter calls for more equality in appearances for Dallas Women's Foundation.
Former U.S. Sen. Kay Bailey Hutchison, a Texas Republican, is a big fan of Anne-Marie Slaughter, who's written a new book about attaining "true equality" between women and men, including in the workplace. The author "has given us a blueprint for the future in which women truly have freedom to choose," Hutchison wrote in a promotional blurb for Slaughter's "Unfinished Business: Women, Men, Work, Family." The book, she adds, "paves the way for women and men to be equal partners in America's cultural and economic success by accessing 100 percent of our brainpower and creativity."
Slaughter, the president and CEO of the New America Foundation, a former professor of politics and international affairs at Princeton University, and a former top State Department official under Hillary Clinton, was in North Texas last Thursday and Friday to talk up her book and its ideas at a dinner and breakfast presented the Dallas Women's Foundation. Her visit was especially fortuitous for D CEO magazine, which helped sponsor her appearance, because in our June issue we'll be examining a big disparity about females in the workplace that the women's foundation has identified:
While American women hold nearly 52 percent of all professional-level jobs, they account for just 14.6 percent of executive officers. That's a problem partly because, according to a study by The Peterson Institute for International Economics in conjunction with EY, companies that include women in management enjoy more growth and are more profitable than companies where women are not in executive positions.
Some of this disparity in the C-suite may be due to the extra load professional women often have carried as both mothers and breadwinners. For decades the feminist movement devalued the "work our mothers did" as caretakers, Slaughter told a dinner audience of more than 900 guests at the Omni Dallas Hotel on April 21. And the only way to reestablish the value of the role of caretaker—of children, or now of aging parents—is to expect the role to be filled by men as well as women, Slaughter said: "It's discriminatory to expect [working] women to do two jobs, and men to do one."
To accomplish the goal of true equality and opportunity, men will have to be allowed the freedom to relinquish their traditionally rigid roles as alpha males, Slaughter argued, and "be given the same range of choices [as women] with respect to mixing caregiving and breadwinning." She added that government will need to play a key role in making this happen by mandating that companies provide paid family leave, for example, or by ensuring that high-quality childcare and eldercare are available.
At a private breakfast with Slaughter for about 50 women executives at the Omni the next morning, Hutchison, the former senator, was asked to say a few words to the group after arriving at the breakfast very late. "I'm late because I had to get my kids off to the school, and I knew you would understand," said Hutchison, the mother of two 14-year-olds, with a laugh. "When I first heard of [Slaughter's] book, I said, 'Oh, no,' " she went on. "Then I read it, and I was so happy, because she was saying all the things I was going through. … I know I can't do it all. People should be able to choose."