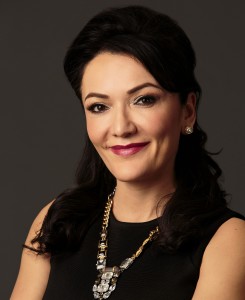 In 20 years, Nina Vaca has grown Pinnacle Group from a niche IT services firm to one of the top women-led companies in the country. Her empire is expected to hit or come close to hitting a $1 billion revenue goal by year-end. "What I enjoy most about being an entrepreneur is making a difference," Vaca says. "By building a business we create jobs, pay taxes, and build families and communities."
What do you enjoy most about what you do? People, people, people … Pinnacle's story is unique and stands as a beacon of hope for all entrepreneurs worldwide.
What's the toughest challenge you've had to overcome? My belief that I can do it all.
What's your proudest moment? The birth of each of my four children and watching them grow up.
What's the best business advice you can offer? Surround yourself with people who truly want to see you succeed. Learn to know the difference.
What has you most excited about the future? What has me most excited about the future is not only Pinnacle's trajectory (this year we were named the fastest-growing women-led company in America), or the $1 billion revenue goal we are on pace to hit. My excitement is around the possibility of changing an entire industry through the use and development of our software to reach millions, if not billions, of job seekers for our customers. This, along with our line of business services, has and will continue to have a tremendous impact on the industry and lead to greater reach in the global marketplace.
What would people be surprised to learn about you (fun fact)? I completed and survived a Half Iron Man.
What educational degrees do you hold, and where were they earned? Three honorary doctorates from Northwood University, Saint Mary's University, and Berkeley College, and a B.A in communications in business from Texas State University. Also, executive management programs at Harvard, Tuck, and Northwestern University.
Name one item on your bucket list: Crow pose in Yoga. It might take me a lifetime, but I'll get there someday.
What's your beverage of choice? Khale, spinach, banana, blueberries, almond milk, protein powder and ice… blended—yum!
What kind of car do you drive? Midnight Blue Mercedes with the official COWBOYS plate
What's your hobby/passion? Bikram Hot Yoga is my treat to myself
What's your favorite travel destination? Give me a hot sun, humor and a positive attitude and anywhere can be paradise.
The Dallas 500 is a D CEO special edition that profiles the most powerful leaders in North Texas. For more information—or to suggest individuals or categories to include in 2017—visit www.Dallas500.com.
Get the D CEO Newsletter
Stay up to speed on DFW's fast-moving business community with weekly news reports, interviews, and insights.