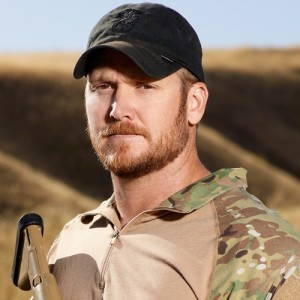 We had a debate here about whether I should be down in Stephenville, covering the trial of Eddie Ray Routh, the man who killed Chris Kyle and Kyle's friend Chad Littlefield. Part of me wishes I was there, because I'm obviously very interested in the story. (The part of me that sees the massive media presence, though, is happy I've got other things that need finishing.) But I've been following the coverage. And through the first few days of testimony we've learned some interesting new information. Here's a quick rundown:
While driving out to the gun range, with Littlefield in the passenger seat and Routh in the backseat, Kyle sent Littlefield a text. It said: "This guy is straight-up nuts." Littlefield texted back: "He's right behind me, watch my six."
Kyle was taking a prescription antidepressant.
Kyle spoke with his wife, Taya, at some point while he was with Routh, around the time he arrived at Rough Creek Lodge. Taya testified that Kyle sounded tense. He answered with a "hello" and not his usual "hello, babe." She asked if he was OK and he said, "yep." She said, ""It was short, like: `I wish I could say more,"' When he wasn't back for dinner, she texted Kyle: "Are you OK? I'm getting worried."
Former Rough Creek employee Justin Nabours, the man who found Kyle and Littlefield, testified that he was with a client's young son. He planned on introducing the boy to Kyle.
Kyle and Littlefield were both found with holstered weapons. They were also both shot with different guns.
The defibrillator first used on Kyle initially detected a pulse, though there were no other vital signs. First responders wondered if Kyle and Littlefield had shot each other.
Chet Kelley, a friend of Chad Littlefield's, said he called Littlefield's cell phone that night, worried about him, and was surprised when someone answered. He remembers saying, "Chad what's up? Is everything ok?" The man on the other end replied, "It's not Chad, it's Eddie." Kelley actually knows Routh, through Routh's sister, but he didn't recognize the voice.
After killing Kyle and Littlefield, Routh stopped at Taco Bell and ordered two bean burritos for a total of $2.36.
Body cameras and dashcams captured both the tense talks with Routh outside of his parents' house in Lancaster, and the subsequent police chase. One detective, who happened to be a neighbor of Routh's, was recorded telling him: "I don't want to hurt you, buddy. We all grew up together here." Routh, talking often of voodoo, taking souls, and the apocalypse, reportedly told the detective, "It happened so fast. I don't know if I'm going insane." Several police cars rammed the truck as Routh tried to escape. When the truck died on the highway, video shows, Routh got out and surrendered peacefully. An officer is seen on the footage giving himself the sign of the cross.