Dallas Bus Tour Files JFK Assassination Under 'Big Things Happen Here'
There are probably a million other ways to handle this.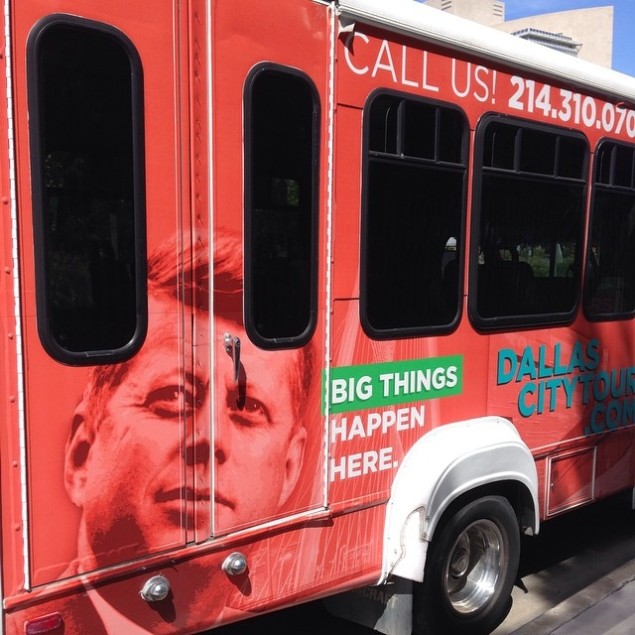 I'm not sure where to begin with this particularly dubious attempt to draw attention to a local sightseeing business, but this Dallas City Tour bus stopped me in my tracks while trying to grab lunch in Klyde Warren Park earlier today. Specializing in trips to see sites relevant to the JFK assassination, the bus offers the following onboard amenities:
40 INCH LCD TV
STANDING ACTOR / NARRATOR
FREE COLD WATER
VIDEO FOOTAGE OF OSWALDS MURDER
VIDEO FOOTAGE OF JFK ASSASSINATION
RECLINING SEATS
While I understand that the tragedy is going to play heavily into our local tourism, there are a couple of details here that really stood out to me. For instance, coupling a giant image of the President's head with the Dallas Conventions & Visitors Bureau-derived slogan, "Big Things Happen Here." That's simply in bad taste. Beyond that, there is the rather unfortunate placement of the bus's back door handle in the center of Kennedy's forehead. All of this has to be one of the following:
1. An unconscious and randomly coincidental decision.
2. An attempt to mischievously draw attention.
3. A bit of old-fashioned trolling.
In any event, they got my attention.