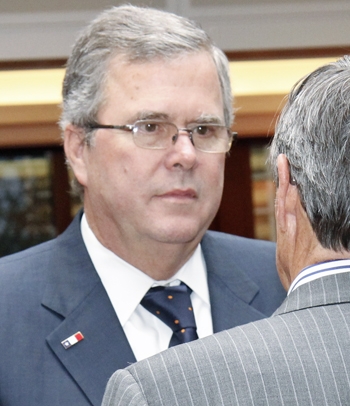 Apropos of Peter's post: Mike Miles was in the audience of nearly 300 at the Bush Center late last week when, in a keynote talk about needed public-school reforms, former Florida Gov. Jeb Bush said one of the most important is paying the best teachers more. Students with ineffective teachers are saddled with an automatic "50 percent penalty," Bush said, so a first step should be identifying those teachers and kicking them out of the classroom.
Mediocre teachers should be "remediated," he suggested, while great teachers should be recognized and rewarded with higher salaries. The biggest impediment to this actually happening, Bush said: heavily unionized school systems focused not on the academic needs of the students, but on the economic needs of the adults.
Kicking off a two-day education conference called "Changing the Odds" put on by the Salesmanship Club of Dallas and its Youth and Family Centers, Bush identified two other overdue school reforms: stressing early childhood literacy, and more digital learning. Don't consider reforming the schools as a charitable project, he concluded, but as an effort to "re-instill the right" of all students—regardless of their economic status—to rise and succeed in our society.
Get the D Brief Newsletter
Dallas' most important news stories of the week, delivered to your inbox each Sunday.