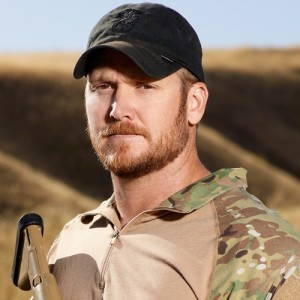 Chris Kyle was incredible. He was simply an incredible, real-life action hero. Before his death, he was already known as the deadliest sniper in American history and as a best-selling author. Since his death, a few reporters have heard trickles of other stories. Around Midlothian, one story in particular has been raising eyebrows. It goes something like this: when he was first back from Iraq, in 2009, Chris Kyle killed two armed men who were attempting to carjack him at a gas station.
I first heard this story more than a year ago. It hasn't made the news much. There was a brief mention in Marcus Luttrell's second book. And now the Star-Telegram has a blog item mentioning the story and how difficult it is to confirm. Well, as it turns out, I've been working on a story about Chris Kyle for about nine months. We talked regularly, mostly about the challenges and triumphs of his transition home. I first asked him about the story last summer, during an interview in his Dallas office. I said: "Now, I have to ask you about an incident that I've heard about. I heard it happened at a gas station."
He said: "You mean the time I shot two guys trying to steal my truck?"
I sat there stunned for a few seconds. The incredible story I'd heard, I figured there was no way it was true.
"It's true," he said.
He proceeded to tell me about that day. It was in January 2009, just weeks after he retired from the Navy. It was cold that morning, and he was wearing a heavy winter coat. He was driving his truck — his now famous black F350 with the large rims and impressive grill — when he needed to stop for gas. He pulled into a station right off highway 67.
As he got out of the truck, two men approached. Both had guns in their hands. One pointed his weapon at Kyle. They told him to hand over his keys. Kyle was out of the truck, on the passenger's side.
"I told them I would get them the keys," he told me. "I told them they were in the truck and to just let me reach in."
He noticed the man pointing the gun didn't seem very confident. Kyle knew what confidence with a gun looked like.
As Kyle turned, leaning into the open passenger door of the truck, he reached into his own waistband. With his right hand, he grabbed his Colt 1911. He fired two shots under his left armpit, hitting the first guy twice in the chest. Then he turned slightly and fired twice more, hitting the second man twice in the chest. Both men fell dead.
Kyle leaned on his truck and waited for the police.
He said he was later told that trucks like his are very popular among car thieves because they're frequently taken over the Mexican border. He said they'd passed up the car in front of his, even though it was a relatively new Cadillac.
Kyle told me that the entire incident was caught on the gas station's surveillance cameras. He said he gave the responding officers a phone number to call. Presumably someone high up in the government explained to the officers who Kyle was. He said the officers were very understanding, that they didn't want to drag a just-home, highly decoratated veteran into a messy legal situation that would surely draw a harsh media spotlight.
Kyle told me that he knew the tape was out there somewhere, because he would randomly get emails from police officers all over the country, thanking him for "cleaning up the streets."
Several of Kyle's friends were familiar with the incident, and they had heard virtually the same story. After our talk, I called the police chiefs of several towns along 67. Most of them had heard of the incident. One, speaking only on background, said he knew some of his men had at least seen the tape. But request after request provided no police reports and no tape.
We've debated here at the office exactly how to handle this. Honestly, I wanted to tell the entire world about it on the afternoon it was confirmed. But I always wanted to tell that story in the context of a larger story about Chris Kyle, about his service, about the amazing things he's done for other veterans, and about how hard he worked to adjust back to this world — to become the great husband and father and Christian he'd always wanted to be.
Now that the story is coming out in other places, though, it needed to be confirmed. So consider this story confirmed from the man himself. In every sense of the word, Chris Kyle was a true American badass.
Get the D Brief Newsletter
Dallas' most important news stories of the week, delivered to your inbox each Sunday.