When I was five, my mother – inexplicably, without my consent – signed me up for gymnastics camp. I guess she thought I'd enjoy the jumping and flipping, plus it gave her a break from at least one head of her three-headed monster of a brood.
I did not enjoy the jumping and the flipping; I cried every day. There was only one other boy in the camp, and Jordan also seemed to dislike the jumping and flipping. Our only joy came from snack time, when we could finally get a goddamn rest from the jumping and flipping and just enjoy some cherry Kool-Aid
Earlier this month, I was invited to attend a media event for Cirque Dreams Holidaze, a show that featured the jumping and flipping that I so loathed as a child. They said I could try out some of the cirque acts, maybe have a dream of my own. I took them up on their offer.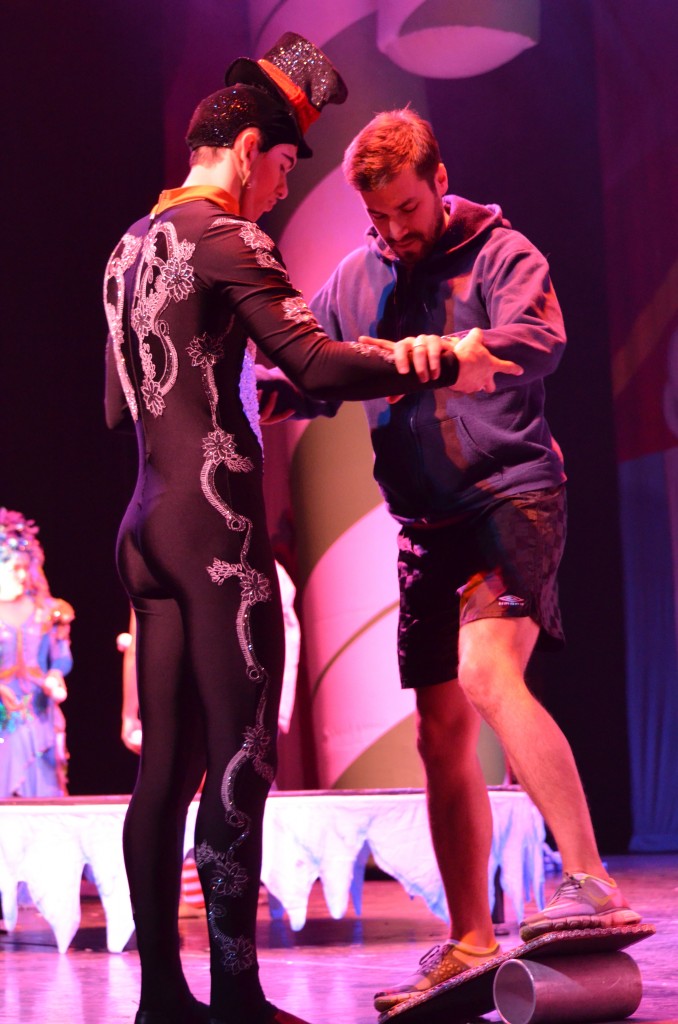 Three performances were available for our media-carousing pleasure: juggling, jumprope, and something vaguely disease-sounding called "Rolla-Bolla." My email to them: "Any/all. The one that would be the best for photos and video." Their response: "I am going to put you down for rolla bolla balancing act —everyone else is too afraid to tackle that one!" Perfect.
Upon arrival I met with Kirill, a 23-year-old Russian dressed like a slutty penguin. I think he was wearing black tights, but they might have just been chocolate sauce. He comes from a family of circus performers in St. Petersburg, but a few years back they moved to the apex of American enchantment: Orlando. He picked up Rolla-Bolla at 16, practicing every day for 10 hours. Now? Eh, maybe an hour, if he's got time. He explained to me the basics of Rolla-Bolla – you stand on a board with a cylinder under you and try to keep your balance – then told me he held the world record for the highest Rolla-Bolla act. Probably sensing that a.) I wouldn't look that up, or, b.) there's no possible way that his claim was verifiable, he smiled, and tried to teach me how to Bolla.
This is Kirill:
This is me:
The trick, he said, was to keep my shoulders loose, to use my lower body to do all the work. Roughly translated, for me: "DON'T LET GO KIRILL PLEASSSSEEEEE HOLD ME FOREVER." I couldn't get it. I would push off with my right foot, my left foot would fall. I pushed off with my left foot, and the whole left side of my body would tumble. I held on to Kirill's forearms for the entire 10 minutes I attempted to balance. Another performer I met — Kelly the Ice Queen, from Indiana — giggled and lived up to her cruel name.
There was one second, maybe half-second, when I really got it. I glided over the cylinder, felt my hips loosen, and Kirill unclenched his grip. I fell, almost shooting the metal cylinder at the poor schmucks learning how to juggle.
Maybe I should have asked to jump and flip.
Cirque Dreams Holidaze runs through Sunday at the AT&T Performing Arts Center. All photos by Carol Shih.
Get the D Brief Newsletter
Dallas' most important news stories of the week, delivered to your inbox each Sunday.