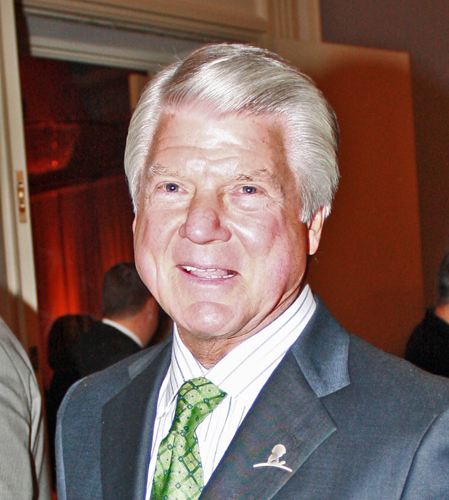 Given the evidence outside your window, are cold climes like Dallas really the best spots to hold Super Bowls? Everybody had an opinion at last night's Legends for Charity Dinner, honoring the Super Bowl XLV Broadcast Team with the Pat Summerall Award, at the Hilton Anatole. But the oganizers probably wish the question hadn't been put to former Dallas Cowboys coach Jimmy Johnson (pictured in photo by Jeanne Prejean).
Host Committee CEO Bill Lively was characteristically upbeat, conceding that while "we're living in the Yukon" right now, what will "carry the day" for Super Bowl XLV will be Sunday's expected record attendance at Cowboys Stadium. "I've learned that money talks," Lively added.
FOX Sports personality Terry Bradshaw, who got the Summerall award along with Johnson and seven others, pretty much agreed. "Dallas is great, man," the ex-Steelers QB (pictured) said. "For all they've done to get that stadium, plus a closed roof. Great city!" Johnson, on the other hand, was a little less exuberant. Asked whether it matters where the Super Bowl is held, he said, "I prefer to have it in New Orleans," as he was hustled away to the next photo opp.
Get the D Brief Newsletter
Dallas' most important news stories of the week, delivered to your inbox each Sunday.