Pickets Target Local Canadians, Eh?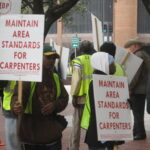 The folks at the Canadian Consulate General here must be the most evil people in the world. Awhile back, their offices at St. Paul Place–which also houses D Magazine–were targeted by protesters who said Canada likes to club baby seals to death. These days the consulate is being picketed regularly by the Texas Carpenters & Millwrights Regional Council, which calls it a "bad corporate citizen" for "desecration of the American way of life." (The council's handouts depict a rat chewing on an American flag.)
The council contends the Canadians are allowing one of their hired subcontractors at 500 N. Akard St.–where the consulate is constructing new offices–to provide wages and benefits that fail to meet area standards. We don't know what the consulate says, because it hasn't returned phone calls first placed late last year. Another thing we do know, though, is that the Akard Street protesters (pictured) are downright musical with their earsplitting chants. First Tom, a big guy in a white cowboy hat, yells out, "Who's a rat?!" Then the picketers respond with the name of the sub.
Never a dull moment in the big city.