A new omakase sushi restaurant is now open in North Dallas. Yūjō, from the creators of popular suburban spot Kyodai, promises a more affordable alternative to the premium sushi tasting menus at rivals like Tatsu and Shoyo.
Kyodai's leaders say they are motivated by a desire to educate Texas customers about different cuts of each fish, proper presentation, and the importance of every ingredient in a piece of sushi. Diners at Yūjō can expect a dramatic centerpiece presentation: chefs may break down a whole fish at the sushi bar during a meal.
"When you sit down, you don't have to order," says co-owner Tony Ma. "If you don't know what this fish and that fish is—there's like an A, B, and C option, maybe they are $55, $75, $105." (Those are examples, not actual prices.) "You get the freshest cut of fish that day. It changes daily. Every time you come back, the fish that you got may be not in season, so you may get something else. Yūjō helps the client to understand what sushi is all about, eating what's available."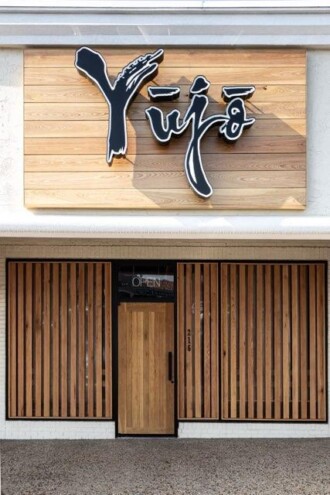 Yūjō—which roughly means "friendship" in Japanese—will be led by executive chef Eric Bui, who also leads Kyodai's kitchens. Kyodai opened its first location shortly after the coronavirus pandemic began, between its first and second big waves. Now Kyodai serves sushi, including handrolls, at Carrollton and Frisco locations, propelled in part by a glowing reputation in the Asian Grub in DFDUB Facebook group.
Kyodai is most famous for its Wednesday night salmon specials, with salmon nigiri for as low as $1. Salmon Wednesdays are understandably popular; when I tried visiting a few weeks ago, the wait for a table for two was more than an hour, and reservations had already booked up for the next five Wednesdays in a row. But the specials also serve an educational purpose, allowing customers to compare different varieties, sources, and cuts of the fish.
"We brought Salmon Day in not to make money, we don't profit off it, but to get to educate our customer base," Ma says. "We can put a number of pieces into people's mouths to [help them] understand that the quality of fish determines what sushi is all about."
That educational spirit propelled the owners toward Yūjō, a more formal tasting menu that will offer set lists of seasonal sushi. Viet Nguyen, one of the co-owners, offered examples of ways Yūjō could expand American diners' understanding of sushi: cutting open a whole fish live at service time, letting customers see what parts of the fish they're eating, and serving multiple examples of the same fish but from different parts of the world.
"When you say 'tuna,' we have three or four different regions of tuna," Nguyen explains. "We have tuna from Mexico, we have tuna from Spain, we have Pacific tuna. So you can see how one fish can taste different from different regions."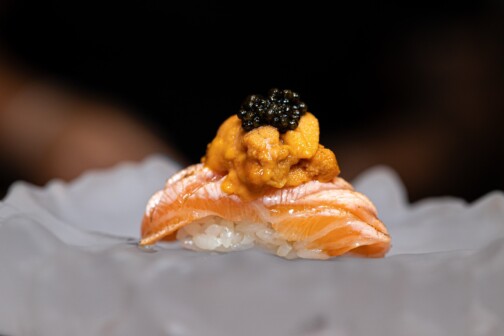 Of course, Yūjō will be fun as well as educational. (Eating tuna is always fun.) It fits into an omakase tasting scene that includes several casual options around North Texas, including Edoko Omakase in Irving, while offering a more affordable, approachable alternative compared to the exceptional offerings at Tatsu, Shoyo, and Namo—some of the best restaurants in the state. Ma, Bui, and Nguyen also understood that those restaurants are far from North Dallas; they had long looked at the area, including Preston Hollow, as a market with a need for better sushi options.
As luck would have it, one of their regulars at Kyodai agreed—and is their new landlord at Yūjō.
Yūjō, 12817 Preston Rd., Ste. 216
Get the SideDish Newsletter
Dallas' hottest dining news, recipes, and reviews served up fresh to your inbox each week.
Author
Brian Reinhart became D Magazine's dining critic in 2022 after six years of writing about restaurants for the Dallas Observer and the Dallas Morning News.