From November 2022
You've just spent $170 on an omakase chef's-counter tasting dinner at Tatsu Dallas. For nearly two hours, a master chef has turned premium seafood—flown in from Japan, Mexico, Spain, and Alaska—into exceptionally made sushi. Now your friends are asking you to describe the experience. They're curious about the hardest-to-get reservation in town, the tiny 10-seat restaurant that has people planning their visits weeks in advance.
And when you're asked about the experience, you keep thinking about a bite of rice topped with nothing but wiry green onion shoots.
You know you can't start the story with that bite, or people will be asking why you paid $170 to eat veggie shoots. They want to hear about the fatty tuna belly or the sliced tataki topped with dainty shiso flowers or the over-the-top richness of Hokkaido uni. But that little bite of shoots says a lot about the Tatsu experience.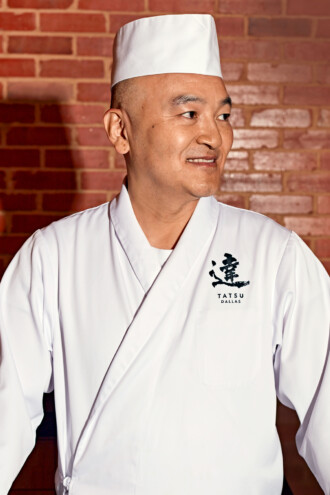 For one thing, it's not about the green onions; it's about the rice. As you roll the rice across your tongue, the shoots' oniony sharpness cuts through. But the rice is still the star, a mixture of two grains and three kinds of vinegar, served perfectly soft and just a little warm. At this point in the menu, you've been overwhelmed by wonderful tuna, kampachi, and other ultra-fresh fish. And now you're being blown away by rice, necessary to the sushi experience but often overlooked.
Nothing at Tatsuya Sekiguchi's small sushi bar in the Continental Gin Building fails to receive the chef's full attention.
Each night, customers arrive for two seatings at fixed times (5:30 or 7:45), settling into a cocktail lounge for a few minutes' relaxation before the meal begins. Dinner runs about two hours and can include up to 20 courses; the count varies. (The second seating can be a little late if the first guests haven't left.) At the end, if you're somehow not already full, you're invited to order extra a la carte items.
Much could be said about the Tatsu experience: the theatricality of Sekiguchi's preparation of dinner, the sheer joy of watching him precisely cut and trim each piece of fish, the high quality of all of his seafood. Customers tend to shiver with excitement when he pulls out an exciting new ingredient, like vivid-​orange Alaskan salmon roe.
But not all of Sekiguchi's moves are big and flashy. The smaller gestures will be noticed by only the most attentive customers. Big move: putting sawara (Spanish mackerel) in a box and piping smoke inside, so that curlicues of smoke tease out of the edges, before prying open the lid to unleash a full cloud. Small: slicing shima aji into five paper-thin, see-through slivers per guest and then layering all five across one ball of rice. Big: pulling out an iPad to show us a video clip from the time he was on the Showtime series Billions. Small: soy-marinating slices of tuna so that with seemingly no other manipulation the fish becomes melt-in-your-mouth tender.
Dallas has been fortunate to enjoy good sushi for some years now, in part because our airport connections make it easy for restaurants to fly in some of the world's best seafood. Tatsu stands out, often, for the finer details of its experience. The restaurant pickles its own ginger and does so with a gentle hand, so the ingredient retains more crunch and sharpness. I watched one customer eat three full helpings.
I know what you're thinking. You didn't come here to read about baby green onion shoots, tea, omelets, or mineral water.
The miso soup, made with red miso, might be the most deeply flavored, comforting cup I've ever had. A wedge of omelet made with egg, shrimp, and yam makes a remarkable dessert almost like an egg tart, and the roasted green tea served at the end of the night is as different from regular green tea as a high-end dark chocolate bar is from Hershey's Kisses.
Sekiguchi is so careful about sourcing that the back of each printed menu lists out the origin of every single ingredient. His rice is cooked with bottled mineral water brand Crazy Water No. 2, and he prepares his own fresh wasabi. The latter is an important ingredient to note because wasabi's zap of energy is noticeable—and delightful—in almost every piece of sushi. (This particular variety of wasabi, Mazuma, is so prized that I found it in an online shop for $175 per pound.)
I know what you're thinking. You didn't come here to read about baby green onion shoots, tea, omelets, or mineral water. Don't worry. Sekiguchi also serves tuna belly with the fat so well incorporated that it's hardly marbled anymore—just a lighter shade of pink. You'll have it twice, if you're lucky: once on a piece of sushi and again in a handroll. The dinner-ending a la carte menu will alert you to rare finds and seasonal catches, like sanma (saury pike mackerel) and kinmedai (the eccentrically named splendid alfonsino). It's wise to try one of those rarities, even though you may be tempted to return to the astonishing piece of sushi on which scallop is cut into thick ribbons or the wonderful bite of aji (horse mackerel) cured in white vinegar.
Because Tatsu is the second high-profile omakase counter to open in Dallas in the past year—Shoyo, on Greenville Avenue, seats 12 instead of 10 and charges a similar amount for dinner—diners are constantly comparing the two. When I told friends and colleagues that I'd been able to dine at Tatsu, their first question was often "Is it like Shoyo? Is it better?"
The two restaurants are quite different. The big contrast is in style: Tatsu is more traditional, with cool colors and a laserlike focus on the food, and Shoyo is more youthful, with louder music, sleeker design, and a chattier chef in Jimmy Park. Tatsu's soundtrack sticks to soft, slow jazz trios and quartets. Even their locations—Shoyo right on the busiest blocks of Lower Greenville, Tatsu in a quiet, parklike back corner of Deep Ellum—help prepare you for the different moods inside.
While both counters show great respect for their ingredients and dedication to craft, Tatsu focuses specifically on Edomae-style sushi, in which the fish is preserved using traditional methods (like those soy and vinegar cures mentioned earlier). Tatsu is so understated, you may find yourself raising an eyebrow at something as simple as a pop of orange zest.
Sekiguchi is supported by a small service team as conscientious and observant as he is. I especially appreciated the counsel of beverage director Janice Brown. When I warned her that I was a keen wine drinker but a near-total novice with sake, she guided me through a tasting with helpful comments, sought my feedback on each pour, explained why I liked some more than others, and brought out my favorite bottle so I could photograph the label.
There are, of course, some who come to Tatsu because it is prestigious and reservations are difficult to come by, not because they have a deep understanding of sushi or sake. The staff seem unfortunately accustomed to such guests and may correct you if you commit an infraction like, say, not finishing a piece of sushi in one bite.
But they also react with grace and patience when real party-crashers score seats. On my first visit, two disruptive, loud-mouthed guests from Austin got up in the middle of the meal—after the ninth of 18 courses—and announced to the room that they had to start driving back. When they'd been politely shown out, Sekiguchi reached under the counter and pulled out a tray of Hokkaido uni, which was not on the night's menu. He passed pieces of uni to the remaining guests.
"We have extra time now," he told us, with a twinkle in his eye. "Thank Austin for this."
---
This story originally ran in the November issue of D Magazine with the headline, "Grain of Truth." Write to [email protected].
Get the SideDish Newsletter
Dallas' hottest dining news, recipes, and reviews served up fresh to your inbox each week.
Author
Brian Reinhart became D Magazine's dining critic in 2022 after six years of writing about restaurants for the Dallas Observer and the Dallas Morning News.