This is one of the chunkiest food guides I've compiled, and it came as a shock. There were so many openings happening earlier in the month that I already published some (um, 14!) neat places that caught my eye. But more came through. And they didn't stop. September is in for a treat!
The Highlights
Dining critic Brian Reinhart ate terrific lamb dishes at two Dallas restaurants.
The soup dumplings and beef roll pancake at Steam Dumpling in Plano are a hit.
Gemma is remodeling.
A new La La Land Kind Cafe was spotted in Plano.
Our Favorite Dishes We Ate in August
Chicken-Fried Quail from Quarter Acre: This was an appetizer on the restaurant's summer menu, and it was a playful combination of two dishes: fried chicken and PB&J. Quail, albeit tiny, is one of my favorite birds. Chef Tony Archibald deep-fried the quail and plated it alongside a jelly spread. Laying against quail was a thin, crispy cracker with blobs of peanut butter piped on top. In one go, the tiny quail leg could sweep jam and peanut butter for one sweet and salty bite. I've not quite had anything like it recently. Honorable mention: the smoked beef tartare. – Nataly Keomoungkhoun
Lamb loin Wellington from Mister Charles: We'll have an article about Mister Charles in the October issue of D—hint, hint—but for now, here's your teaser: the lamb loin Wellington really is all that. A perfectly rosy pink tenderloin gets wrapped in Swiss chard and then snuggled up into a feather-light blanket of puff pastry layers. Nothing is soggy, and nothing tastes too heavy or rich, either. Plus: there's a side pot of ratatouille. The menu says this $91 platter serves two, but it could easily be a hearty main course for three people, especially with appetizers. — Brian Reinhart 
Leftovers from Balkan Garden Bistro: Nataly wrote about this Euless spot back in March after seeing a celebrity endorsement from Boban Marjanović. I visited this month to try the celebrated ćevapi plate—your choice of 10 or 15 miniature sausages, served on a sizzling fajita skillet with onions, peppers, and Balkan bread. The only thing better was the meal we made the next day with the leftovers. I added some roasted broccoli on the side, then used Balkan Garden Bistro's richly creamy mushroom and paprika soup as an indulgent gravy on mashed potatoes. Bliss! — B.R.  
Xiao Long Bao from Steam Dumpling: It was about time for me to head up to Plano to try Steam Dumpling, especially after hearing so many good things from friends. The Xiao Long Bao confirmed the rumors: Steam Dumpling is legit. One order comes with 10 steamed dumplings, each filled with a juicy ball of seasoned ground pork and hot, hot soup. The dumpling casing was thin, but not fragile. It does take some level of chopstick skill to get the dumpling to the soup spoon, but when it's dressed with ginger and soy sauce, it's golden.. – N.K.
Salmon belly with soy mustard at Naminohana: This new handroll bar on Greenville Avenue, just north of Central Market, can claim pedigree from the celebrated Fort Worth sushi spot Hatsuyuki. And it also brings Hatsuyuki's signature bite to Dallas: an indulgently fatty slice of salmon belly, draped over rice, quickly blow-torched, and brushed with a soy-mustard glaze. This sushi piece has such a big flavor that you should save it for last. — B.R. 
Beef Roll Pancake from Steam Dumpling: I must add another dish from Steam Dumpling because I've been thinking about it for days. The beef roll pancake is made of four ingredients: scallion pancakes, thinly sliced beef, hoisin sauce, and lots and lots of chopped green onion and cilantro. The scallion pancake is pan-fried until crispy and then piled with the beef, sauce, and herbs. It's rolled, but the ends aren't tucked in, so it's more like a roll-up rather than a burrito or wrap. An order comes with two rolls cut up into a few pieces, and you eat it with your hands. The crunchy pancake, chewy savory beef, and citrusy herbs are balanced by the punchy hoisin sauce. Mine was heavy on the cilantro, which I didn't mind. It's simple, but surprisingly tasty.  – N.K.
A new visit to Mot Hai Ba: This August, chef-owner Peja Krstic showcased a little bit of his roots with a pie made of gruyère, ricotta, confit leeks, and super-thin phyllo pastry. That food is close to my roots, too, so I'm a sucker for it. But we also had other treats in the restaurant's summer menu. An especially inspired appetizer right now takes the filling of a pork and shrimp dumpling and instead uses it to stuff tempura-battered squash blossoms. — B.R. 
Chopped Cheese Sandwich from Hustle Town Pizza: I hate to put something on here that isn't being offered anymore, but it was so good that I want to commemorate it. For months, Hustle Town Pizza chef Desmon Coleman operated pop-ups at breweries throughout North Texas. His specialty was pizza and smash burgers, but he also offered chopped cheeses sandwiches, made fresh to order. At Bluffview Growler, I got my hands on one. The hoagie came toasted and overstuffed (like, I could not find the bread) with seasoned ground beef, melty American cheese, a special sauce, lettuce, and tomato. Mouthwatering? Absolutely. Coleman won't be doing pop-ups anymore because he'll be the new chef at Wriggly Tin, a new bar near Fair Park that serves pizza and beer. Fingers crossed we see a chopped cheese pizza. – N.K.   
Lamb situation at Lucia: If you're a card-carrying member of the Lamb Society, get on over to Lucia right now for a knockout main course of grilled lamb ribs, lamb merguez sausage, and lamb loin. There's a thrillingly herby salsa verde and a bounty of local Texas field peas, too, but the lamb steals the show. I can't remember the last time a Dallas fine dining dish celebrated lamb's unique flavors in this way. Stay tuned: lamb tongue might be next. — B.R. 
Food News
New Cattleack Barbeque owners: The Morning News reported Cattleack Barbeque in Farmers Branch (which, btw, was one of our Best of Big D winners), is under new ownership. Andrew Castelan, a former employee, has taken the reins from founder Todd David. 13628 Gamma Rd.
Georgie: Last month I wrote in the food guide that "Georgie by Curtis Stone" no longer exists. Georgie, however, remains, and Travis Street Hospitality ushered in a new executive chef and menu late last month. Chef RJ Yoakum's most recent work was at the French Laundry, where he spent just over three years working in the kitchen. He's got Southern California roots and traveled all throughout Europe and Southeast Asia. Now Dallas gets to enjoy his talents. Check out Georgie's new menu—and welcome, chef!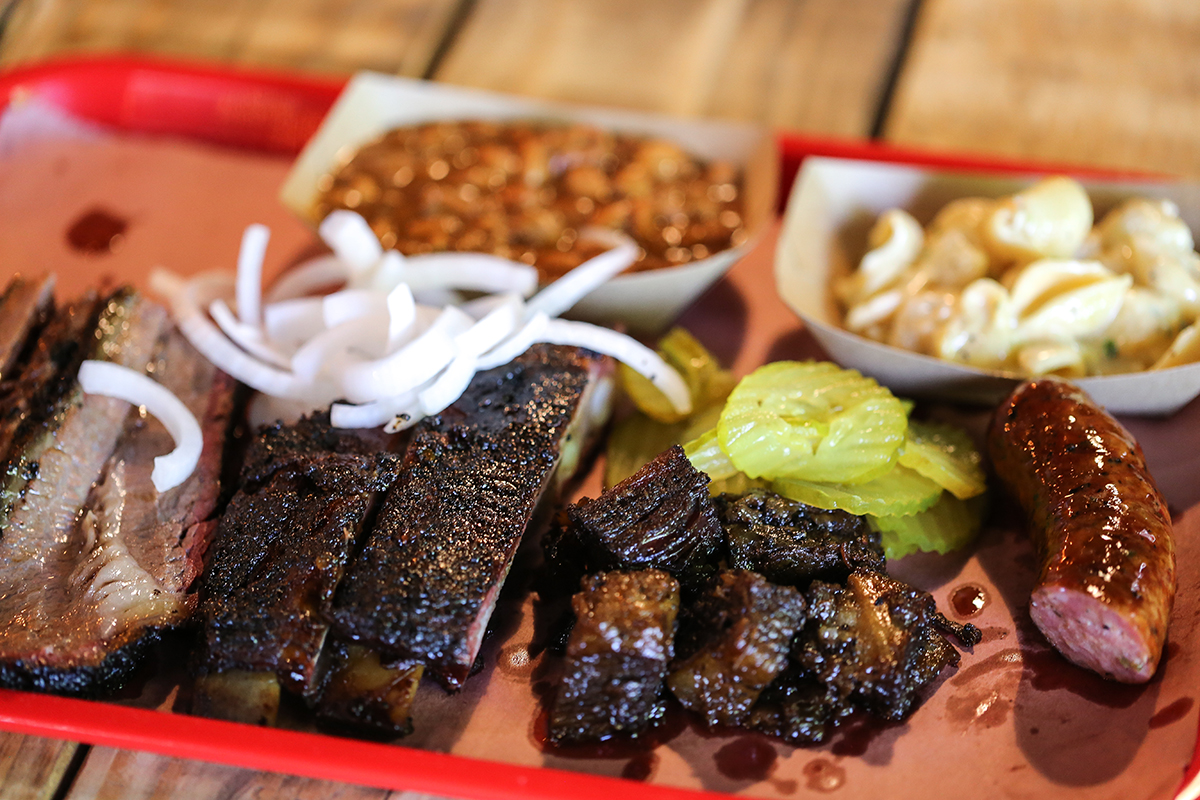 Bad Chicken Relocates: Bad Chicken, a local chicken spot, is moving into a permanent spot on Ross Avenue after finding success in their Preston Center test kitchen. The new location is at 5014 Ross Ave., and they plan to move in this winter.
Bar Dryce: The lobby bar inside Fort Worth's Hotel Dryce is now called Bar Dryce, according to a press release. At the hotel's two-year anniversary party, Bar Dryce will celebrate its new name and a new cocktail called The 1865 in honor of Juneteenth.
Remodeling at Gemma: As Gemma comes up on its 10th anniversary (this December), the restaurant is planning a transformation. It will close for just over a week, Sept. 10-18, for extensive floor-to-ceiling remodeling to give the space a cozier feel. Owners Allison Yoder and Stephen Rogers say they're shooting for a neighborhood bistro vibe, a little bit darker and more intimate, like some of their favorite corner spots in New York City. They're also redoing the menu from top to bottom with a new emphasis on that bistro style. Don't expect a fully French menu, but do expect a focus on some of Gemma's recent hits. (If you've had their steak frites or duck frites, you know what we're talking about.) Rogers is especially excited about a new butcher's pick menu section focusing on high-quality, less-common meat cuts like Iberico pork and lamb. The rebooted Gemma will reopen Sept. 19. — B.R. 
Openings and Closings
Barrel & Bones: A new barbecue spot called Barrel & Bones opened in August, marking its third in North Texas after locations in The Colony and Carrollton. The joint serves smoked brisket, turkey, sausages, and more barbecue favorites. 12300 Inwood Rd., Ste. 130.
Buzzbrews Kitchen: The Lakewood location of popular brunch and late-night restaurant Buzzbrews Kitchen closed Aug. 30, according to CultureMap. It's not clear why, but a Facebook post hints at code compliance issues related to a banner sign someone didn't like. CultureMap also reported that the restaurant was robbed a few months ago and management wasn't able to pay its staff.
Capital One Café: Capital One—the bank—opened its first North Texas Capital One Café at Stonebriar Mall in Frisco late last month. I've been to the downtown Austin location, but I believe it was technically a Peet's Coffee inside a Capital One bank location. Pro: Customers who paid with a Capital One card received 50 percent off, and I think that's a steal. Kind of con: The concept was a bit strange at first, but only because I was constantly anxious a banker was going to talk to me about mortgage loans while I was trying to drink my coffee. 2601 Preston Rd., Frisco.
El Rincón del Maíz: The Bon Appétit-lauded restaurant moved from its Garland location to a new place in Denton, the Morning News reported. They closed in Garland in February and opened the Denton location earlier this month to serve their southeastern Mexican cuisine and popular vegan menu. 1431 E. McKinney St., Denton.
La La Land Kind Café: I can't seem to keep track of how many La La Land locations there are anymore, but I spotted one on a recent drive through Plano. I caught a glimpse of the happy yellow sign at the northwest intersection of Preston and Park Roads above the suite attached to the Sephora. The inside was mostly taped up, but I could see pops of white and yellow. This is the northernmost location in North Texas for the café so far. Plano: perfect lattes and avocado toasts are coming your way. 2301 Preston Rd., Plano.
The Meteor: The new bike café and wine bar opened Aug. 31 inside The Urby, a high rise luxury apartment in the Dallas Design District. The Meteor has locations in Austin and Bentonville, Arkansas, and it's known for offerings like baked goods, breakfast tacos, pizza, and natural wines. 1930 Hi Line Dr.
Miznon: an Israeli fast-casual chain called Miznon is coming to Dallas this fall. Miznon is known for its pita sandwiches and Mediterranean menu, which includes a version of chef Eyal Shani's popular roasted cauliflower. CultureMap reports the restaurant will take over the old Postino space in Deep Ellum on Main St. 2639 Main St.
Partenope: A second location of Partenope is on track to open in Richardson this fall. Partenope's first location in downtown Dallas debuted in 2019 from owners Megan and Dino Santonicola—Dino is a master pizzaiolo who was born and raised in Naples. The couple met while working at the Deep Ellum location of Cane Rosso, which they both helped grow to nine locations across North Texas. The new opening is slated for the third week of October in Richardson's new downtown district. 110 S. Greenville Ave., Richardson.
Portillo's: A second Portillo's location is opening in Allen on Sept. 7. The first Portillo's location opened in The Colony earlier this year, and folks went wild for those Chicago dogs. The second location will be close to Allen Premium Outlets, with a full menu of Italian beef sandwiches, cake, and hot dogs. 1955 Central Expwy.
Plomo Quesadillas: Folks in the Henderson Avenue area will have a new late-night spot. Plomo Quesadillas is an Arkansas-based concept that serves all kinds of quesadillas like a Caribbean jerked chicken quesadilla and a spicy steak quesadilla. Customers can make the quesadillas "dirty" with an extra layer of fried crispy cheese on the outside. 1802 Mcmillan Ave.
Sherlock's Baker St. Pub and Grill: The British bar in Addison closed last month after 20 years, according to an Instagram post. Sherlock's served a menu of fish and chips and shepherd's pie in an English-style tavern. The post associated the closure with finances and rising costs.
Yutaka: Another sad and unexpected closure comes from Yutaka, a sushi restaurant that operated for almost 20 years in Uptown. CultureMap reported that chef-owner Yutaka Yamato is moving back to Japan to grow coffee. Yutaka opened in 2006 as a tidy, highly-rated restaurant that served delicate sashimi and wagyu beef. It was constantly rated as one of the best sushi restaurants in the city. The space is already under new ownership and is now Maji Sushi.
Cool new menu items
Apothecary: The bar launched a new menu called The Zodiac, and it has a drink or food item that corresponds to each horoscope, such as the Scorpio, a mezcal and gin-based drink with a tiny tomato scorpion, and the Taurus, a short rib with peanuts and charred anaheim honey. The menu kicked off Aug. 22 and will run for 12 weeks. 1922 Greenville Ave.
Meridian: The Latin-American restaurant at The Village merged its tasting menu and its a la carte menu together, so customers can choose if they want one or the other. The restaurant has gone back and forth with a la carte and tasting menus, so it's nice to see they've combined the two. But I say this mainly to point out that they brought back its whole grilled octopus. 5650 Village Glen Dr.
Correction: An earlier version of this story said El Rincon de Maiz relocated to McKinney.
Get the SideDish Newsletter
Dallas' hottest dining news, recipes, and reviews served up fresh to your inbox each week.
Author
Nataly Keomoungkhoun joined D Magazine as the online dining editor in 2022. She previously worked at the Dallas Morning News,…