I thought summers were supposed to be nice and slow. July proved me so wrong. The bulk of the news comes from the openings, of which there were a surprising number. We welcome them all the same.
The highlights:
We happily indulged in Beverley's this month.
Kyodai's salmon nights are the place to be right now.
Another Vegas concept is coming to Dallas.
A Bedford taco shop is headed to Plano.
Our Favorite Dishes We Ate in July
Ari District Thai Bistro: I thought this spot at Inwood Road and Maple Avenue was new, and it's certainly got a stylish clean look, but it's been operating for several years. Now I want to go back in time and eat its Thai dishes a few dozen more times. My beef noodle bowl was excellent, as tidy and precise as the aesthetic. – Brian Reinhart
Hummus and French fries at La Bodega: During my first visit to La Bodega, I was welcomed by Leftovers the cat, a fresh burst of air conditioning, and a pleasant woman behind the counter. A friend told me the hummus was worth trying, so I ordered it plus the fries. An order of hummus comes with sliced bell peppers, cucumbers, and toasted bread, each big enough to scoop up a dollop of pureed and zesty white beans. The fries, perfectly golden and very addicting, come with a yogurt dipping sauce. I've heard rotisserie chicken is the move here because Leftovers likes people who sit outside and toss him a piece or two. He's also just as friendly without it. – Nataly Keomoungkhoun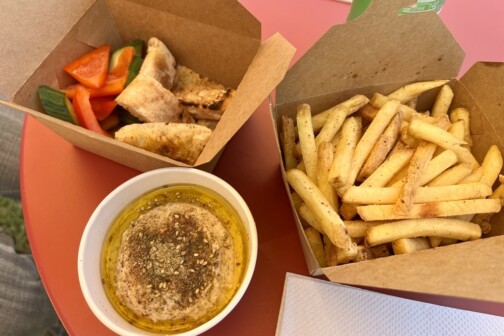 Appetizers at Beverley's: We hit a wall on a Beverley's date night. We ordered appetizers—smoked whitefish dip, tuna tartare, and a bowl of spicy pickled veggies—and enjoyed them so much we didn't leave room for main courses. Although the mains sound plenty good (and the burger is legendary), we polished off every last bite of our starters and skipped right ahead to a peaches and cream sundae. – B.R.
The Chicken Schnitzel at Beverley's: OK, so if you combine my entree and Brian's appetizers and dessert, you'll get a full meal at Beverley's. I came by for lunch with friends on a Sunday and it was impressively packed. I tried the chicken schnitzel and loved the pop of tart capers against the savory fried chicken and lemon butter. I also tried a bite of French toast from a friend's plate, and it was perfectly sweet. – N.K.
A goodie bag from Dude, Sweet Chocolate: Bishop Arts' beloved chocolate shop is up to loads of new tricks, including a white chocolate bar with za'atar and lemon, a bar with turmeric and Indian spices, and a summery truffle with tomato in it. (The tomato flavor isn't very strong.) If you haven't popped into the shop in a while, now's the time. – B.R.
Mike's Chicken: In case you weren't sure, there's still a 20-minute wait for each order of Mike's Chicken. And each order is still very, very good. I had a two-piece chicken plate (bone in, duh!) with fries and creamed corn. I'm sure folks in the restaurant heard that first bite crunch from across the room. – N.K.
Sunday brunch at Shoyo: "Brunch" is a new item at Shoyo this month, part of the plan to make reservations easier to snag. We got a seat at the counter for a Sunday afternoon meal and were rewarded with a version of the menu that's only slightly trimmed down from dinnertime. All the great sushi is still here, and the appetizers and kitchen items are even better than I remembered from my visits when Shoyo was new. They've risen to a new level, even at lunchtime. Best restaurant meal I had this month. – B.R.
Seapot Hot Pot and Korean BBQ: I wrote about Seapot earlier this month and have already made plans to go back in August. The best thing here is the personal and unlimited hot pot deal that allows guests to create their own meal. It's ideal for large groups and for folks who don't like to share. – N.K.
Checking out the new mural at Trompo: Trompo owner Luis Olvera commissioned a new mural by Fernando Rojas, a Mexican artist who goes by Rojo Grafito. Called "La Gran Calavera Trompo," the mural is a 15-foot-tall evocation of popular Mexican games, with a skeleton spinning a top. The colors in the design and the whimsy of the portrait make the dining room feel even more inviting. While I was there enjoying the art, I also took a moment to appreciate a Mexican hot dog, now available daily. (Time to update our hot dog guide.) – B.R.
Any fresh tomato: I love tomato season. I will eat any tomato salad, any tomato toast, tomato sandwiches, fresh tomato sauces. Gimme it. We just pulled a bunch of tomatoes from the back garden and made world-tier BLTs. If you can find a local tomato, eat it. Period. – B.R.
Food News
Punch Bowl Social: There's a new mechanical bull in Deep Ellum. His name is Sir Loin, and you can give him a whirl at Punch Bowl Social. He's available Thursday and Friday from 6 p.m. to midnight, Saturday from 2 p.m. to midnight, and Sunday from 2 to 10 p.m. 2600 Main St.
Kyodai: It looks like salmon night at Kyodai is the hottest place to be. On Wednesday nights, the handroll and seafood bar is booked for weeks because of their specials on salmon. I'm a big Kyodai fan but haven't been by for their salmon nights. 2626 N. Josey Ln., Carrollton. 16100 Highway 121, Frisco.
Georgie: It seems like Georgie has since dropped Curtis Stone from its name. What used to be "Georgie by Curtis Stone" is now just Georgie, and a look at the website shows no trace of Stone or of the Australian-inspired fare that it was once known for. 4514 Travis St. Ste. 132.
Al Biernat's: The iconic steakhouse turned 25 on June 29, and it's taking the summer to look back at all its memories with its guests. The steakhouse is known for its grilled steaks and surf and turf options, attracting people from all over town and celebrities alike. If you happen to visit their North Dallas or Oak Lawn locations, a yearbook is available for signing. 4127 Oak Lawn and 5251 Spring Valley.
Openings and Closings
Belse Restaurant: A vegan restaurant in downtown Dallas closed after opening in early 2021, according to CultureMap. The restaurant was located near the Majestic Theatre and was a spinoff of Little Pine, an LA-based restaurant owned by electronic musician Moby.
Berni Bean: A second location of the coffee shop opened in Deep Ellum early July. Its first location opened downtown in 2021 with beans from Costa Rica, where owner Giuliana Bernini is from. Want to give it a try? Order the Tropical Bliss Latte, an espresso or matcha-based drink with chamomile-infused guava syrup and honey. 2820 Elm St.
Birdie's Eastside: A new neighborhood concept from Jon Alexis called Birdie's Eastside is opening this winter. The bar and grill will serve "casual but scratch-made bar food" such as wings and flatbreads, and its drink program will feature wines, beers, cocktails, and rare whiskeys. Birdie's is meant to be a casual watering hole where folks can bring their kids and gather, and it seems there will be plenty of room to do so inside and outside. 6221 E. Mockingbird Ln.
Drai's: A Las Vegas nightclub and beach club is planning to open its own restaurant and lounge in Dallas late next year. Drai's is known for its rooftop beach club along the Vegas strip (not that it matters, but I once made an appearance there and I remember a lot of palm trees and a lot of pink) that attracted celebs and crowds. The Dallas restaurant will serve French cuisine in a cabaret-style setting. More to come on this. 3113 Ross Ave.
The Dream Tacos: A taco shop from Bedford is making its way to D-FW with a new location in Plano mid-August. It's kind of a big deal, because The Dream Tacos has been highlighted by Texas Monthly, CultureMap, and more for its blend of Mexican and Korean fusion mixed with inspiration from French, Japanese, Mediterranean, Italian, and Southern Asian cuisines. Excited for this one. 8245 Preston Rd., Ste. 400, Plano.
Fortunate Son: The owners of Goodfriend Burger are planning to open a pizza and pasta joint in downtown Garland this fall called Fortunate Son. They're going to serve New Haven-style pizza, a pizza similar to Neapolitan but with a spotty charred crust. 500 Main St., Garland.
Jaxon Texas Kitchen & Beer Garden: Another closure, this time in Dallas' AT&T Discovery District, comes from Jaxon Texas Kitchen & Beer Garden. It opened in March 2020 and left due to a landlord disagreement.
JW Marriott Arts District restaurants: There are three restaurants that debuted at the end of July with the opening of the new JW Marriott hotel. Margaret's is named after Dallas philanthropist Margaret McDermott. The restaurant and bar will serve smoked short rib, pastas, and appetizers like beef carpaccio. Vincent's is a bar located on the hotel's 11th floor that will have views of the city skyline as well as an outdoor space. Another bar called 800 North will serve cocktails and small bites late into the night. 800 N. Harwood.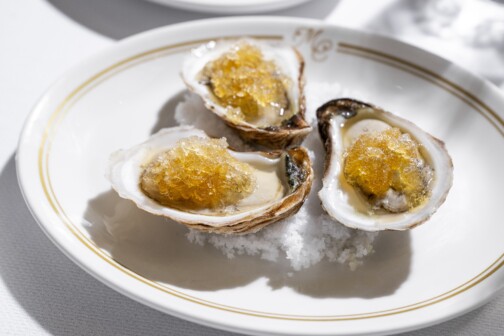 Mister Charles: We said Mister Charles was going to be one of the most interesting restaurant openings this summer. It comes from a line of Duro Hospitality "Chucks," right behind The Charles and El Carlos Elegante. One thing's for sure: Mister Charles is swanky. We got a look at the menu. Check it out here. 3219 Knox St., Ste. 170.
OAK'D: A barbecue joint on Lower Greenville has opened up its second location way up north in Addison. OAK'D took over the former Chamberlain's space and is now smoking meats for hours on end. 4525 Belt Line Rd., Addison.
Paris Baguette Bakery Café: A Dallas couple is planning to open four locations of a bakery chain called Paris Baguette Bakery Café in D-FW, with their first location in Arlington Heights later this year. A second location in Mansfield is opening in 2024, and the couple plans to scout out two more in Allen and McKinney. Paris Baguette is a South Korean chain with locations all over the world. The shop sells specialty cakes, baked goods, sandwiches, salads, and more.
Postino: The wine bar chain in closed in March but will reappear in a new Addison location on August 7. It'll serve its well-known wine and beverage program and bites like bruschetta boards. A second location is expected to open in Southlake at the end of September. 5280 Belt Line Rd., Addison.
Standard Service: The restaurant closed on Greenville Avenue on July 2, according to the Dallas Morning News. The space will turn into a pop-up bar called Summer House, from Leela's Pizza and Wine Bar.
Tequila Social: Tequila Social, Harwood Hospitality's 14th concept, opened along the Katy Trail July 24. Its menu has Tex-Mex cuisine and will include food items like fajitas and fish tacos, while drinks will include the likes of margaritas, frozen cocktails, and beers. It's also dog-friendly! 3100 McKinnon St., Ste. G100.
Toasted Yolk: A new brunch spot called Toasted Yolk opened in Addison July 17, and it's already got plenty of folks lined up to try its menu. The restaurant will serve breakfast, brunch, and lunch, and it also has a full bar with mimosas and Bellinis for days. 4580 Belt Line Rd.
Ten50 BBQ: The well-known Richardson barbecue joint is expanding with a second location in the Park Cities. Pitmasters at Ten50 serve up smoked barbecue, including brisket, turkey, pork ribs, and more. Now Dallas will be able to get a taste of it. 5519 W. Lovers Ln.
Voodoo Doughnut: A popular Portland-based shop known for its over-the-top doughnuts is opening a storefront on Lowest Greenville. The shop is expected to stay open 24 hours a day to serve more than 50 kinds of doughnuts. An opening date hasn't been set, but it's expected to debut sometime in 2023.
New Menu Items and Specials
This is not a drill. La Casita Bakeshop is serving sandwiches on its deliciously baked bread. It's a lunchtime game-changer. 580 W. Arapaho Rd., Ste. 154, Richardson.
Gemelle has a new happy hour: $1 martinis Monday through Thursday from 4 pm. To 6 p.m. Get it the way you like it, with extra olives. 4400 White Settlement Rd., Fort Worth.
The Finch has a chunky new sandwich on its lunch menu called the hot wagyu pastrami sandwich. It has a thick layer of pastrami—wagyu?—between two toasted slices of bread. 5307 E. Mockingbird Ln., Ste. 150.
Get the SideDish Newsletter
Dallas' hottest dining news, recipes, and reviews served up fresh to your inbox each week.
Author
Nataly Keomoungkhoun joined D Magazine as the online dining editor in 2022. She previously worked at the Dallas Morning News,…