You may have read D dining critic Brian Reinhart's recent review of Tatsu Dallas, a 10-seat omakase restaurant that is one of this town's toughest reservations. The meal, which can run up to 20 courses depending on what chef Tatsuya Sekiguchi serves, is a delicate, intimate experience that Brian says is worth the weekslong wait.
Brian wrote in his review that Sekiguchi is detail-oriented, sometimes painstakingly, when it comes to the craft of his work. It pays off—there is no bite at Tatsu Dallas that isn't delectable, from the cut of the fish down to the sweetness of the rice. He treats hospitality with that same attention to detail.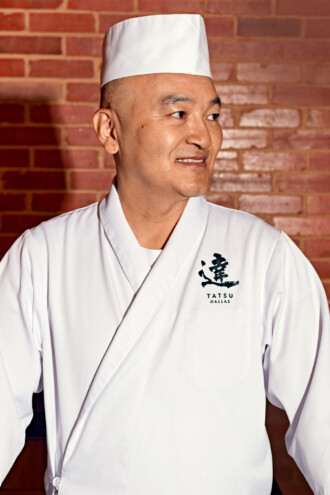 The first time I dined at Tatsu was before I started at D. As soon I walked into the tiny space at the Continental Gin Building, it was clear that this place was special: the lobby was furnished with bouclé and upholstered chairs, the wooden coasters were etched with the Tatsu logo, and the soft music canceled out whatever we heard outside from Elm Street. It transported us to another place. A couple hours later, my husband and I left with full stomachs and sent elated texts to family and friends about what we believed was Dallas' hottest new restaurant.
My sister, Melissa, is a big foodie who often seeks out new places to eat when she comes home for holidays. She took my recommendation and decided to snag a reservation at Tatsu.
Melissa and her husband, Victor, are Deaf, and although they both wear hearing aids and can read lips, communicating with and navigating the rest of the world is significantly harder for them than it is for anyone who is abled.
Reading lips, for instance, is not the same in the United States as in other English-speaking countries. Melissa once told me that reading an Australian person's lips is more challenging simply because Australians don't move their mouths as much as Americans. Accommodating someone who is Deaf sometimes means taking the time to explain things one-on-one so that they understand everything that is happening. It requires patience, and not everyone is willing to be patient.
Communication is mostly verbal at an omakase restaurant. The chef must explain the day's unique choices to diners. Melissa told me she's had five or six omakase dining experiences. One of them was on their honeymoon; Melissa and Victor were given a sheet of paper from a notepad upon which the name of each course had been hastily handwritten. A decent accommodation, sure, but not enough to make you feel as if you were being welcomed, she says.
But when Melissa emailed Tatsu about accommodations for people who are Deaf, she was greeted with a response from Hiroko, Sekiguchi's wife. (Melissa emailed before seeking a reservation because the meal is so expensive that she wanted to be sure she and Victor could enjoy it before typing in their credit card). Hiroko told Melissa that some accommodations could be made, and she sent the beverage menu ahead of time. She also said they would likely sit in the corner so that Sekiguchi could explain each menu item.
Melissa and Victor booked a reservation for Nov. 2. They were excited, but they were prepared to sit in silence and enjoy their meal in each other's company.
When they arrived at their reservation time, Melissa and Victor were greeted by Hiroko, Sekiguchi, and beverage director Janice Brown in American Sign Language. I remember getting a text from my sister shortly after it happened: "We were so confused … they told us they practiced for us."
In the month leading up to the reservation, Hiroko and Sekiguchi learned how to sign basic ASL to speak with Melissa and Victor. Hiroko later said in an email that Brown was a teacher and learned ASL a while ago. All three are still learning.
"We were prepared to accommodate to the people, not them accommodate to us," Melissa later told me.
Sekiguchi took time to sign the menu items from that night's dinner. Melissa said she peeked behind the bar and saw a printout of how to sign certain items. Melissa and Victor also caught glimpses of the trio asking each other how to sign phrases or words. In one video, Sekiguchi tells Melissa, "This is number 14, and it is also my favorite nigiri." It was the sea urchin nigiri.
The traditional printed tasting menus have the names of each item on the front and a list of ingredients on the back. But Melissa and Victor were also given a folded menu with descriptions of each menu item, along with details of his ingredients. The water, Crazy Water No. 2 from Mineral Wells, was so important to the chef that he would not have opened the restaurant in Dallas if he didn't find the right water for his rice. That's the sort of detail Victor and Melissa could have missed without the extra effort.
At the end of the meal, Melissa and Victor were given small cards that read: "To finalize the bill, may we use the credit card that is on file w/ Tock?" and "You will receive an itemized receipt via Tock shortly."
Melissa tells me that she's never had such a genuine connection with hosts, let alone a chef, in her life. The effort the team put into the meal made it one of the best dinners Melissa and Victor have ever had, and that's just considering the hospitality. The food was outstanding, Melissa says. Her favorite was the rice with green onion. (Just like Brian!)
Hiroko tells me in an email that birthdays aren't extravagant at Tatsu Dallas because everyone deserves a special dinner. According to Hiroko, Tatsu always says, "every day and everybody is special."
I don't know if the meal Melissa had is the same for every Deaf person who dines at Tatsu. I'm not sure whether any of those accommodations would have been made had Melissa not reached out. And I'm certainly not saying that to offer good hospitality, everyone else who works in restaurants should learn ASL.
I'm saying that I've watched Melissa sit quietly during dinner trying to piece together parts of a conversation or a passing joke. I've grown up my entire life watching her type out meal orders in the Notes app. She starts off almost every note with: "Hi, I'm Deaf."
It's a pleasant surprise when the person on the other end meets her halfway.
Get the SideDish Newsletter
Dallas' hottest dining news, recipes, and reviews served up fresh to your inbox each week.
Author
Nataly Keomoungkhoun joined D Magazine as the online dining editor in 2022. She previously worked at the Dallas Morning News,…