A few months ago, my mind wandered to mochi. And among those I scrolled through on Instagram, one source kept tugging at me. The mochi of Momma Wong's Mochis were chubby, with insides like silky mango and peanut- and white-sesame crumble, rolled in flaked coconut and filled to bursting. They were gorgeous.
When the pandemic hit in March, Mary Wong began thinking of a way her mother, who was born in Hong Kong and has lived in the United States for 40 years, might keep herself busy in her new retirement. (Making 60 dozen tubby treats a day surely must qualify.)
Mary urged her mother Tina to fashion the Hong Kong–style glutinous rice-based snacks she had made for the family when she was a kid. Mary had seen the proliferation of mochi doughnuts and mochi cupcakes of late, and thought they could venture into the fray. She could see there was plenty of room for more in a landscape of sweets-seekers besotted with them. And, indeed, as soon as the food-sleuthing machine of the Facebook group Asian Grub in DFDUB's users saw them, they seemed to agree. The result was the bulging pillows that beckoned on Instagram.
Tina makes them by hand, rising in the morning to confront the task, and Mary's dad contributes the tiny dots that distinguish each flavor.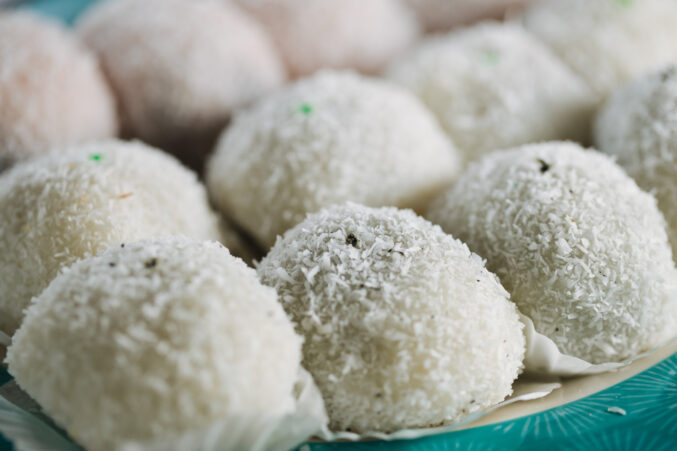 Fans asked for pandan, durian, and ube. Mary's sister requested the nutty black sesame. I was smitten, also, by the Nutella filling, with crispy vanilla wafers adding a delightful crackle to every bite. They're intended to be reminiscent of the inside of a Ferrero Rocher.
Squishy and squat, these are not to be confused with Japanese mochi. Each mochi bears a thicker wall and a chewier texture (and, per Momma Wong's behest, is heftier in volume). A shaggy coconut exterior hints to its flavor rather than the fine, delicate skin and flour dusting of its mochi kin. Flavors lean Hong Kong, Vietnamese, or Filipino-centric rather than Japanese favorites of ethereal strawberry mousse or matcha. The mango is the most traditional in Hong Kong.
In this season, Tina checks every week to see if the mangoes pass muster, if they'll lend the right ambrosia. This week, for the first time since the summer, they made the cut. There will be mango in the mochi offerings this week. Which means this is exactly the right time to be eating Hong Kong–style mochi.
When Momma Wong's Mochis launched, they were taking orders every day and delivering. Now they offer weekends only with pickup locations. Preorder by the dozen (mix-and-match available). Pick up at Richardson or The Colony locations of OMG Tacos (where Mary is a co-owner).
Get the SideDish Newsletter
Dallas' hottest dining news, recipes, and reviews served up fresh to your inbox each week.