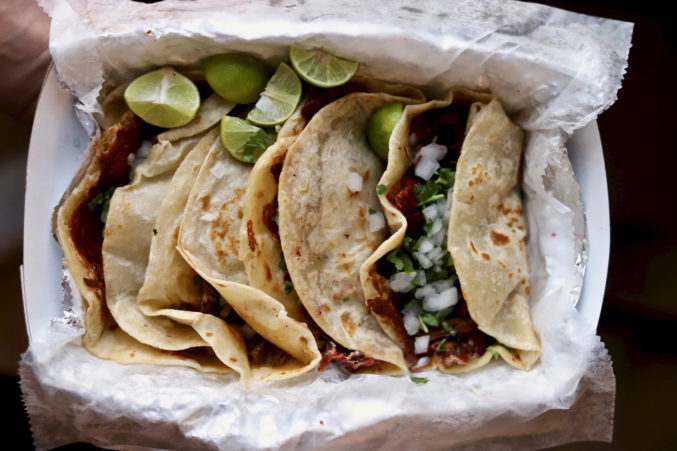 News Bites: Trompo Adds an East Dallas Location and HaiDiLao Hot Pot Is Almost Here
SideDish's weekly digest of need-to-know dining happenings in Dallas.
Welcome to SideDish's weekly dispatch of need-to-know News Bites, from quiet closures to opening updates and everything in between, including coronavirus-related intel.
Trompo Is Coming to East Dallas
Five days ago, many people who spend a lot of time on Instagram, myself included, saw Trompo post eye-bulge-inducing news: a Trompo outpost is coming soon to East Dallas. No more cross-city treks to Oak Cliff. My inquiries about the new location were deftly deflected by Trompo owner Luis Olvera, who's keeping details on the down-low until the opening nears. It will be located at 4201 Gaston Ave. Dallas Morning News was able to squeeze out an anticipated opening timeline from Olvera—springtime. (The news was first found about midway through José Ralat's Texas Monthly story about the rise and staying power of taco windows.) 
HaiDiLao Opens in Frisco Next Month
I've been thrilled about HaiDiLao's pending arrival since last July. Now we're even closer to getting the mega-popular hot pot chain's bubbling broths, sauce bar, and noodle dance. Based in China's Sichuan province, HaiDiLao first branched out to the U.S. in 2013 with a location in L.A. and only just last year sprouted new outposts outside of California. Read the late, great Jonathan Gold's write-up about the "Ferrari of Chinese hot pot restaurants" and his description of HaiDiLao's noodle dancers, who stretch skeins of noodles at your table before dropping them into burbling pots. Eater Dallas reports that it's opening in March.
Eat Fletcher's Corny Dogs this Super Bowl 
As you lock in your game day snack plan for Super Bowl LV this Sunday—which we have plenty of suggestions for, by the way—look to Dallas' beloved corny dog pioneers. In a first for the famous State Fair food, Fletcher's is offering packs of corny dogs for your at-home dining pleasure. You must preorder by Thursday, February 4 at 10 p.m. Pick up on February 7 between 11 a.m. and 1:30 p.m. in Highland Village or North Dallas.
A New Restaurant Graces the Uptown Dallas Marriott
The Uptown hotel recently debuted Good Graces, which is billed as a modern American brasserie. Chef Juan Pablo Silva, who previously ran the kitchen at the Ritz Carlton in Dallas, will take the culinary lead at the Marriott. Expect charcuterie, Peruvian-style chicken, fresh gulf coast oysters, mussels and fries, and, of course, steak.
Foxtrot Market Looks for Up-and-Coming Dallas Food Brand
As small businesses continue to claw and climb their way through this pandemic, every bit of help counts. So Foxtrot's Up & Comers competition comes at an especially opportune time for four Dallas brands. CocoAndre Chocolatier, Momo Shack Dumplings (which has been a COVID freezer staple for me when cooking and takeout aren't in the dinnertime cards), The Cookie Fellow, and Hippos & Hashbrowns are all vying for votes now through February 7. The winner earns a spot on Foxtrot's shelves and $8,000 to be used toward marketing their products.