In the U.S. the fifth of May marks a holiday that, much like Saint Patrick's Day, has become more about the party than the historical significance. But on this day back in 1862, a real David and Goliath scenario unfolded: the Battle of Puebla between outnumbered Mexican soldiers and the French army. Against tough odds, the Mexican soldiers beat back the French.
This feels especially relevant and timely right now, as we grapple with record-high COVID cases. But Cinco de Mayo is a good reminder to have hope and keep fighting. Even if it's mostly an American "holiday." The positive thing: it's yet another reason to support local restaurants, which desperately need our help.
Okay! Back to the party. If you decide to celebrate today—in hopefully the safest ways possible—then see some of the ideas we've got for you, like buying food from small, family-owned taquerias and getting your marg to go.
And, for those of you who find this story after Cinco de Mayo, it's a damn good list for any other day, too.
Taqueria El Si Hay

If it's an elotes craving you're aiming to squash, look no further. There's an old gentleman who stands on the side of this taco joint, with a cart that holds the promise of the best elote in the city. He carves his corn fresh off the cob with every order he takes, adds in a generous amount of sour cream, cheese, and hot sauce, and covers the top with tin foil. It's paradise in a foam cup. There's really no other way to describe it. Elotes aside, people line up for the street tacos here, too. Load up on juicy barbacoa and tender lengua.
Del Sur Tacos
Those who love tacos count Olmy and Ismael Sanchez's taqueria as a place of pilgrimage, filing in from the truncated parking lot under the insignia with a winged luchador—a symbol of the Sanchezes' own pilgrimage—for tacos and breakfasts (these involve house-made chorizo and egg). Start with the chips (totopos), craggy and sturdy, that make a definite cracking crunch when you bite; the guacamole, with its secret ingredient of orange—yes!—making it ever so slightly sweet and tart, brilliant and unexpected; or the frijoles picantes, with jalapeño sauce, bright green against the deep purple-black of refried beans. Let's keep these Oak Cliff and McKinney gems around for the long haul by ordering takeout today.
Tacos la Banqueta Puro DF
This is one of Dallas' premier taquerias, a DFW chain known for its DF (Mexico City) noshes. Chief among them are the counter-service joint's holy trinity served on small, two-ply corn tortillas: cabeza (cow head meat), lengua (beef tongue), and suadero. The latter, La Banqueta's signature meat, is a braised cut of steak finished on the griddle, sealing in the juices with a charred exterior. (Note: The Carroll Avenue location was indeed open for business as recent as April 9, and, while the connection was poor, they're taking calls at the Gaston Avenue spot. We tried to track down the latest details, but this may be for the type of eater who's okay with chasing down amazing tacos even if the taqueria, say, closes early for the day. Times are hard, and not everyone has a PR arm to spread the latest news. Call ahead if you venture out!)
Taqueria La Ventana
There are fans and then there are those who don't count this spot among their favorites, but it's hard to argue with Cinco de Mayo curbside specials like $4 house margaritas frozen or on the rocks, and $20 margarita kits (serves 7 to 8). If you choose to dine in, the margs are $3.50 from 3 to 6 p.m. for happy hour with a live mariachi band.
Cuquita's
All three locations—Dallas, Garland, and Farmers Branch—remain open for takeout. So you can get those comforting caldos, traditional Mexican entree platters, and favorites like beef or chicken flautas.
El Tizoncito Taqueria
Chips and salsa are nowhere to be found in this sleek dining room, its walls replete in intricately embroidered, orange and white Otomi textiles. Instead, El Tizoncito offers a teasing appetizer of black beans. After slurping that down, order the choriqueso, a trio of tortillas smothered by the perfect union of chorizo and cheese that gives birth to a deliciously messy vermillion and white slop, eaten like a taco. The specialty at El Tizoncito is pastor, the meat preparation synonymous with Mexico City. Watch as the trompo slowly turns and roasts achiote- and chile-seasoned pork that gets knots and threads sliced off to order. All Dallas locations are open for takeout and dine in.
Trompo
It's a Dallas staple which needs little introduction. The Bishop Arts taqueria is still open for takeout only (despite regulars wishing owner Luis Olvera would reopen the dining space). Olvera recently launch a few new menu items, like perfectly squishy torta pambazos with guajillo-soaked buns and chorizo, and carnitas en salsa verde. Peep Trompo's Instagram for a Cinco de Mayo giveaway game.
La Nueva Fresh & Hot Tortilleria
Owned by Gloria Vazquez Martinez, a native of the Mexican state of Zacatecas whose father opened the first La Nueva in 1968, this tortilleria's Webb Chapel branch in Northwest Dallas slings superb guisados. Those thick stews are as street food as street food gets in Mexico, plopped into springy tortillas made from the inferno-producing machine at the front of the place. The guisado verde is a green conflagration of pork. The guisado rojo with strips of nopalitos (cactus pads) lashes out at the palate with less intensity—but not by much. The barbacoa at La Nueva comes in three forms: the common beef head, borrego (lamb), and beef cachete (cheek). Though all are excellent, it's the fatty cachete with its palate-hopscotching flavor that is incomparable among the trio. So if all of that has you salivating, act fast, today they close at 4 p.m. (instead of 8 p.m.) to deep clean.
Doña Lencha Restaurant and Taqueria #1
The licks of flames working slow magic on the trompo, the vertical spit on which traditional pastor (also called trompo) is prepared, are the focal point of this large Irving restaurant's kitchen. The red-shirt-clad cooks tend to the pork and the bubbling pots of sauces, stews, and offal, while the waitresses in black, some wearing miniature sombreros, curtly take your order. The al pastor is as excellent as any found locally: a crunchy, dusty-dark exterior concealing soft pork laced with glistening threads of sautéed onions. Open for takeout and dine in.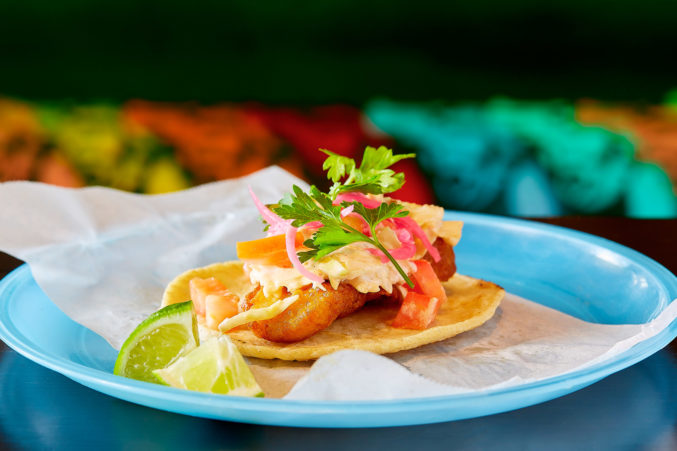 Revolver Taco Lounge

Owner Regino Rojas—a recent James Beard Award semifinalist—makes upscale tacos, like the requisite carnitas and a magnificent pulpo (octopus), all elevated by masa tortillas patted fresh to order. Just make that order at the pickup window or call ahead.
El Come Taco
This family-owned and operated taqueria serves a variety of Mexican street food, including alambres, gringas, and of course, tacos. For this Cinco de Mayo, they have a stay-at-home family package: cochinita pibil baby back ribs, arroz poblano, black beans, guac, pico, chicharrones, salsa, and sides. It feeds four people for $120, but the only catch: orders will be limited. Place your orders by phone at 214-821-3738 or email [email protected]. Surely you can order from the a la carte menu if you don't need a family-size meal.
José

The Lovers Lane restaurant is throwing an outdoor parking lot Cinco de Mayo party—at a safe social distance. From 4 until 9 p.m. find José chef Anastacia Quiñones-Pittman serving up tacos and margaritas alongside Encanto Pops and Cookies by Chrysta. Mariachi Nuevo San Luis will begin strumming at 6. The dining room remains closed.
Te Deseo
The Harwood restaurant is still closed for dine-in, but no matter, check out their special Cinco de Mayo carryout menu: taco bar with carnitas, smoked brisket, and chile-braised chicken tacos, plus chips, queso, guacamole, beans, and rice (feeds four for $45). Add a build-your-own six-pack of beer ($20).
Mexican Sugar
Signature Margarita Kits made with Casamigos Blanco Tequila will be available for pickup for $35 (makes four to six drinks) as well as a Casamigos Tequila Flight Package with Blanco, Reposado, Añejo and Mezcal, Casamigos glassware and a dip trio with queso, guacamole and salsa for $120.
Las Almas Rotas
Get the Viva la Vida cocktail kit while it lasts: 375ml bottle of Espolon blanco tequila, half quart of housemade cocktail mix with fresh-squeezed watermelon ($40, makes four to five drinks). Should you require food, there's chicken enmoladas with mole poblano; ceviche campechano with red snapper, shrimp, and octopus; and more.
Resident Taqueria

In Northeast Dallas find this taqueria, which is still only open for takeout, serving made-to-order tacos on homemade tortillas, loaded up with seasonal and local produce and tender, slow-braised meats. The braised pork shoulder comes with pineapple, cabbage, and guajillo; the housemade chorizo taco is topped with onion, potatoes, and smoked tomato crema; and veg-lovers can sink their teeth into a playful caramelized cauliflower, kale, and pepita taco drizzled with lemon epazote aioli.
Get the SideDish Newsletter
Dallas' hottest dining news, recipes, and reviews served up fresh to your inbox each week.