An office park may seem an unexpected place for tacos bearing notes of Ethiopian berbere spice. Yet here they are: Find these tortilla-wrapped, spice-laden morsels at Carver Park, inside the breakfast-and-lunch counter deli that Fana Yohannes runs with her husband, chef James Rowland, on a quiet street off Walnut Hill Lane.
Yohannes is behind the counter, just as she has been since they opened the first of two locations in 2014. She and her husband met in the overlapping swirls of the restaurant world, when she was managing the front-of-house at York Street and he held the position of executive chef at Beau Nash in the Hotel Crescent Court. "Carver [is] James's vision of what he wanted to do: bring healthy, affordable, good food to buildings," she says.
But to return to the tacos. At some point, around 2016, Yohannes began cooking Ethiopian food and adding it occasionally to the menu at Carver Park. The food of a lunchtime cantina serving almond chicken salad and housemade soups may seem far removed from the gusts of flavor of robustly spiced Ethiopian dishes. But Yohannes gave it a try. She adapted the bites she made at home and applied her own flexible notions of Ethiopian spicing to the democratic, crowd-pleasing form of the taco, a favorite in her home kitchen repertoire.
The berbere-spiced pork shoulder taco was born.
Rowland helps by sous-vide cooking the pork and brisket that undergird the tacos. Yohannes, who grew up in Addis Abeba, but moved to New York at the age of 14, toys with the idea of what she calls Tex-topian cuisine, a mix of Texan (or even Tex-Mex) and Ethiopian cuisine. In the sizable local Ethiopian population that clusters primarily in North Dallas, with restaurants found around upper Greenville Avenue, nothing quite approaches the fusions of Yohannes and Rowland. They've experimented with empanadas, whose filling was berbere-spiced lentils in a dough laced wheat with teff flour, the staple Ethiopian grain.
"My mother brings my berbere and shiro [from Ethiopia]," Yohannes says. "The main stuff, the berbere and shiro, is homemade by family members."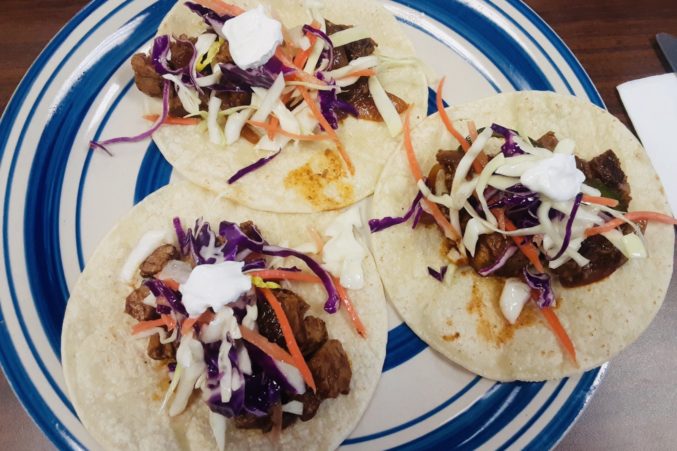 Aside from her hybrid taco creations at Carver Park, Yohannes also runs pop-up dinners. Her sit-down, ticketed events have taken place primarily in the Bishop Arts neighborhood (twice at Bolsa, where a bevy of intriguing cocktails accompanied the meal, and at Bbbop last December). The next one, on March 9, will be at Lounge Here in East Dallas.
She's done these dinners buffet-style or plated, wrestling with the challenge of serving food that is traditionally eaten communally, usually scooped with spongy, tangy, thousand-eye injera bread. To respect the hesitance of certain diners, she tends to plate individually at her pop-ups.
The March dinner will include doro wot, the classic chicken stew with hard-cooked egg, seething in a carmine sauce of berbere spice and clarified butter, which will appear alongside tender, sous-vide lamb, stewed with the lighter turmeric-based Ethiopian profile of onions and garlic or a spicier, zestier version with berbere spice. Her menu includes gomen, collard greens mellow with onion and garlic; azifa, a bright, cold lentil salad with a lemony, mustardy dressing; the spiced red lentils of misir; and kitfo, the elegant Ethiopian beef tartare. The stews take the longest, time and heat softening the edges of spices, creating harmonious medleys mobbed with flavor. Always, she fights against the tendency of these dishes to be over-cooked, retaining their vibrancy rather than letting them melt into disintegration.
Ultimately, her heart bridges both worlds. "The Tex-topian is moving into untraditional," Yohannes says. But not so foreign. The cardamom, cumin, and smoked paprika are not so distant from the achiote, cumin, and cloves of an al pastor. One of the dishwashers at Carver Park was certain of a hit: "Fana, you and I need to open [your own] place, and we need to call it Ethiopian Tacos—and that's it."
"Eventually—I haven't honed down a place—but I want to do more Tex-topian. I want to incorporate Tex-Mex food with Ethiopian flavors." Yohannes, like many others, is part of a brave new world seeking connections and broader culinary horizons. Diners will go where the flavor is—and Yohannes's food is full of flavor.
Fana's Ethiopian Pop-Up Dinner
Monday, March 9, Lounge Here, $37
Get the SideDish Newsletter
Dallas' hottest dining news, recipes, and reviews served up fresh to your inbox each week.