As of September 1, Texas breweries can sell to-go beers. There's a lot of canning at Dallas' best breweries. Here's where—and how—to celebrate.
Four Bullets Brewery (Richardson):
Selling All In IPA, 6.8% ABV at $9 for a six pack and Billion Dollar Blonde 5.2% ABV at $8 for a six pack. They will also have 32-ounce and 64-ounce logo growlers at discounted prices and $3 pints all day.
Legal Draft Beer Company (Arlington):
They are canning and selling eight core beers, six seasonal beers, and a couple of different specialty beers. They'll also have growlers of any beer on tap, and non-alcoholic root beer.
Nine Band Brewing (Allen):
They're releasing three new beers on September 1: Red Ale Redemption, Nautty PumkN' Ale with pecans and pumpkin, and Lockhart Red (Amber). Draft prices range from $4 to $6. Cans and growler prices will be posted the day of. They're throwing a party from noon until 6 p.m.
Lakewood Brewing Company (Garland):
Celestial Beerworks (Medical District):
They've been able to sell to-go beer but are releasing a special beer on Sunday in solidarity with the breweries. It's called Age of Alequarius. It's a 6.5% ABV New England-style IPA hopped with Rakau and Citra hops.
Peticolas Brewing Company (Design District):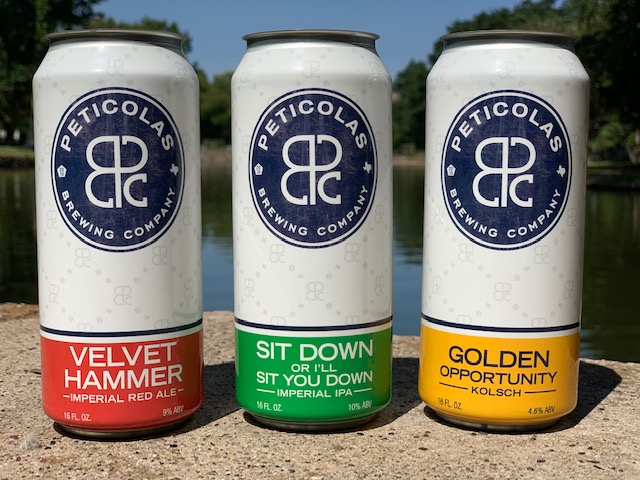 Community Beer Co. (Design District):
From their Facebook:
Join us to celebrate this monumental occasion when we open our doors early at 10 a.m.

To kick this party off we will have:

• $5 six packs of our core beers, including Mosaic IPA (for this day only)
• Specialty 16-ounce crowlers (canned draft beer to go)
• The Debut of SUPER MOSAIC! A special high gravity version of our Mosaic IPA brewed just for Beer-To-Go.

Waffle O'licious will be onsite with some delicious eats!

This is a free event, open to the public. Doors open at 10 a.m. Customers are limited to 288 ounces (one case) of beer per day.
Texas Ale Project (Design District):
From them:
TAP WTR Mixed Berry – Grab an ultra-fresh six pack of our newly released craft hard seltzer. It's not yet on the market in cans so here's your chance! 20 cases available.

R&D Series Rose Amour, Raspberry Sparkling Ale – 50 cases available. Limited market availability.

R&D Series Texas Blood, Blood Orange IPA – 20 cases available. Not yet in stores for the season.

Somethin' Shady Bourbon Barrel Aged Porter 2018 – 10 cases available. Brewery only availability.

TAP Pak – A mixed 6 pack of some of our Best Sellers specially packaged just for our TAP Room. Beers in the pack may change from time to time.

We're now selling growler fills!
32-ounce and 64-ounce growler fills & Texas Ale Project logoed growlers will be available for purchase starting Sept 1st.

TABC law: 1 case per customer per day limit on Beer to Go. $1 off a draft beer or growler fill on Sunday September 1.
Franconia Brewing Company (McKinney):
Party runs from 1 p.m. to 4 p.m.
From the brewery:
It is also our Oktoberfest tapping event. We are celebrating with a one day only release price of $5.99 a six pack. Product can be purchased in 24 bottle cases (1 per person), six packs (four per person), or by the bottle. After Sunday the price will be $7.99 for a sixer. We also offer to mix and match between our beers.

We are selling our core beers:
Silver Star Bock
Lager
Kolesch
Dunkel

and

Special/ seasonal:
Okotberfest
Wheat (Hefeweizen)
Tripel Dunkel
Pegasus City Brewery (Design District):
From the brewery:
We are open from 2 p.m. until 8 p.m. for our Beer To-Go party on Sunday with free hot dogs. In addition to our regular packaged lineup in cans and bottles that are currently in the market, we will introduce crowlers (500ml cans) and growler fills (must bring own growler at the moment) and specialty bottles that are not offered anywhere else but our taproom:

Crowlers of beers not currently offered in cans ($6):
Beaming Blonde, Belgian Blonde
Great Hall Hefe, German Hefeweizen
Black Magnolia, Dark Mild

Exclusive specialty bottle ($16.99):
Nine Volt Reserve, Oaked Tripel
Martin House Brewing Co. (Fort Worth):
From brewery:
For these nine below, there is a one per person limit. You can only choose one of these. We saved a very small quantity of them so choose wisely.

The Castaway 9.5% – Rum Barrel-Aged Imperial Pineapple Sour – 2pack
Christmasin July 13.2% – Whiskey Barrel-Aged Spiced Barleywine – 2pack
Erebus 12.99% – Scotch Barrel-Aged Imperial Stout w/ Coffee – 2pack
The Farm 9.8% – Wine Barrel-Aged Brett Saison – 2pack
Half Christmas 11.3% – Whiskey Barrel-Aged Imperial Spiced Stout – 2pack
The Morrigan 12.6% – Jameson Barrel-Aged Blonde Barleywine – 2pack
Queen of the Mist Boysenberry 5.3% – Wine Barrel-Aged Salty Lady w/ Boysenberries– 2pack
Tantalus 10% – Red and White Wine Barrel-Aged Imperial Raspberry Sour– 2pack
Pachuco 8% – Tequila Barrel-Aged Agave and Guava Sour – 2pack

No limit on these eight below:
Kokytus 14.4% – Rye Whiskey Barrel-Aged Imperial Stout w/ Cacao Nibs – 2pack
Orange Cream 6% – Orange and Vanilla Lactose Sour – 4pack
Pacific Waves 5.2% – Blue Coconut Sour Ale – 4pack
Pink Lemonade 5.2% – Lemonade Sour w/ Raspberries- 4pack
Melted 5.5% – Strawberry and Waffle Cone Ice Cream Ale – 6pack
Peace Be the Journey 10% – Hazy Jamaican IPA w/ Coconut – 4pack
Sno Patrol 5.2% – Mixed 4pack

We will also have all of our core brands available for purchase. No limit on those.
Oak Highlands Brewery (Lake Highlands):
Old Town Brewhouse (Lewisville):
They're selling Big Weekend (5.6% American lager) in cans with the rest of our beers being sold at the brewhouse in growlers. The party on September 1 takes place from noon until 6 p.m.
Rahr & Sons Brewing Company (Fort Worth):
Get the SideDish Newsletter
Dallas' hottest dining news, recipes, and reviews served up fresh to your inbox each week.