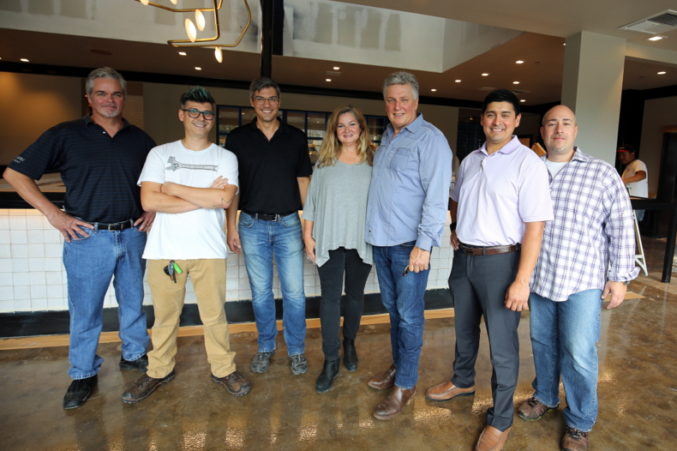 Al Biernat To Open Second Location in North Dallas on October 18
The old Del Frisco's restaurant on Spring Valley has been gutted and gussied up.
Last week I stopped into the construction site at 5251 Spring Valley Road. Inside I found Al Biernat and his wife Jeannie roaming around between painters, electricians, and plumbers. There was panic in the air. Biernat and his right-hand man Brad Fuller had told the work crew they had to be finished by the 9th. Biernat flashed his trademark smile, winked, and said, "I just told them that to keep them motivated. We really aren't opening until the 18th."
I hope they can pull the place together before then. Biernat has spent over $4 million on the finish out. From what little I saw and could imagine after hearing the details, this place is going to be quite grand.
They spent a small fortune on windows which they have inserted across the front and sides of the building. Part of the second floor over the host stand was knocked out to reveal a natural light source from the cathedral ceiling that once housed original owner Dale Wamstad's office. Even though the 400-seat, two-story restaurant is loosely divided into dining areas with booths and tables, the space feels open and light. The only elements I recognized from Del Frisco's was the three fireplaces.
Credit for the new look goes to Jeannie Biernat and Fuller, the Director of Operations. They traveled to New York and visited over 30 restaurants looking for inspiration. Jeannie kept a record on her Pinterest page. When it came down to get their ideas on a blueprint, they worked with JonesBaker for design and Architexas as the architects.
"I've wanted to open a second location for years, but I just needed to find the perfect space," said Biernat. "When I heard this site was available, I knew we had to have it. It's ideally situated to cater to our loyal clientele living in the northern suburbs, and it will give us a wonderful platform to serve a new group of guests that are not as familiar with our brand."
Here are some of the technical details.
The new restaurant features a wide array of dramatic design elements, from the three-story atrium that casts natural light on the entry to a large, energetic bar room to the right of the main entrance. Multiple dining areas scattered throughout the restaurant offer options from intimate, elegant dining around the fireplace on the main floor to private rooms upstairs. The second level is anchored by a distinctive "Blue Bar," which leads outside to a large, open-air terrace. The entire upstairs is perfect for private functions with seating for up to 90 guests, happy-hour gatherings, and even game-day watch parties.

The design team added multiple windows on the main floor to brighten up space, tile flooring by Exquisite Surfaces, contemporary light fixtures by Kelly Wearslter, multiple booths by Timothy Oulton and the pièce de résistance, an imposing David Yarrow photograph of a prowling lion entitled "Carnivore," displayed behind the hostess stand.
The menu will mirror the original location and will be overseen by Anthony Van Camp. You might remember him from his days at Nana and Ser where he thrived for ten years under chef Anthony Bombaci.
Biernat has mixed his talent pool around. The all-star staff includes General Manager Eddie Althaus, who has worked with Al Biernat's for over six years, most recently doubling the Oak Lawn restaurant's brunch traffic. Althaus' background includes successful stints at Chamberlain's Steakhouse, Pappas Brothers, Mi Piaci, and Salve Ristorante Italiano. Pedro Ortiz will serve as Executive Chef at Al Biernat's North and Miguel Cauich, who has worked for Al Biernat's for over 19 years, will remain Executive Chef in Oak Lawn. Jamie Benge replaces Brad Fuller as General Manager at the original location. Fuller and Biernat will share their time between both restaurants going forward.
Those of you who remember bartender Danny Versfelt will be pleased to learn he is back on board and will be the main man behind the bar on Spring Valley.
Al Biernat's North will open for dinner only on the main floor beginning Wednesday, Oct. 18. Lunch service will commence in mid-November, which will also mark the opening of the second floor. For reservations, call 972-239-3400.