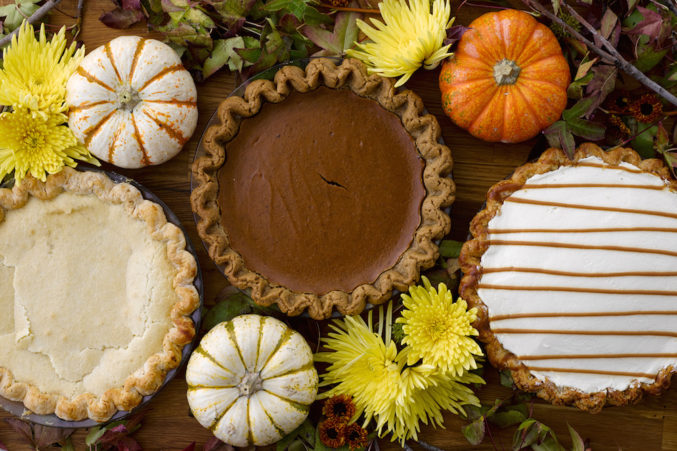 Emporium Pies' Fall Flavors Are Now Available
Greet autumn with a sweet slice.
By Daniel Walker
Published in Food & Drink
September 1, 2017
12:30 pm
Forget the fact that you've still got your air conditioning operating at full capacity. It's September and we've got fall on the brain, and all the wonderful things autumn brings with it, like football, changing leaves, cooler temperatures, and of course, some of our favorite flavors of the year. And nothing embodies the flavors of fall quite like pie, which the team at our beloved Emporium Pies knows all too well.
The fall pies of Emporium roll out today, folks. So forget about that summertime beach bod and brace yourself for this wonderful season. If you're already familiar with the rotating seasonal treats Emporium has served up in the past, you'll understand it's basically critical you get in here before these limited-time slices vanish before winter. (Sadly, we also say goodbye to the summer pies, including the critically-acclaimed "Basic Beach," an orange-pistachio cream pie that nearly brought a tear to my eye).
So what's on the fall menu? It's a whole lot more than pumpkin spice.
First up, the "Nutty Honey" which features peanut butter and honey filling, topped with whipped cream and crunchy roasted peanuts on top. There's also a few riffs on classic fall standards. The "Drop Dead Gourdgeous" is their version of pumpkin pie, with a proprietary blend of spices and gingerbread crust. Also the "Buttercream Gang", a classic buttermilk pie whipped up "just like grandma made it."
But what's really going to get you in through the door is their exemplary banana cream pie. The "Nannerz" begins with a base of house-made maple caramel, a bundle of sliced, fresh bananas, and a cool, creamy vanilla custard. This gets topped with more whipped cream and more drizzled maple caramel. There are few unions on this earth as special as banana and caramel, and Emporium puts this relationship to very good use.
This month marks five years since owners, Mary Sparks and Megan Wilkes, began peddling pies in Bishop Arts. I was lucky enough to attend their first pop-up event in Bishop Arts all those years ago, before they officially announced a permanent residence there. I can attest that the pies were every bit as good then as they are today.
In honor of their birthday, they're running a short-lived celebratory pie known at the "The S'morgasbord." Yes, that's a spin on beloved s'mores and is made with a decadent chocolate brownie pie on a graham cracker crust with a topping of fluffy, toasted marshmallow meringue. It's only available September 1 through 10. And now you suddenly have weekend plans.
With regards to their five years in business, owner Megan Wilkes states, "We opened with the expectation that our little spot would be a quiet corner where people would enjoy a slice of pie. We knew the pies were special, but we had no idea it would take off the way it has. We are always trying to balance between being able to make as many happy, pie-filled people as possible while maintaining our small neighborhood business. We feel forever grateful for the wild ride the past five years and we look forward to many years to come."
Do yourself a favor and go wish Emporium a heartfelt happy birthday, and welcome fall at the same time, by stuffing your pie-hole with some of the finest desserts in the city.