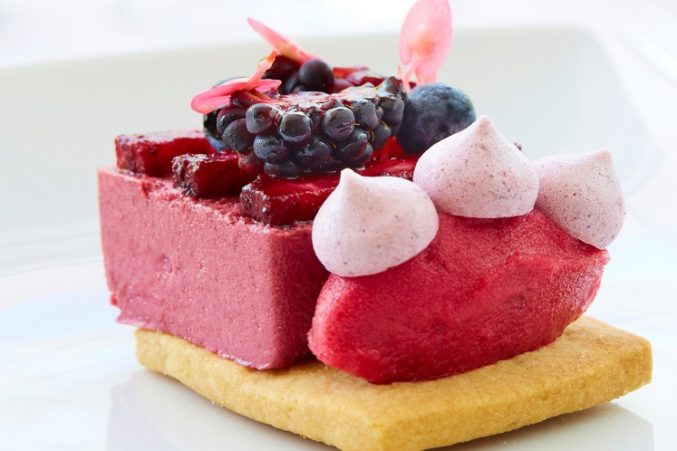 Sweet Thoughts: The State of Dessert in Dallas
Next time you have a good cremeux or chiboust, hug a pastry chef.
Two weeks ago, the James Beard Foundation announced Maggie Huff as a semifinalist in the category of Outstanding Pastry Chef for her work at FT33. A quick browse through the last several years reveals that while chefs such as Omar Flores, Teiichi Sakurai, Matt McCallister, and David Uygur have earned repeat recognition, we've not been represented in the realm of pastry. Which is why I find this year's acknowledgment of Huff's genius particularly auspicious.
We're not a town known for dessert. If you've been to Launderette in Austin, maybe you've had one of Laura Sawicki's desserts. She's up for the James Beard pastry award, as she has been twice before, and the dessert menu at Launderette currently features a sunflower seed tart with honey caramel, Bleu de Basques blue cheese, pine nuts, rosemary, sunchoke, and salt and pepper ice cream. Her feta cheesecake comes with a lemongrass hibiscus gelee and (small wink) graham cracker ice cream. Last week, I had a most wonderful desserts at meat-centric Cured in San Antonio: a shortcrust tart filled with pink peppercorn pastry cream and topped with Texas grapefruit supremes and the bit that pulled it all together—a gorgeous scoop of parsnip (yes!) ice cream and fine dust of dill. It's hard to explain—you'll have to take my word for it when I say that this creation by their pastry chef was one of the smartest, most enjoyable desserts I've had in a while.
A proper dessert is a miracle in microcosm, a sensitive play of texture and flavor. Any pastry chef will tell you—it's a whole universe.
Consider Kate Weiser and why her ice creams are so good. (We named hers the best ice cream in our Best of Big D issue last year, passing up ice cream emporiums.) A chocolatier by training, she approaches ice creams and sorbets like a confectioner, balancing salty and sweet and intensity of flavor. It's the same with impeccably trained Nicolas Blouin, whose ice cream tasting is the sleeper selection at the Rosewood Mansion on Turtle Creek precisely because everything he does is so dialed in. The works of a trained dessert maker are beautiful and subtle and go far beyond a slab of cheesecake.
But the trend in the restaurant industry is towards cost-cutting, away, for example, from service and away from hiring separate pastry chefs, an absurdly specialized expense (but not absurd!). The trend is towards desserts you can plate easily, knock out with non-specialized labor. And so we have bread pudding and milk and warm cookies. Everywhere. Few restaurants have the means to hire pastry chefs.
But this may be a brave new time for dessert. Already I see ice cream as a new frontier, a place where chefs are both nudging and delighting. (Over the past year, ice creams have been some of the strongest points in Dallas desserts, chefs mastering creaminess and nuance of flavor even in kitchens without pastry chefs.)
Notice next time you go out. If there's a pastry chef listed at the bottom of the menu, notice. Consider the places you would go specifically for dessert. And if nothing comes to mind, consider finding your spots, places where dessert is as vital and imaginative as any other part of the menu. That might look like one of Ricardo Sanchez's creations at Flora Street Café. Or it might look like one of Maggie Huff's current selections at FT33, a chocolate panna cotta with hibiscus granita or a candied Meyer lemon Bavarian with toast ice cream, whole wheat wafer, and lemon curd.