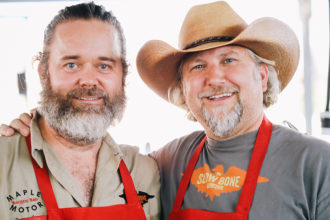 Not-so-silent co-owner Jack Perkins and his silent partner Austen Wright opened Maple & Motor, a dive-y burger joint, in October 2009. The place was an instant hit and, almost 7 years later, is still pumping out a booming business.
In late February 2013, the twosome joined the rapidly expanding Dallas barbecue scene and opened The Slow Bone. "I never really wanted to be the face of this restaurant," Perkins says. "It was all about the food. I wanted The Slow Bone to serve authentic barbecue and sides." The Slow Bone has garnered praise not only for its consistent quality of slow-cooked meats, but for the imaginative side dishes. Perkins turned heads when he put a chef—Jeffery Hobbs—in charge of the kitchen in 2014. Slow Bone took 4th place in our recent 20 Best Barbecue restaurants in Dallas.
Perkins admits he's had lots of offers from large companies that wanted to acquire The Slow Bone. He held off until today. Beginning tomorrow, The Slow Bone will operate under the ownership of Slow Bone, LLC, a company with some familiar names attached to it: Eatzi's co-founder Jerry Meyer and Eatzi's CEO Adam Romo. Two of Perkins' former employees, chef Jeffery Hobbs and catering director Anne Oliver Lewis, are, according to Lewis, partners in the deal and will be in charge of running the restaurant. "We're so happy and really excited," Lewis says. "Jeffery and I have no plans to move it or change very much. We might put in a patio and a designated to-go window. We will always be one store."
Perkins says Meyer has been a long-time customer at The Slow Bone. "We're turning over one of the best restaurants in Dallas irrespective of cuisine, completely, including employees," Perkins says. "I can't imagine a reason they wouldn't be successful.  They should get a minimum 10% sales increase from the people that wouldn't come because I'm an asshole."
What will Jack Perkins do with himself? Don't answer that. Stay tuned for the episode of As the Slow Bone Turns.
Get the SideDish Newsletter
Dallas' hottest dining news, recipes, and reviews served up fresh to your inbox each week.