Taste Test Thursday: Restaurant Pimento Cheese
Which savory blend is the best according to D Magazine staff?
It wasn't difficult to gather volunteers for this taste test. 15 eager D Magazine staffers dug into a selection of pimento cheese from Dallas restaurants. Here's what they had to say.
[Editor's note: There were no pimento cheese experts on hand for this taste test.]
The cheese:
A. CBD Provisions
B. Remedy
C. The Porch
D. Sissy's Southern Kitchen & Bar
E. Ida Claire
CBD Provisions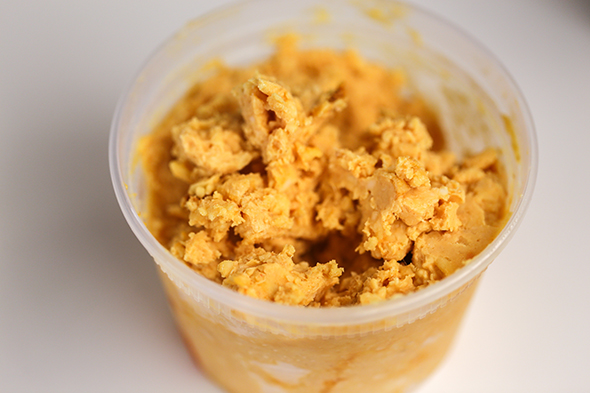 Texture is thick, a little heavy. Spicy aftertaste.
Classic.
Smoky with a little kick at the end.
Creamy with a spicy finish.
Gross consistency similar to orange clay mold.
 Bold chipotle finish. Looks like cate puke.
Nice kick at the end. Strong cheddar flavor. Smooth.
Bland at first but sneakily spicy.
Has a strange yet satisfying tang to it. I like it.
Creamiest. Not a strong pimento flavor.
Too creamy, I like the spice though. Needs other elements.
Spicy!
Nice and smooth, good spice to it.
A good, smoky favor. Maybe too smooth consistency-wise.
Rich flavor, perfect amount of spice. Very thick and creamy. Well blended.
Remedy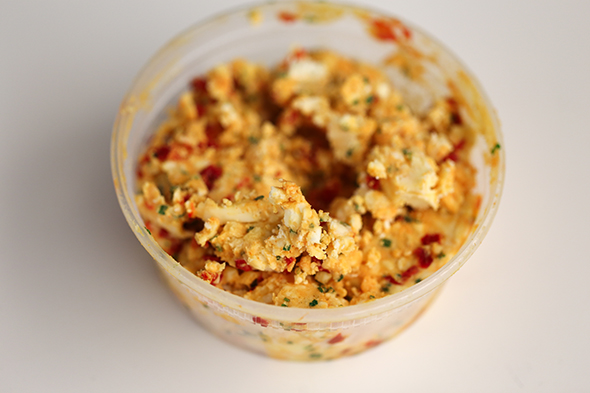 Nice kick. Lighter texture than A.
Nice flavor with fresh herbs.
Super savory. Tastes like a fiesta. Basically pico de gallo with cheese. Not a fan.
Pretty to look at. Bright, chunky, tasty.
Real pimentos visible! Different cheeses. Could eat this whole tub.
I like the colors in this one. Nicely balanced between the pepper and the cheese.
Fresh tasting.
Very peppery. I don't hate it.
Delicious! This has a smooth texture and a sweet, spicy aftertaste that lingers.
Nice salt and garlic flavor. I like the chunkiness.
Delish. Love the peppers. Good consistency.
YUM. Love the crunchy peppers.
Like the prominent peppery flavor of this one.
Super onion-y. Almost too much. I like it but wouldn't be able to eat much.
Chunky with herbs. Somewhat light and refreshing flavor.
The Porch
Meh. Don't love this one.
Tastes like feet.
Ooh, really don't like this one. The pepper flavor is too strong for me and it tastes sweet.
Ugly burnt orange color. Looks like trouble. Bad spice, feels like little worms in my mouth. No thanks.
Neon orange color looks like nuclear waste. Tastes mass-produced.
This tastes like stale beer.
Most processed flavor, but probably most classic.
Spicy but not in a fun way. I feel like there's nothing underneath this spice. Also, why is it so orange?
I'm a texture person, so I wasn't wild about this one. It looks like what I imagine uncultured clumps of orange milk would look like. The taste is OK.
Smoky and spicy.
Bland.
Bland compared to the others.
OK, a little bland compared to the others.
Weird nuclear color. OK. Feels like something I would make with thrown-together ingredients rather than a plan. Kind of oily.
Light spice, grated cheese texture.
Sissy's Southern Kitchen & Bar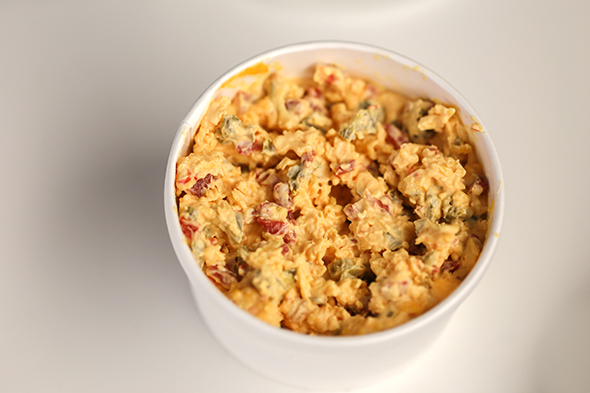 Lighter than the others with a nice heat to it.
This one has some heat to it. Me likey!
Chunky with peppers and wow! What a kick! But it's not pimento cheese for me. Those green chilis take over.
Smells like ranch dressing. Crunchy, tangy, and bad. Spicy, but feels like coleslaw.
Hot and spicy. Thick with chunks. Maybe too many peppers.
Brighter than the rest. Much more acidic. Heat lingers.
WAY too much mayo. Spice overpowers cheese flavor.
It looks so beautiful. It's spicy in a fun way. I could eat this without accompanying carbs.
This is awesome. The pepper lingers on your lips.
I HATE this one. Lots of mayo.
Good flavor but a bit too chunky.
Find this one strangely watery tasting.
Good taste and texture. Leaning towards too pickle-y, but I like that.
Very spicy with chunks. Medium thickness.
Ida Claire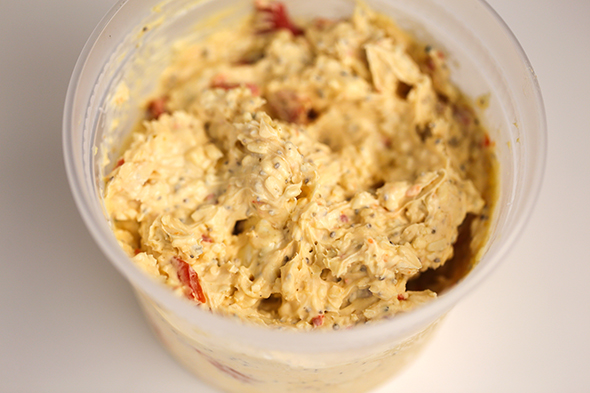 Very creamy.
A little too creamy for my taste.
Smoky, creamy, celery flavor. Those black specks are a little weird, but I like this one. I can easily imagine spreading it on crackers.
Too creamy and whipped looking. Smells like rust and grass. This is crap.
Looks and tastes like the cat vomit of a cat who ate a jar of cheap mayonnaise.
God no. Is this celery?
Worst.
It's kind of coleslaw-esque. I'd still eat it.
This is interesting. It has a smoky flavor.
Even worse than D. This is probably 90% mayo, 5% cheese, 5% pimento. Gross.
Gross. Tastes like mayonnaise.
Too creamy. I wouldn't recognize this as pimento cheese on a plate.
Not a fan of the creamy texture of this one.
Was this potato salad? Fine, but not like pimento cheese at all.
Very creamy. Tastes like it has sour cream in it?
Tally up:
CBD Provisions 2
Remedy 11
The Porch 0
Sissy's Southern Kitchen & Bar 2
Ida Claire 0
The winner is:
Remedy's pimento cheese won the taste test by a landslide with 11 votes. Do you agree with the outcome? Who makes your favorite pimento cheese in Dallas? Let's discuss.