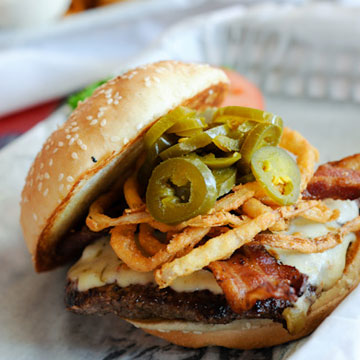 Richardson has not been without a reliable burger joint. Del's Charcoal Burgers has been a staple in this suburb for more than 50 years. But Twisted Root, located in the Eastside development at Campbell Road and North Central Expressway (think Addison Circle without the Addison-ness), is a decidedly different type of establishment.
Chefs Jason Boso and Quincy Hart, who opened the original Twisted Root in Deep Ellum in 2006, take a chef's approach, from burger to condiment. Meats—ostrich, venison, elk, buffalo, lamb, turkey, gator, and, of course, beef—are ground in-house; pickles are homemade and come in dill, bourbon bread and butter, or quincy spicy; and the ketchup is a house-made ancho-chipotle.
When we visited on a recent Monday night, the place was packed—and rightly so. We loved the Buffison burger, a mix of buffalo and venison, which was featured on the Food Network's Diners, Drive-ins, and Dives. While both the meats are lean, this patty was juicy and full of flavor—and not the gamey kind. Get it while you can, because not all the meats are always available.

No worries if you stick to standard beef. Here they're Angus half-pound patties, carefully spiced with salt, pepper, and breadcrumbs. While we prefer our burgers simply dressed (lettuce, tomato, and onion), Twisted offers choices such as the Western Burger, with pepper jack cheese, crisp bacon, jalapeños, and fried onion strings.
Although no burger is complete without something fried, at Twisted Root you've got choices beyond the spud, such as fried green beans, fried pickles, sweet potato chips, or onion rings, all served with a side of chipotle ranch. The fried green beans have been a home run on every visit—crisp on the outside with the requisite snap in the middle—but the chips were far too sugary sweet for our tastes.
This location also has a fully stocked bar, including (but thankfully not limited to) Pearl and Lone Star in the can. But we can't resist the "adult shakes" spiked with amaretto or Baileys. On the non-alcoholic side, options include homemade root beer and watermelon iced tea. Root beer flavors vary from chocolate-strawberry to cinnamon, but we say stick with the original: it's some of the best 'beer in town.
Get contact information for Twisted Root Burger Co.
Get the SideDish Newsletter
Dallas' hottest dining news, recipes, and reviews served up fresh to your inbox each week.