They're still waiting to appoint a new executive chef at The Rosewood Mansion on Turtle Creek. Meanwhile, Nicolas Blouin is a steady fixture, turning out beautiful confections from his tiny pastry room off the main kitchen. The 33-year-old pastry chef from Toulouse, France has worked in Switzerland, France, and Las Vegas, working at Michelin-starred restaurants and under world-famous patissiers before he landed at the Mansion five years ago.
His desserts are elaborate architectural constructions. If you haven't tried his signature cheesecake orb (with seasonal variations), you should: cheesecake turned into a mousse and encased in a white-chocolate shell into which tiny windows have been punched out, like portholes in a dainty alien bauble. His desserts built on classics are technically perfect and often contain little surprises. (See eye candy below.)
Last October, Blouin won the prestigious Valrhona Chocolate Chef Competition (C3) in Brooklyn with his "Fleur d'Asie"—mandarin jelly and black tea ganache bonbon with sesame tuile "flower petals" on top—and for his plated dessert, "Illanka Stratosphere," a variation on his hallmark sphere, this time with raspberry and chocolate mousse in an orb of blown sugar. He will represent North America as one of only seven international contestants for the next round in the fall.
I checked in with Blouin recently to talk about the competition, his strongest taste memories, his philosophy of desserts, and why you'll never find 17 things on his plates.
Tell me about the Valrhona C3 pastry competition. It wasn't talked about much in Dallas, but it's a big deal.
NB: I do competitions to train myself and also to motivate my team. I don't look for fame. I like to stay in the kitchen and fly under the radar. This was a chance to compete with the best pastry chefs in the country—Ron Mendoza, he's a very good chef, making great plated desserts at Aubergine [Restaurant] in Carmel, and Curtis Cameron [at the Little Nell] in Aspen. You always want to know where you stand, so it was nice.
And the chocolate itself: what do you love about working with chocolate? You have a separate certification …
I love to work with chocolate because it's very versatile—from show pieces to chocolate bonbons—and it pairs with so many things. The flavors are so different. Not all chocolate tastes the same; it's like wine. I trained in France as a chocolatier. [He holds a Certificat d'Aptitude Professionelle as chocolatier-confiseur.] It was something I wanted to make sure I could control. When you train in pastry in France, every chef has basic training in chocolate: they all know how to do tempering; they know the basics. But I wanted more.
I always compare myself to French chefs because that's where I was trained, and in France it's part of the culture to eat pastry and chocolate all year long. There are lots of pastry and chocolate shops in France compared to the US, it's crazy; and so many competitions that push them to be top of the game.
How has working in America—and Texas—influenced the work you do, in terms of flavor combinations and in other ways?
NB: I think it's very important to adapt to where you are. The Snickers dessert [currently on the menu at the Mansion] is very, very popular, and I love the cheesecake. I take an American dessert and transform it into something in my style—familiar flavors and put my twist into it. I always put a twist. For example the cheesecake: you don't expect that it's in a sphere.
Do you have a philosophy that guides you?
NB: For me, there's the Rule of Three. [First,] never put more than three flavors in a dessert, because if you have more than three flavors, you're not going to taste them all. Make sure they're bold and powerful. But you see from experience that if you have four or five flavors, you can only recognize two of them at a time. [Then,] get three textures in there. If everything is creamy, you just swallow it. If you have something crispy, something creamy, and something like a sponge, you're going to chew and develop flavor.
I also like to create structured desserts, because the flavors are made to complement each other. When [guests] get a scoop, you want them to have everything. I never decompose a dessert. I think it's kind of confusing for the guest. They don't know where to start, and they don't know how to get everything in one bite.
In France there is a trend [right now] to put in as little sugar as you can in a dessert. I don't agree. I think it's a balance. That's what makes a great dessert—balance. On my dessert menu, I try to have a dessert for everybody: something chocolate, something fruity, something in between, like the Snickers is chocolate and peanut, or the cheesecake. I think of something that's going to go well with the food the chef is serving. On the tasting menu, it's often something more light because they've had five or six courses.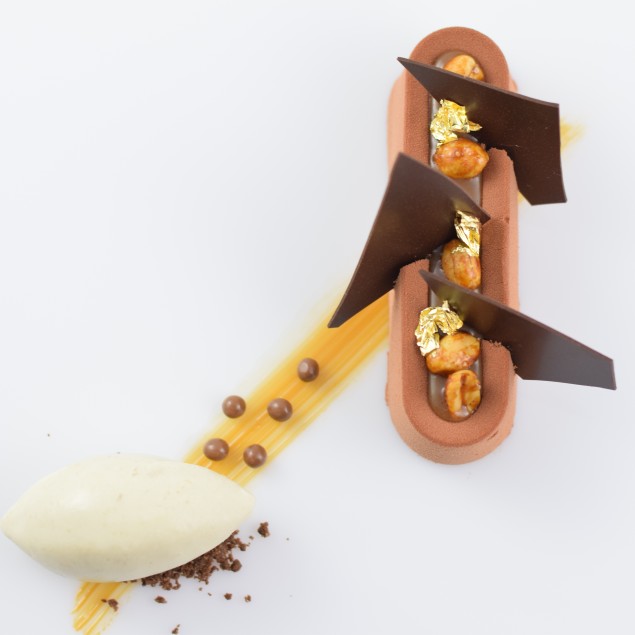 What are some of your strongest memories of pastry, ones that have shaped you?
In France, every Sunday lunch, we would end with pastry. I always went to the pastry shop—that was my reputation in my family. I would bring a dessert, a millefeuille, a fruit tart, very classic French desserts. They are simple and classic and they taste very good. Sometimes it's not because you make it very complicated that it's better. I always try to remember this: don't overcomplicate. Try to keep it simple.
Is there one amongst the desserts you've created that you could say you're proudest of?
Probably the Illanka Stratosphere It was a very, very difficult dessert. The clear sphere made of sugar—it has to be very, very thin, and you fill it up with a product that contains moisture, and you don't want the sugar to melt, so it's very difficult to execute, especially when you're doing it in front of a crowd. It's extremely time sensitive. It's blown sugar, like you do with glass. I had a torch, I had a fan to cool it down.
I had to start building the sphere 18 minutes before my [four-and-a-half-hour] time was up [and not before], so that the sugar wouldn't melt. I was ready to build it two minutes early. I was standing at my table, and everybody was thinking, 'What is he doing? He's not working!'
All of the showy, meticulously-made presentation pieces—I'm thinking of show pieces and other chocolate sculptures—they're so much work, like a Tibetan sand painting, and you don't eat them. Is this a holdover from another time? Is it still relevant?
I do enjoy making the show pieces. It's an elegant way to present chocolate bonbons. To me, the presentation is very important. You can reuse these – if you store it at the right temperature and humidity, it can last a year. The storage is the most important part. There's a special storage space [at the Mansion]. We used to pull them out at brunch [for the dessert buffet], but then we changed the format to plated desserts. Right now we have three show pieces, for special events. The last one I made was for TACA [The Arts Community Alliance gala], a Texas showpiece with cowboy art and a guitar. It's something you do for fun. For TACA, two weeks before the event, I worked a little bit every day, an hour or two everyday. I mostly learned everything I know [about show pieces] in Las Vegas [at the Bellagio and Aria]. It's part of the culture to blow away the guests.
What do you think about eating with the eyes?
The visual is very important, but the flavor is always first. I think the social media is very influential. People see so many desserts. But it's very important to keep in mind that the look is not what's most important. Guests at the Mansion often say they're surprised by a dessert [visually]; but then you don't want to disappoint with the taste.
Is it possible for you to choose a favorite dessert, one you would reach for?
In the summer, I always like a light dessert with fruit. I love stone fruits, like a cherry or peach. And in winter, I would go more with chocolate or coffee, something comforting. I like simple desserts and things that remind me of my childhood. I used to always eat éclairs, so I would choose a chocolate éclair.
Get the SideDish Newsletter
Dallas' hottest dining news, recipes, and reviews served up fresh to your inbox each week.