Happy Memorial Day and welcome to summer. If you are turning up your barbecue this weekend, mixing up a few cocktails,  popping open three-day weekend celebration bubbles and holiday bottles, consider one of these for your festivities. (A few selections were sent for editorial consideration.) And cheers, summer is here!

Always ready for a celebration, Chandon recently unveiled their limited edition #ChandonAmericanSummer bottle, in both their classic Brut and Rose. Both made in the traditional method from quality, sustainably farmed fruit from their Napa Valley estate. The dry sparklers will put you in the mood for a holiday celebration with the first sip. The limited edition bottles are available for $24 via their website and at Total Wine and More stores.
A fresh and flirty sparkler is ideal on any occasion, make it a high quality one with a good price and great taste and you have a true win-win-win. Bisol Jeio Cuvée Rosé from Veneto, Italy blends Merlot and Pinot Noir grapes from steep hillside vineyards to create a floral, pink grapefruit and lychee filled sparkler with great acidity, balancing an otherwise dry finish. $16, available via wine.com.
Ruffino recently introduced their Ruffino Rosé to the US marketplace. Blending Glera, the traditional variety of Prosecco, with a touch of Pinot Noir to create a pretty pink color and a sparkler filled with wild strawberry, red apple and rose petals. $15, available at Total Wine and More.
Summer brings Rose season and from Provence to Paso there are dozens of delicious options.  From Paso Robles Halter Ranch recently released their 2015 Halter Ranch Rosé of Grenache, Picpoul Blanc, Mourvedre and Syrah. The blend, inspired by those of Southern France but grown in the Adelaida District on the Westside of Paso Robles. Specializing in Rhone reds and blends, the Rose leaps from the glass with layers of tangerine, watermelon and kiwi, with crisp acidity and clean minerality. This wine is popping up on restaurant wine lists throughout Dallas, and is available for retail through their website for $21.
Also from the Adelaida District, Adelaida Winery Rosé blends classic Rhone & Provence varieties like Grenache, Carignan, Cinsaut, Mourvèdre, Counoise and Syrah, yet for varieties that often create quite powerful wines (like Carignan, of which this one includes 24% in the blend) the Rose is quite light and balanced with floral aromas of rose and wild strawberry, leading to herbal, tropical and citrus notes on the palate. A great Rose, especially for the price, about $20.
I love a Rose made from Pinot Noir, especially when made well. Presqu'ile Rose of Pinot Noir from Santa Maria Valley in Santa Barbara County is juicy, clean and elegant. Ruby red grapefruit, ripe strawberry and mandarin notes fill the wine, that finished with a touch of brininess from the influence of the Pacific ocean. Lively, lovely and inviting, $20 via their website.
A nontraditional choice for Rose is produced by Imagery Estate Winery in Sonoma. Using the Aleatico variety Joe Benziger, of Benziger Family Wines, creates a highly aromatic wine filled with rose petals, lychee and guava fruit, and fresh berries. Juicy and fruit filled, yet very dry. $27, available via the winery.
Willamette Valley is home of great Pinot Noir, which is also the ideal red wine of summer, either full strength or made into Rose. Willamette Valley Vineyards happily does both very well. Their vineyards and estate, located in the southern part of the Valley, have been producing quality wines for over 40 years. Their Rose of Pinot Noir ($24) tastes summer, filled with watermelon, tangerine and red berry with a touch of spice and cream from limited French oak barrel aging. Their Estate Vineyard Pinot Noir ($30) is a perfect wine to pair with grilled chicken, salmon or your summer crab & shrimp boil. Cherry, berry and earth with great texture and an inviting finish. Both available via their website, the Pinot Noir is available at Total Wine & more.
I usually shy away from a Pinot Noir that is priced less than $20 as this finicky variety need to be finessed, which often means more work in the vineyard, and more cost. However, for an approachable, easy Pinot Noir consider the small production, family owned wines from Pike Road. Sister wine to Elk Cove Vineyards, the predominantly estate grown Pike Road Pinot Noir is filled with red cherry, juicy red apple and strawberry notes. $19 via their website.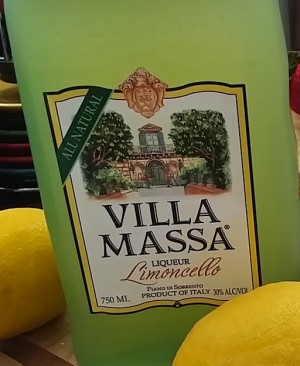 For a fresh summer cocktail consider a lively limoncello. Villa Massa Limoncello celebrates its 25 year anniversary this year. Crafted from a family recipe dating back to 1890, Villa Massa Limoncello is made with exclusive ingredients found only in the Sorrento peninsula of Italy – making it the most authentic Limoncello on the market. Fresh and balanced with just the right sweetness, tartness and bright citrus flavors, the product is perfect for summer cocktails.
Villa Massa & Tonica
1 oz. Villa Massa Limoncello
3oz. Tonic Water
3 fresh basil leaves
Ice
Preparation: Fill a wine glass with ice. Pour Villa Massa Limoncello and Tonic water into glass. Slap a top of fresh basil in your hands and add it to the glass. Stir ingredients and serve.
Villa Massa Sanguinella
1 oz. Villa Massa Limoncello
1 oz. Campari
2 oz. Orange Juice
1 oz. Lemon Juice
.75 oz. Simple Syrup
Preparation: Pour the ingredients into a shaker with ice and mix. Pour mixture into a low glass with ice, and garnish with an orange slice.
With the simple message of equality, and a premium product base, Texas based Equality Vodka brings a clean, neutral spirit to the marketplace. Crafted from quality grains and filtered water that goes through a multi-level distillation process to create a smooth, refreshing vodka with a unifying message. A portion of the profits from every bottle sold is donated to charities that support and advance equal rights among the LGBTQI communities. The spirit is the prefect base for anything from a vodka tonic with Fever Tree and lime, or give this tasty Berry Cooler from D Magazine Best Mixologist, Leann Berry, served at Komali.
Berry Cooler
1 ½ ounce Equality Vodka
½ ounce Cointreau
4 Fresh blueberries
2 drops Blood Orange Bitters
2 ounce fresh lime juice
Drop agave syrup
Preparation: Add all ingredients to a shaker with a scoop of ice. Shake vigorously. Pour into a Collins glass and garnish with a lime.
Recently Texas was introduced to a new tequila from the family behind Sebastiani wines. From 3 Badge Beverage Pasote Tequila was named for the fierce spirit of Aztec warriors and their uncompromising commitment, and the warrior tradition of celebrating victories by drinking the sacred agave. The tequila is made from ripe blue agave, grown in the Jalisco Highlands of Mexico, that is baked, then distilled with pure rainwater and natural spring water in copper pot stills. Smooth, rich and balanced, including a Blanco, 6 month aged Reposado and 18 month aged Anejo, each displaying artisan technique and classic, refined taste. The spirit just hit the shelves at Pogo's.
Hudson Whiskey was the first distillery to open in New York State post-prohibition, and has been producing their artisanal whiskey since. Filled with orange, toasted toffee and almond with just the right sweetness and earthiness, the product is the perfect base for your favorite Manhattan or Baby Bourbon Smash.
Baby Bourbon Smash
1 ½ parts Hudson Baby Bourbon
¾ part simple syrup
2 lemon wedges
Fresh mint
club soda
Preparation: Muddle lemon, mint and simple syrup in the bottom of a rocks glass. Fill glass with ice, Bourbon and top with club soda. Stir and serve.
I wrote about organic Tribal Cold Pressed Juice from founders Hailey Nutt and Brenton Phillips not long ago, but have continued to use their fresh, seasonal juices as a base for some of my favorite cocktails. Recently I included their Tribal "Pony Up" Juice in a version of a Moscow Mule, let's call is a SMUle as the carrot, apple, ginger, beet, pineapple, lemon and cherry juice is the ideal addition to a Tito's or Deep Eddy based cocktail with an extra touch of ginger from quality Ginger Beer. Will make any one an SMU athletics fan!
Tribal "Pony Up" SMUle
2 parts Deep Eddy Vodka
2 parts Tribal "Pony Up" Juice
2 parts Ginger Beer
Squeeze of lime
Add all ingredients to a copper Mule mug and garnish with a sprig of fresh mint.
If you are more of a grab and go kind of person, not wanting to measure and muddle yourself, there are many options on the market for the pre-made cocktail in a bottle or can, many made right here in Texas. Austin based Austin Cocktails, founded by sisters Jill Burns and Kelly Gasink who fell in love with the 5:30 happy hour as children, when only Shirley Temples were in their cups, continue to expand their line of pre-made cocktails including a 5-times distilled vodka based "Fred's Ruby Red Cocktail." The vodka, grapefruit, mint and lime cocktail celebrates their grandfather and his influence on the girls and the creation of their family owned Texas business.
From one of the founders of Deep Eddy Vodka, and the original Sweet Leaf Tea founder, Clayton Christopher, along with Treaty Oak Distilling CEO & Founder, Daniele Barnes and investment guru, Sean Cusack, comes a new canned pre-made cocktail, recently launched in Texas. Mighty Swell Sparkling Cocktails are made from real fruit juice (the base of the cocktails is a fruit wine) along with juice from peaches, grapefruit or lemon. No artificial flavors, high fructose corn syrup, etc. Grab and go cocktails, each with 5% alcohol per 12 ounce can.
Get the SideDish Newsletter
Dallas' hottest dining news, recipes, and reviews served up fresh to your inbox each week.