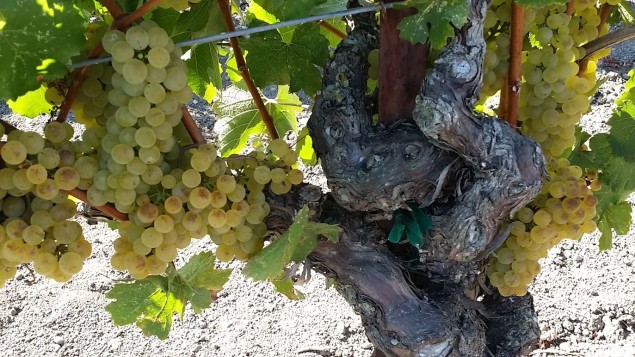 It baffles me when I hear people say "I don't drink Chardonnay," as it seems shocking to remove an entire varietal from your wine enjoyment opportunities. It's not like being a vegetarian, or not eating gluten. There are thousands of incredible Chardonnay wines available ranging in every style under the moon. Here are a few to consider (even if you aren't typically the Chardonnay drinker).
Some of the wines included are only available via the winery, making now the perfect time to stock up for spring and summer enjoyment. (A few selections were sent for editorial consideration.)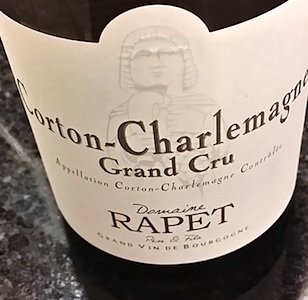 One sip of a rustic White Bourgogne will reveal why the Chardonnay varietal is one to be celebrated. Whether it be from Chablis or Montrachet, Meursault or Corton-Charlemagne there is a wine to suit every taste. I tried a stellar 2011 Domaine Rapet Pere et Fils Corton-Charlemagne recently that highlighted the rustic elegance of these Old World wines. With reserved elegance, highlighting the subtlety and quality of the fruit, the wine displayed length, texture and refinement. $140, available at Goody-Goody locations.

There is some debate over who actually can take credit for the Chardonnay which won the Paris Tasting in 1976, helping put Napa and California wines on the international map, the winery, Chateau Montelena which I wrote about last week, or the winemaker, Mike Grgich, now the proud partner of Grgich Hills which he started with Austin E. Hills in 1977. If you believe the winemaker lets the fruit shine, with a hands off approach, then the stellar Montelena fruit should get the credit. Of course, each and every time I drink a bottle of Grgich Hills Chardonnay, crafted from estate fruit growing in cool Carneros and American Canyon vineyards, fermented with wild yeast and aged 10 months in oak, without going through malolactic fermentation to maintain the freshness of the fruit, I smile, as this is truly Napa Valley Chardonnay at its best. $42, available at Pogo's and Total Wine & More.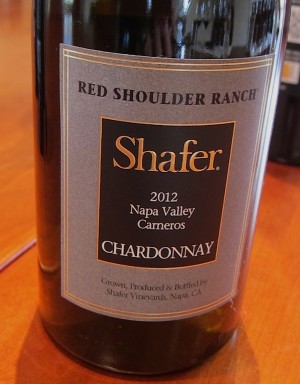 Shafer Vineyards, also in Napa and known for their stellar Hillside Select Cabernet Sauvignon, and fresh, juicy Red Shoulder Ranch Chardonnay, recently announced they had found a way to create a wine that uses a natural cork to secure it, but is guaranteed to be TCA-free. TCA, or Trichloroanisole, also known as cork taint, is a wine fault characterized by a set of undesirable smells or tastes found in a bottle of wine, often the result of the chemical compound being transferred from the cork into the wine. Though there is nothing harmful about TCA, it does create an off odor, signifying a flawed wine. Though it is rare, once is too much in Shafer's opinion, thus working with several different companies to find a way to continue using real cork, yet ensuring it will be TCA free. Their current release of the Red Shoulder Ranch Chardonnay uses a cork from Diam which basically grinds natural cork and treats it with a process that frees the cork at the molecular level of TCA and other contaminants. It has been described as a similar process to removing caffeine from coffee. I tried a sample last month and, happily, this beautiful wine was a good as it always has been. And, thanks to technology, will continue to be in every bottle opened. The 2013 bottles will include the new cork, and are available via the winery website for $52.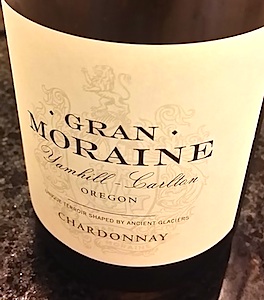 I love when you meet someone and you just know you have come across someone who is very special and very talented. Eugenia Keegan, the dynamic General Manager and Winemaker for Gran Moraine in Willamette Valley, is just that person. And, each year, as I try her luscious Oregon wines, I am reminded. 2016 marks a very special beginning for the winery, as it is their first release of Chardonnay from the 2013 vintage. A warm vintage for Willamette, making their Yamhill-Carlton AVA fruit a bit riper and juicier than expected for the normally cool Willamette climate, however, the natural acidity of the variety, melding with the cool Oregon nights ensure that the wine balances ripe fruit perfectly with crisp acidity for a lovely wine filled with stone fruit, orange blossom and ripe pear. $45, available via their website.
California is also the home to some great female winemakers, especially one of my favorites who arrived in California on vacation after graduating from the University of Colorado, Boulder, and simply found she could never leave as the sun and surf lifestyle was as appealing as the opportunity to work at some of the best wineries in the world. Well traveled, exploring the wines of France, Italy, Spain, Germany and New Zealand, this young and dynamic winemaker brings passion and heart to every project she takes on. At MacRostie Winery and Vineyards that is expanding their work with single vineyard wines. The MacRostie Dutton Ranch Chardonnay, from Russian River Valley, is crafted from 12 of the best single lots of Dutton Ranch fruit the winery sources from the Dutton family, growers in the region for generations. Aromatic and elegant, with balanced notes of apple and sweet spice, melding with juicy citrus and tart gooseberry. Rich, textured and delicious. $46, available via their website.
Another female winemaker in Willamette Valley who always impresses with her balanced, refined and approachable wines with finesse is Melissa Burr.  The Willamette native has been crafting sustainably grown wines for Stoller Winery since 2003, ensures that each and every bottle of her environmentally friendly wine are as delicious for the drinker, as they are good for the environment. Her 2013 Stoller Reserve Chardonnay from estate Dundee Hills fruit, is filled with tropical quince, peak and golden apple with hints of sweet baking spice and honey. Though delicious upon release, this is also a wine that will age for a bit nicely, and can easily be enjoyed on a very cold night as the rich flavors will warm you from the inside out. $35, available through their winery.
The decision to filter or not filter your wine has been debated in the wine world for years. Some believe filtering creates a more perfect, pristine wine, free of flaws and imperfections. Others believe filtering a wine will remove the natural flavors, altering what Mother Nature has given and the true essence of the variety. I tend to agree with the later, which is why I am always drawn to wines like Netwon Unfiltered Chardonnay. With a focus on sustainability, and the use of native yeasts, the true expression of the wine can shine, which for the 2013 vintage includes complete barrel-fermentation and aging for 12 months in French oak barrels, 30 percent of which were new, with weekly hand-stirring to re-suspend the sediment, a technique that protects the wine from oxidation and helps in creating texture and complexity. The resulting wine is rich, luscious and rounded with creamy vanilla, grapefruit and tangerine notes, with sweet spice and baked golden apple flavors. $55, available at Dallas Fine Wine.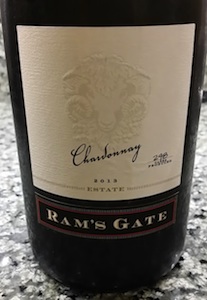 Locating pristine vineyards to work with has been a driving focus for Ram's Gate since its founding in 2011. Though their estate fruit, from vineyards located at the entrance to Sonoma Valley in Carneros is also stellar, their small production, single vineyard Chardonnay wines from Sonoma County vineyards like Bill & Ellie Price's Durell Vineyards, Ulisses Valdez's Diablo Vineyard and Larry Hyde/Hyde Vineyard prove to be some of the most luscious and balanced Chardonnay wines from the region. Though their production is low, as they only have a small allotment of this special fruit, each bottle is something special. Ram's Gate will soon have distribution in the Dallas market, but for now the wines are available via their website for $60-$80 a bottle.
Highlighting single vineyard estates has also been a specialty of Patz & Hall Winery since it started almost three decades ago. Begun in 1988 by Donald Patz, James Hall, Anne Moses and Heather Patz, Patz & Hall is one of California's most highly regarded wineries crafting single-vineyard Chardonnay and Pinot Noir wines, allowing them the ability to work with some of the finest vineyard sites. Their Zio Tony Ranch Chardonnay, from the Martinelli family vineyard planted in 1990 in cool Russian River Valley melds elegance and sophistication, elevating the cool climate fruit with layers of juicy honeydew melon, ripe pear and a touch of soft herb and toasted hazelnuts for a well-rounded wine with texture. Bottled without fining or filtration to allow the truest expression of the fruit to shine. Sigel's carries a number of Patz & Hall wines, including their tropical and citrus fruit filled Sonoma Coast Chardonnay for $40 and Dutton Ranch Chardonnay for $42, but the Zio Tony is available via their website for $65.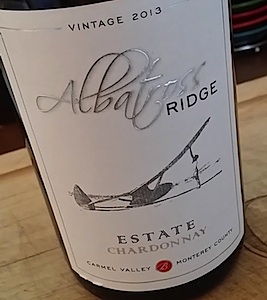 Though process can be taught, the true passion of wine must come from withing as the farming trade is not as glamorous as one may think. To work a piece of land, and watch vineyards evolve from nothing into greatness is what drives the most acclaimed wine makers across the globe. This is what fueled Winemaker and Vintner Garrett Bowlus of Albatross Ridge Estate in Monterey. Though he experienced the finest technical training through institutions like the University of Dijon, UC Davis and UCLA this vintner learned the most from planting his family's vineyard in cool Monterey just 12 miles from the Pacific Ocean at 1250 feet above sea level, and watching it grow. The result, varietally correct, elegant, personality driven wines with grace and complexity. The rocky, fossil filled terrain of their Carmel Valley Estate Vineyard adds an earthy crushed stone, minerality to their white peach, apricot and apple filled Chardonnay. $55, available via their website.
The production of Young Inglewood Sonoma Coast, Michael Mara Vineyard Chardonnay is tiny, about 77 cases, and it is one to seek out, as the single vineyard wine is the perfect combination of richness with freshness, melding creamy, toasted brioche notes with crisp green apple and juicy citrus. Though 70% of the wine is aged for 15 months in French oak, the remaining is kept in stainless steel, keeping a slight steely, crispness to the approachable wine. $45, available via their website.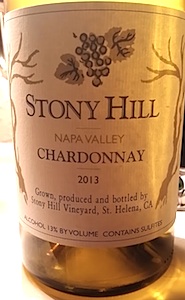 There are a few pockets throughout Napa Valley where Chardonnay grows successfully, though mostly it is in the southern most part of the region in and around Carneros. However, the hills above St. Helena the variety thrives at Stony Hill Vineyard. Vines, which average in age between 22 and 31 years old, reach deep into the rocky soils of the estate vineyard to reveal layers of wet stone and chalky minerality, enhancing the inherent fruit filled flavor profile. $45, available via their website.
In the midst of Santa Barbara County lies Santa Maria Valley producing elevated, elegant Chardonnay and Pinot Noir wines with character and exceptional taste. This is the home the Bien Nacido Vineyard, much loved among Pinot Noir drinkers. It is also the home of the 73 acre Presqu'ile Vineyard producing a selection of distinct and highly regarded wines. Presqu'ile Vineyard Estate Chardonnay, from vines grown in sandy soils in temperatures that average year round about 64 degrees, and fermented using native yeasts, allows the truest expression of the fruit to shine. Bright, fresh and aromatic, leading to a well rounded wine with stone fruit and lemon curd, with fresh acidity. $45, available via their website. Various Total Wine and More stores also carry the Presqu'ile Santa Maria Valley Chardonnay from fruit grown in vineyards throughout the western part of the region, and made melding both stainless steel and barrel fermentation with lees (yeasts) stirring, to create a sweet cream, caramel apple and lemon zest filled wine. $35.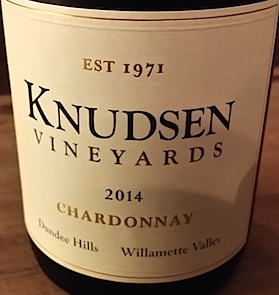 The volcanic soils of Willamette's Dundee Hills are ideal of growing expressive Dijon clone Chardonnay for Knudsen Vineyards. Small production, and very special, the wine highlights the true essence of Willamette, showcasing the fruit with crisp green apple, ripe citrus, golden pear and crushed stone minerality. The wine is just about to be released, so check their website in early April to pick up one of the few from the 275 case bottling. $45.
Gary Farrell Russian River Chardonnay consistently delivers on quality, with a concentrated palate, fresh, crisp acidity and thrist quenching appeal for an approachable, delicious wine that can be enjoyed day or night, with or without food. $35, available at Total Wine & More stores.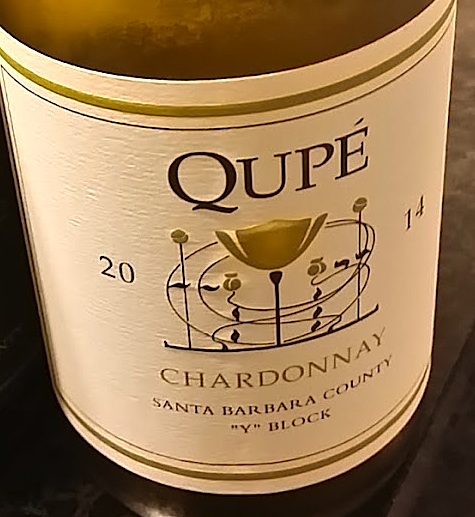 Known as the original Rhone Ranger, Bob Lindquist was one of the first advocates for American grown, cool climate Syrah, and other Rhone varieties, in Central Coast California soils. His Qupe Winery, started in 1982, was named in honor of the Chumash, the earliest native settlers of the region, meaning poppy in the indigenous language. Syrah has always been the focus of the celebrated winery, however the close proximity to the Pacific, with cool nights and morning fog, also allows for stellar Chardonnay fruit to flourish. Qupe "Block Y" Santa Barbara County Chardonnay is a balanced blend of ripe pear, toasted nutmeg & clove and almond, with juicy freshness. $20, available via their website.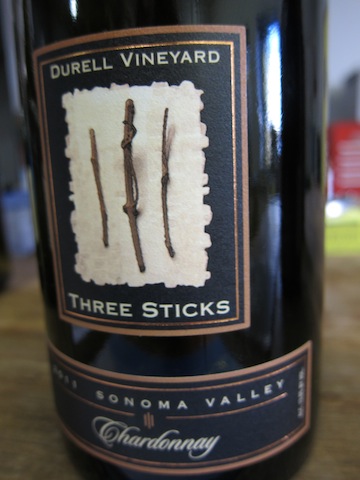 Luscious Three Sticks Durell Vineyard Chardonnay, from Sonoma Valley, is a wine that can be enjoyed now, but will benefit and shine with some bottle aging. Barrel fermented, with the wine going through complete malolactic fermentation, and aged 15 months in French oak, of which 50% was new. This is a big white wine that drinks like a red, coating the palate with a velvety texture. Vanilla, sweet spice, honeycomb and golden apple, with an underlying layer of freshness that will help with the aging of the wine. Available via allocation through their website.
When you think of Alexander Valley, you may think of bold, hearty Cabernet Sauvignon wines, as it is one of the more popular varieties for the area. However, in the higher elevations of Alexander Valley in Sonoma County, Chardonnay can also thrive, as at Matanzas Creek Winery. By blending in a touch of granite soil filled estate fruit from Bennet Valley the winery produces a complex version of the variety filled with toasted hazelnut, nectarine, candied lemon peel and marshmallow. A good wine to enjoy on its own on a warm spring afternoon. $26, available at Dallas Fine Wine.
Get the SideDish Newsletter
Dallas' hottest dining news, recipes, and reviews served up fresh to your inbox each week.